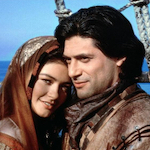 In 1992, several similarly themed movies sailed the ocean blue. It was the 500th anniversary of the voyage of Christopher Columbus, and it goes without saying that mainstream audiences go absolutely fuckin ape shit for any movie commemorating a quincentenary. So who could blame producers for knowing for sure there was gonna be some intense Columbus Fever infecting the indigenous population of movie theaters, and wanting to hop aboard that ship? For example, Gaumont put together 1492: THE CONQUEST OF PARADISE, which was directed by the great Ridley Scott, with cinematography by Adrian Biddle (ALIENS) and music by Vangelis.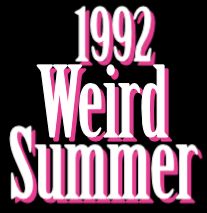 But that one didn't come out until October. The one that came out August 21, 1992, causing me to have to watch it, was CHRISTOPHER COLUMBUS: THE DISCOVERY. That's the one produced by the father and son team of Alexander and Ilya Salkind, best known for producing the SUPERMAN movies. And then SUPERGIRL and then SANTA CLAUS: THE MOVIE and then Alejandro Jodorowsky's disowned THE RAINBOW THIEF and then this. They had such a terrible time with this one that they quit the business (though Ilya did do one more movie, DANCING FOR MY HAVANA, 23 years later.)
Timothy Dalton was set to star as Columbus while he was waiting for the 007 rights situation to clear up between LICENCE TO KILL and what was supposed to be his third Bond movie. But when original director George Pan Cosmatos (COBRA) backed out a few weeks before filming, Dalton and Isabella Rosselini (who would've played the queen, I assume?) followed suit. Weirdly, though, the replacement was Dalton's Bond director John Glen (whose ACES: IRON EAGLE III also released in summer of '92). That wasn't enough to bring him back.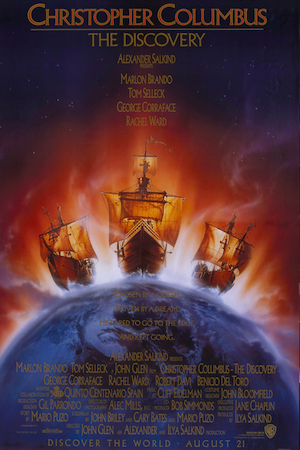 So instead Columbus was played by French-Greek actor Georges Corraface (THE MAHABHARATA). I recognized the name – turns out it's because he plays the revolutionary Cuervo Jones in ESCAPE FROM L.A. THE DISCOVERY is mostly about how this guy is handsome and charming and visionary and correct and very sure of himself (but very polite) in the face of nobody believing in him, and in fact actively, angrily thinking he's wrong with his radical geographical ideas and getting mad at him for talking about them. He rarely gets upset. He just smiles and continues being Christopher Columbus.
King Ferdinand V (Tom Selleck, SUPERDOME) doesn't believe in him and won't let him do the expedition to the West Indies he wants to do. Torquemada (Marlon Brando between THE FRESHMAN and DON JUAN DEMARCO) doesn't believe in him and interrogates him for blasphemy until he argues that going against this particular conventional wisdom about the earth does not go against anything specifically religious. (The Inquisitor lets him go, but spends the rest of his scenes standing around grumbling about him.) Robert Davi (also in WILD ORCHID II:TWO SHADES OF BLUE that year) doesn't believe in him, and stabs a raw egg with a dagger to get him to shut up (long story).
(Okay, actually, not that long of a story. Columbus is always doing little demonstrations with watermelons and eggs and things to show his ideas, so Davi gets mad about it and stabs an egg in front of everybody. Harsh.)
It does turn out that Queen Isabella (Rachel Ward, NIGHT SCHOOL, SHARKY'S MACHINE, FORTRESS) believes him, though, so he gets to go on the journey. The catch is that the majority of the crew still think he's full of shit and must be proven wrong and humiliated, so they root against him the whole way, conspire against him, argue with him, try to get him to go back. He holds his head high and valiant and feels bad when (in one of multiple mutiny attempts) he accidentally knocks two guys off the boat and they get eaten by sharks (not the first members of the crew that this happens to, by the way).
Eventually they arrive, there are topless Native Americans, etc. At least Branscombe Richmond (completing his summer of '92 quadrilogy of BATMAN RETURNS, DEATH RING, ACES: IRON EAGLE III and this) gets to play "Indian Chieftain," who has a big crown and passes around a pipe that they smoke through their nostrils. Then he drinks their wine and burps. Great part.
It doesn't look cheap or anything (the budget was $45 million, $10 million more than LETHAL WEAPON 3, and I bet they didn't have to pay Georges Corraface Mel Gibson money) but it's just so cinematically plain and undistinguished. Just, very adequate and not at all compelling. Cliff Eidelman (STAR TREK VI: THE UNDISCOVERED COUNTRY) does a very normal symphonic score like you'd expect in an old boat adventure movie, they know how to operate cameras in a professional manner, etc.
Usually when a familar story is being retold yet again, filmatists (whether consciously or not) at least slightly update it for their time, incorporating the contemporary style and trends and interests or showing it from a new angle or something to make it fresh and current and worth making and watching. For example, ROBIN HOOD: PRINCE OF THIEVES the previous summer was very much like a movie of its time and not like other versions of the story. One might expect a 1992 Christopher Columbus movie to try to use filmmaking advancements of the era and explore the topic from a modern perspective.
But no, I don't think anything like that ever crossed the minds of the Salkinds. It's hard to believe this is a historical boat movie from only five years before TITANIC. Hell – hard to believe it's two years before CABIN BOY. It really seems like something that had been sitting on a shelf since at least 1984, deemed too dull to release. I'm sure that's partly just the muddy transfer of the DVD (an important – it only came out on VHS here), but there's no way looking at this movie I would've guessed it was from the '90s if not for the appearances of
1) Catherine Zeta-Jones (in her second movie, following Philippe de Broca's 1001 NIGHTS) as Columbus' wife Beatriz Enriquez de Arana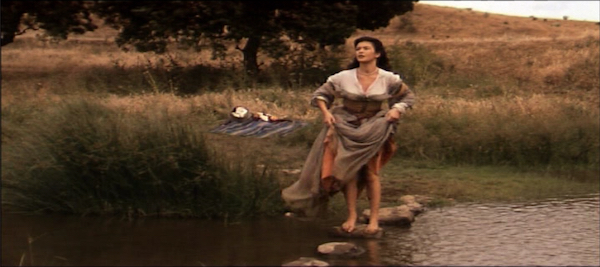 and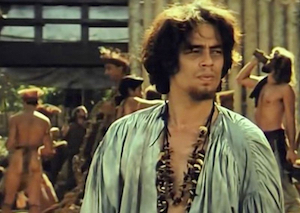 2) Benicio Del Toro (LICENCE TO KILL) as Alvaro Harana, one of the guys in the crew who most hates Columbus. He's disappointed when Columbus turns out to be right, then in America his father (Oliver Cotton, FIREFOX) catches him raping the locals and they have a sword fight. Alvaro loses but uses a dirty trick to kill his dad and later cries about it and then goes into what seems like a cocaine rage calling people "savages" and stabbing a random dude.
I guess the idea is that Columbus wasn't the bad guy, he was just the guy who convinced all the bad guys to come, and gave them a ride, and didn't stop them, and then went home and was treated as a hero and got to use a fancy new title.
Of course, doing an expensive international co-production competing to beat another movie on the same topic and including a hunky TV star and a screen icon who has gotten weird and gained weight is absolute Razzie bait. And I can't really stand up for their performances – it really is goofy to see Magnum P.I. wearing a crown, and Brando is only mildly interesting to watch, and doesn't seem very invested in it. (I was surprised to see him in more than one location, though. I think three total. So maybe the budget went to him.)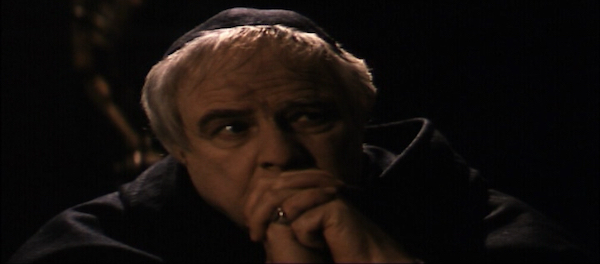 Anyway, yes, Brando was nominated for a Razzie, and lost to Selleck. THE DISCOVERY was also nominated for worst picture, director, new star and screenplay – which, by the way, was by Mario Puzo of THE GODFATHER fame, along with John Briley (Oscar winner for GANDHI) and Cary Bates (a veteran comic book writer the Salkinds had hired to write the Superboy TV show).
I don't know if this is the worst thing I've watched in the summer of '92 series, but it's the most boring. I dedicate this review to Fred Topel, because I was gonna skip this movie until I saw him say that it was one of the reviews he was looking forward to. I forgive him though, because I agree that this is a strange phenomenon that should be included in the record of the kind of shit that went down on movie screens in the summer of '92.
P.S. The anniversary also brought us CARRY ON COLUMBUS and a cartoon called THE MAGIC VOYAGE, and I will not ever watch those, thanks.