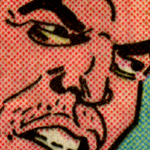 I was recently interviewed on a podcast and this is a little different from any I've done before so I wanted to say something about it.
As you may or may not have heard, there's a podcast called Downlowd: The Rise and Fall of Harry Knowles and Ain't It Cool News. Kind of like a documentary about a websight I once wrote for. I don't know if the podcast is popular or not – much like Ain't It Cool News itself back in the day, I mostly just see people talking shit about it. The first I heard of it was a while before it came out, when someone who had once been harassed by Harry Knowles posted negatively about having been approached for an interview. I had not been asked and felt relieved not to have to make a moral decision about it. I figured this guy making it, Joe Scott, didn't know who I was, and that I didn't have much to say anyway. I was only involved via e-mail.
But then somebody told me my name was mentioned on the first episode, so I got curious and listened. (I bet you would too if it was you.) I wish the show didn't have Harry's name in the subtitle, because it's not just about him, and does not interview him (though there is an unnervingly believable actor reading his quotes at times). It covers that whole mid-'90s-through-early-2000s era of movie news – not just interviewing the people I know from Ain't It Cool like Drew McWeeny, Eric Vespe and Jeremy Smith, but also Patrick Sauriol of Corona Coming Attractions and Garth Franklin of Dark Horizons, newspaper critics from the time, even a director of Siskel & Ebert and people who ran test screenings. As an outsider to the whole thing, and as a reader of all those sights, I find it interesting to hear about some of these events that I remember only part of, or never heard about at all. And of course it's bringing back all kinds of memories and retrospective feelings, good and bad.
I have a few online friends, here and elsewhere, who object to the show. I won't try to speak for them, but it has to do with it not being centered on the victims of the harassment. I know they don't mean to be saying that about a decade of my work (and that of many other people who worked harder than and wrote better than Harry) can only ever be a footnote to the transgressions of a dude I only met one time at a book signing. Obviously I'm too close to be objective. I respect their opinions, but I don't agree. I don't think that Harry being a creep means we can no longer talk about the larger story that he was only one part of. And I also think talking about the good parts of the larger story is the only way we can reckon with the bad parts, like what ways the boys club and the misogyny are baked into these subcultures, and why certain people knew about things Harry had done and didn't do anything.
So when, much later, Joe Scott actually did approach me about doing an interview for a bonus episode, I agonized over it. I didn't want to disappoint my friends, or do it and then later decide I agree with them. I left Joe hanging for a while and then I decide to say yes and then I agonized about it even more until the day came. I felt a little better after I realized I should just tell him what I was nervous about and that I was counting on him not letting Harry off easy at the end.
For good or bad, people still associate me with Ain't It Cool News. It already had a bad reputation in some circles at the time, now it has a whole other world of meaning. If I'm gonna be forever tied to this guy who made more money than I ever will while I wrote better reviews than him and never got paid a penny, I ought to be able to tell my part of it. What I'm proud of, what I have regrets about, what I try to do now.
So that's what I did, and it felt good to talk about. The one tough part was that the last 20-30 minutes got corrupted and I had to re-record my convoluted thoughts about having my work tied to two disgraced individuals (Harry and Seagal), and I think I was even less articulate the second time. Also I lost some stuff I wanted to say about the state of film criticism. Oh well.
I think in wrestling they'd call this a "shoot interview." I wanted to be totally honest about everything, so if you enjoy the mystery you might want to skip over the first 10 minutes or so. I talk about the early days when I was writing more as a character, how that started and what I thought I was doing. But later I talk up my history reviewing DTV, gush about UNIVERSAL SOLDIER: REGENERATION again, etc.
I listened to his introduction and I have one correction: Seagalogy was completely new material, it was not a collection of my Seagal reviews. The only reprint was the concert review in the back. But you probly knew that.
Anyway I hope anybody who has a problem with it will forgive me. I did my best to say what I could about all this and it seemed like a pretty good talk to me.  Feel free to let me know your thoughts. And if you came here for the first time because of the interview I would be interested to know that too.
thanks/sorry friends,
–VERN
If you choose to listen it's HERE.
This entry was posted on Monday, May 16th, 2022 at 11:45 pm and is filed under
AICN
,
Blog Post (short for weblog)
. You can follow any responses to this entry through the
RSS 2.0
feed. You can skip to the end and leave a response. Pinging is currently not allowed.