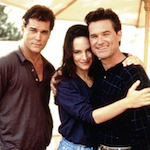 June 26, 1992
UNLAWFUL ENTRY is one of those big mainstream domestic suspense thrillers that you don't see too many of in theaters these days but that were a staple in the '90s. This one is directed by Jonathan Kaplan, who they probly called "the director of THE ACCUSED" in the advertising, but to me he'll always be the director of TRUCK TURNER. One of the greats! The screenplay is credited to Lewis Colick (THE DIRT BIKE KID), who shares story credit with George Putnam (who also had FATAL INSTINCT that year) & John Katchmer.
Kurt Russell (in his followup to BACKDRAFT) and Madeleine Stowe (REVENGE) star as Michael and Karen Carr, a Los Angeles couple who in a skillfully tense sequence discover an intruder (Kaplan regular Johnny Ray McGhee) climbing through the skylight into their enormous home one night. Michael threatens the man with a golf club and scuffles with him, but he holds a knife to Karen's throat and manages to escape.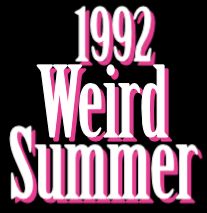 When they call the cops, officers Roy Cole (Roger E. Mosley, HIT MAN, THE MACK, McQ, LEADBELLY, THE JERICHO MILE) and Pete Davis (Ray Liotta, two years and two projects after GOODFELLAS) respond. I love the way Kaplan and d.p. Jamie Anderson (PIRANHA) zero in on Pete reacting to the story, immediately showing great concern and protectiveness for Karen, and managing to touch her when she almost steps on glass. He's obviously got eyes on her, and the way Roy says, "Hey – I know what you're thinking" as they're leaving, you get the idea he's done that sort of thing before.
But first he gets all buddy-buddy with Pete. He convinces them to get a security system and then he personally shows up to help install it. Knows the password and everything. Hmm.
And he tells Michael he should go on a ride along with him. Brings him out for a night of witnessing crazy shit. Michael even has to run out into the street and save a little boy from getting run over. At the end of the night Pete tells him he has a surprise – as you may guess, he figured out who broke into the house, tracks him down and thinks Michael will want to beat the shit out of him for revenge. "C'mon, what're you waitin for? Let's go," he says when Michael doesn't want to do it.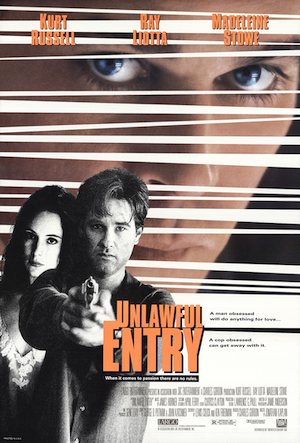 Michael is not the most likable protagonist, but at least he doesn't fall for that "real man" bullshit. As far as he's concerned that's the end of the friendship with this maniac cop. Unfortunately Pete has already weaseled himself into a friendship with Karen. And he gets increasingly stalkery and manipulative with both of them, creepily appearing in their backyard while she's swimming, or at the door with unsolicited groceries, or at a big event for prospective investors in a night club Michael is trying to open, where he appoints himself head of security.
He also gets Karen's friend and fellow elementary school teacher Penny (Deborah Offner, STREETWALKIN') on his side by doing a talk for her students, who she says "love cops." This makes for an ironic transition from assaulting a prostitute ex-girlfriend (Ruby Salazar) and dumping her in a part of town she doesn't know to telling the kids, "So, being a policeman is about helping people."
As mentioned in many other reviews, this is the summer after the Rodney King verdict. So these movies were made not expecting the ultimate outcome, but knowing of the beating and how much it widened distrust of police in general and the LAPD in particular. When Michael tries to talk to another cop for help the guy doesn't believe him and says, "You don't even have a home video. These days everybody's got a god damn home video." Like he's complaining. Oh, I'm sorry, did we put the police out by documenting their actual activities? Pardon us!
But Pete is probly not meant to represent all or most or many cops. Overall they're not shown as very effective, but Pete seems like an aberration among them. It's exciting when Michael goes to Roy and gets him to face that his partner is a lunatic, and then when Roy confronts Pete about his behavior. Does not turn out well for Roy, though. This is a thriller, after all. There's gonna be a body count. And some planted guns and cocaine and stuff.
For the most part this seems like a thriller without the shitty values that some of them had at that time. At least if you read the drug addicted Black man invading their home as an illustration of what a guy like Michael would be most afraid of, and not of what the movie wants you to believe happens all the time. (When confronted, he's more pathetic than scary.) But there's one little touch at the end that I found kind of laughable. The Carrs have a long-haired cat named Tiny who doesn't like Michael. They joke about him not being able to pick up Tiny, and Karen is impressed when Pete can. So at the end after (obviously) shooting Pete, Michael just casually picks up Tiny without a problem. As if the animal is acknowledging Michael's alpha status now that he's killed a man. Pretty funny macho bullshit. Similarly, the ending seems to be disproving Karen and both police officers' contention that it was stupid for Michael to get a gun.I think they were obviously right, though. Would their lives be better if he'd had a gun at the beginning and killed that guy? Or had to decide whether to shoot while the guy had a knife on Karen? No, not at all.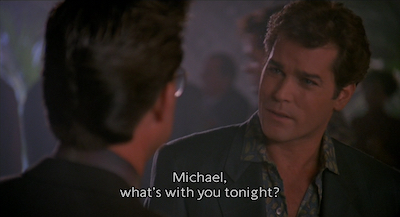 It's a well-constructed movie, with some really impressive camerawork, including a very complex opening helicopter shot and one attached to Russell's face as he's led to a jail cell (I believe there's a similar shot in TRUCK TURNER). Obviously the villain's performance is often the most important part of a movie like this (see also STEPFATHER II), and Liotta delivers. The character ultimately does things that he's got to know are over the line (cancelling their credit cards, walking into the room and watching while they're fucking), but Liotta is so good at seeming sincere that he might be completely delusional when he's, for example, being forcefully told to leave the club and seems to think he can just kinda laugh it off and convince Michael he's overreacting. He might really believe he's the reasonable one at that point. Even when he casually drops the information that he drove by and noticed they were up at 3 a.m. and assumes they were having "one hell of a night."
Unsurprisingly, watching this so soon after Liotta's passing really drove home how much he'll be missed. Not just in leads like this, but when he shows up in a supporting role like in MARRIAGE STORY or NO SUDDEN MOVE, or even something not that great like, say, STREET KINGS 2 or THE SON OF NO ONE. Man, you could always count on that guy being great no matter what it was. I didn't expect him to be gone so soon.
There are a few smaller parts that caught my eye. Kaplan, being a Corman vet, gives Dick Miller a scene as an impound clerk. Robert Costanzo (DIE HARD 2) is a sleazy bail bondsman. Stuntman Bob Minor (also seen in ACES: IRON EAGLE III) is a detective. Andy Romano plays a police captain – he'd be seen as Admiral Bates in UNDER SIEGE later in the year. Djimon Hounsou in his second movie, five years before hitting it big in AMISTAD, has a bit part as one of two prisoners sitting on a bench in one scene. He's just credited as "Djimon" at this point. He gets and the other prisoner (Jeffrey Beale) get a good moment just exchanging a look in response to something Michael says.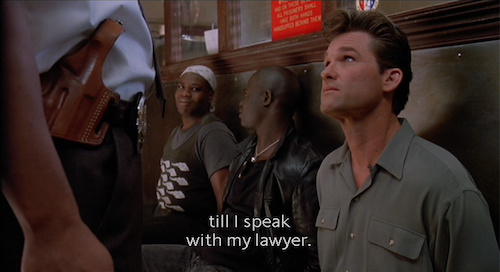 And I only spotted this because of the credits, but Sonny Carl Davis, star of the Austin indie classics THE WHOLE SHOOTIN' MATCH and LAST NIGHT AT THE ALAMO, plays "Neighbor Jack" (one of the investors in the club, I believe).
UNLAWFUL ENTRY got good reviews and was a decent-sized hit, as could actually happen with this type of movie back then. It didn't unseat BATMAN RETURNS when it opened, but it didn't need to at its budget.