THE SON OF NO ONE is the new one from Dito Montiel, who got onto my radar thanks to the unexpectedly interesting FIGHTING. This one also stars Channing Tatum, this time as a rookie NYC cop. Katie Holmes plays his wife. Al Pacino plays his cop dad's partner. Ray Liotta plays his boss. Tracy Morgan plays his mentally disturbed childhood best friend. Juliette Binoche plays a reporter for a leftie weekly who seems poised to ruin his life by exposing a secret from his past. How the hell did I never hear about this movie until the day before it came out DTV?
Oh yeah, for the obvious reason. It's not very good. But I'll put it in the respectable try column if I ever start using a column-based system for categorizing movies, and if I remember this movie at that point, which seems doubtful, but you never know.
The gritty-cop-drama-co-starring-Ray-Liotta is a well-worn genre, it would be hard to really reinvent it. This one at least has an unusual story to it. The secret he's trying to hide is not something he did as a cop, it happened when he was 13 or 14 years old living in the Queensboro housing projectswith his senile grandmother. He shot a crackhead (Roger Guenveur Smith, MERCENARY OF JUSTICE) in self defense. Anonymous letters have been arriving at BInoche's paper saying that two people were murdered in the Queensboro projects in 1986 and it was covered up by the police. Childhood flashbacks are spread across the movie, so there's some suspense about who the second dead body is gonna be in addition to how Tatum is gonna find out who's sending these letters and if he can put out this fire without getting burned. (in this case burned is a metaphor for ruining his life or for doing more horrible things he'll have to live with.)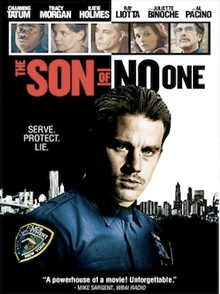 It feels like it could've been adapted from a novel. It brushes against lots of subjects: white kids growing up as a minority in the projects, the elevated reputation of police after 9-11, sexual abuse, mental hospitals, punk rock (would a could really have a poster for the band Millions of Dead Cops if his dad was a dead cop?), plus the ol' loyalty of childhood friends, brotherhood among cops, wives not understanding your dangerous life, etc. But few if any of these topics are covered with enough precision to have much power. Like there's stuff missing, like if there was a book it would've worked better in the book.
I kind of like Tatum, but I don't think he's good enough in this to win over the people who don't. He's pretty close to his usual mumbling self, just with a mustache. I do admire that he has the balls to sport a real, not fully grown-in mustache in a movie. I doubt this was intended but I thought it made alot of sense for a 30-year-old rookie struggling to fit into a culture where he doesn't really belong.
Liotta is as great as usual, but I think it's kind of a mistake putting him in these movies at this point. He's so good at playing a guy who actually cares and really believes in something but you can never enjoy him having somebody's back or being the voice of reason because you assume he's gonna actually betray them. And even if he doesn't you spent so much time expecting it that you didn't get to appreciate him not being that.
Morgan's part is small and a little distracting because of his comedy persona, but he does fine as a distant, non-joking character. The kid who plays the young version of him is actually really good – the young Tatum, on the other hand, just doesn't seem like the same guy at all. He talks too much and enunciates too well. Not his fault, but it's somebody's.
There are some interesting things here, but the story is kind of muddled, nothing really comes together exactly right. FIGHTING was cool because it's this well-worm HARD TIMES or LIONHEART type street fighting story filtered through an unexpected indie drama style and populated with odd characters. SON OF NO ONE tries to do too many things and can't really follow through without a skeleton like that holding it straight.
I'm not giving up on this director though. His next one is an armored car robbery movie starring The Rock.