From the director of THE HITCHER, the writer of SHOWGIRLS and the stars of BLOODSPORT, DESPERATELY SEEKING SUSAN and IGBY GOES DOWN comes this mysterious drifter vs. greedy developers action drama. Co-story credit goes to the guy who directed RETURN OF THE JEDI.
Somehow I never got around to this Van Damme vehicle before, but it kept coming up in IMDb searches: first when I saw THE HITCHER and looked up director Robert Harmon, then when Geoffreyjar emailed me about Joe Eszterhas. It's a little light on action compared to some Van Damme pictures, but the story (generic as it is) is executed well enough to make up for it.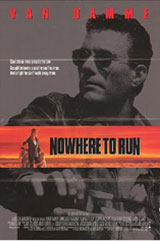 Van Damme starts out a prisoner, not with the French Foreign Legion this time, but on a crowded prison bus being transported across a desert highway. Suddenly a Trans-Am cuts the bus off, causing it to roll, and the car's driver forces the bus's guards to free all the prisoners. Turns out this is Van Damme's character Sam's partner-in-crime, who thinks he's the one who should've done the time and I guess is evening things out by freeing him. (And releasing two dozen thieves, rapists and killers into the general public – might have to do some evening up for that later.)
Wounded, the partner asks for Sam's forgiveness as they drive away, and he receives it. "Oh, I'm glad," he says. "I didn't want that hanging over me for the rest of my life." Then he dies two seconds later. Good one, Eszterhas.
The partner left Sam a tape recorder (with touching recorded message), some money and a suit, but not a fake mustache, so he can't exactly start looking for a job and an apartment. Instead he finds some secluded woods to camp in. There's a house on the land so he spies on the owner – gets a good view of Roseanna Arquette naked – and borrows their salt. Rosanna has two kids, Kieran Culkin and a girl named Tiffany Taubman (BABY HUEY'S GREAT EASTER ADVENTURE). The Culkin is convinced it's E.T. who's been moving the salt around, until he finds Sam's camping spot (the cops can't find him but a little kid can). Then the Culkin hides Van Damme in his closet, dresses him up as a girl and gets him drunk but he dies and then comes back to life and then flies back to his home planet. (Most of that doesn't happen in the movie, it's just implied.)
Since I've seen alot of this type of movie I assumed this was Sam's family and he's camping there so he can keep tabs on them, protect them without revealing himself to them – like Darkman, Spawn, Absolute Power, etc. So it seemed like a great joke when Sam spies on Rosanna kissing the wimpy town sheriff, then in the next scene Sam is in his tent reading Top Heavy magazine. It's like okay, you've moved on? Well so have I. But it turns out they're not his family, they're not even his dead partner's family (another thing you gotta expect since there's a whole backstory about the dad being dead). Nope, total strangers, so Rosanna is pretty confused when Sam appears out of nowhere to rescue her from the people trying to rough her up so she'll sell them her land.
When she asks what he does he says he's a lawyer. "Where'd you learn to fight like that?"
"Law school."
When he starts giving her advice about what the bank can and can't do during a foreclosure I thought holy shit, is he seriously supposed to be a lawyer? But I don't think so. It never comes up again. Too bad, because it could be a good gimmick, like Ryback being a chef in UNDER SIEGE. Van Damme kicks a guy, she says I thought you said you were a lawyer? and he says I also lawyer.
I have learned via email sources that Eszterhas hates critics and thinks they're jealous of him. So it might blow his mind if he self-Googles and reads this because I actually think some of the writing in this is good. I like how he establishes that one of the villains was a corrupt cop without saying it in so many words. The sheriff is introduced to a private security consultant (Ted Levine) and asks where he was trained.
"Cleveland Police Department."
"Why did you leave?"
Instead of answering the guy changes the subject to do a card trick.
I mean, there's some goofy stuff too. Sam is accidentally seen naked by both the mom and the little girl, and they have a discussion about the size of his penis. What is this, a Vincent Gallo movie?
This is one of those action movies that's clearly based on westerns, but not trying to be cute about it. No cowboy hats or saloons to tell you it's a modern western. But think about it: outlaw fugitive drifts into small town, finds out widowed land owner is being intimidated to sell her land, helps out, clashes with sheriff who's not evil but too scared to stand up to the bullies. Sam ends up staying in her barn where he finds not a horse but an old motorcycle that he buys, fixes up and leaves town on. By now the authorities know who he is and track him to the hills where they come on horses and chase him around.
Harmon is good at shooting vehicular chases, so this is a good one. A little shaky, but not in the self-conscious way of modern action. They have cameras following and attached to motorcycles that are hauling ass through bumpy trails, under branches. He gets to the top of a mountain and rides across the ridge, for real. (well, a stuntman does). Really impressive helicopter shots.
I think Van Damme is best in roles like this, the stoic guys without money, working for peanuts or living on the streets. I want to call them his Blue Workshirt movies in honor of the blue workshirt he wears in LIONHEART, but in this one he only wears a shirt like that when he's a prisoner.
In this one by the way they mention Quebec to explain his accent. It's not clear if he's actually from there, but Rosanna claims he is in a lie to the sheriff.
The final fight is really good, lots of good moves and gags. He tackles the guy through an attic window, rolls across the roof and falls. There's a great shot that's inside the house and suddenly a shotgun blasts through the wall and through the hole you can see them wrestling over the gun outside. They saved the best stuff for the end.
I don't think anybody considers this one of the best Van Damme movies, but I think it's solid. It's in one of the upper tiers of his movies. The story reminds me a little bit of the less goofy elements of FIRE DOWN BELOW, which is a compliment. Rosanna Arquette elevates the material by giving a better dramatic performance than most female leads in a movie like this, and at the same time being willing to do nudity. Kieran Culkin is good – it's not like you need a kid to be a major character in an action movie, but if he is he might as well be able to act. And he gets a funny HOME ALONE move where he uses a horse as a weapon. And Van Damme's acting is as good as it gets other than in J.C.V.D.
To sum up, there's no reason to run from NOWHERE TO RUN!