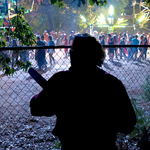 About a third of the way into TEXAS CHAINSAW 3D, when the sound of the heroes' van rolling off the road faded and I realized that everybody else in the theater was laughing too, it was clear we were on the same page. This is a dumb fucking movie, but we're enjoying it. That's not what I want from a sequel to my favorite horror movie of all time, but it's about the best I hoped for. So I'm chalking this up as a win.
I have long considered Marcus Nispel's 2003 remake TEXAS CHAINSAW MASSACRE to not exist, and now I've been proven right. If there really was a remake (and a prequel to the remake) then how do you explain this being a direct sequel to Tobe Hooper's original 1974 masterpiece, smart guy? Nope. No remake. If there ever was one it doesn't matter 'cause there isn't anymore.

The only problem with that is that it means Hooper's 1986 sequel masterpiece THE TEXAS CHAINSAW MASSACRE 2 doesn't exist either, and that I cannot abide. TEXAS CHAINSAW 3D does give the family the last name "Sawyer," which comes from part 2, but none of the continuity links up. In this timeline The Old Man/The Cook/Drayton Sawyer died back in 1974, and was played by Bill Moseley instead of Jim Siedow, which means Nam Land, the Last Roundup Rolling Grill and Chop Top never existed. This kind of thing is why the Star Trek people aren't allowed to fuck around with timelines.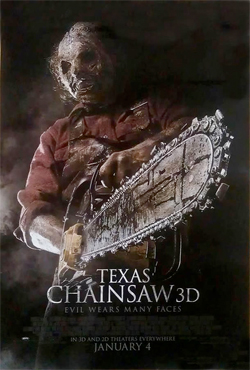 This sequel opens with footage from the original, filtered a little bit but beautifully 3D-ified. I honestly was thrilled to see all these iconic shots (the metal door, the hook, the swing/butt shot, hitchhiker getting run over, the chainsaw dance…) poking out of the screen. They did a great job. Then it continues, with the sheriff showing up at the house trying to get the killers to give themselves up. Suddenly there are a whole bunch of old bearded guys in the family (including Gunnar Hansen), and I'm not sure if we're supposed to imagine they were there all along or if Drayton called them for support in his time of crisis.
The family decide they're gonna give up "the boy" or "Jed," who we of course know as "Leatherface" or "Bubba." Unfortunately a gang of yahoo yokels show up in their Trans Ams and pickup trucks, shoot everybody and burn down the house, as either an allusion to A NIGHTMARE ON ELM STREET or the events of Waco, Texas, 1993. I like the irony of this, that the real massacre is these guys killing the Sawyer family. Of course, they dropped 'MASSACRE' from the title to make it more aerodynamic. They also dropped the 'THE' which is too bad, I would like it to be THE TEXAS CHAINSAW 3D.
Anyway these vigilante murderers dig through the wreckage for souvenirs. One guy finds a severed arm, another guy the chainsaw, and one guy finds a baby. It's very comedic the way he sneaks it to his wife and then tries to act real casual so the fellas don't notice what he scored. Good find.
Fast forward to… unspecified amount of years later. It seems to be the present day (there's an iPhone later on), but the baby has grown into Heather, played by Alexandra Daddario, who in reality was born in 1986. So whenever the date of the massacre is mentioned they don't say what year. When we see tombstones of the people killed the year is covered by grass.
Heather never knew that she was "adopted" (stolen from a crime scene) until her previously unknown grandmother died and left her an estate in Newt, Texas. Along with her boyfriend (Tremaine "Trey Songz" Neverson, a singer I believe), her best friend Nikki (Tania Raymonde), a guy who looks like Lance Bass (Keram Malicki-Sanchez) and a drifter they pick up at a gas station (Shaun Sipos) she heads to Texas to sign the papers and find out what she's won. It turns out to be a big mansion with Leatherface locked in the basement. And he gets out.
At that point it becomes an extended chase, which is fun, and then there is a major shift and it goes somewhere completely, hilariously unexpected.
If you are of the superstitious type who believes that the remake exists, you could argue that on a technical level that's a better movie than this is. It definitely looks better, it's more atmospheric, and probly closer to being scary since it has R. Lee Ermey being such a nut in it. And this sequel, despite an assboatload of fannish homages (the sheriff is named Hooper, the combination on a lock is the date that the first took place, several of the most famous moments are re-created, including the eerie flash bulb sound both for camera and non-camera related scenes, John Dugan returns as Grandpa, Marilyn Burns plays the grandmother, they built a duplicate of the original house, I think the other side of the family is even named after part 2 writer L.M. Kit Carson…), repeats what would be the remake's greatest sins, were it a movie that existed:
1. making it just about Leatherface, no interaction with other family members
and
2. making Leatherface just a generic killer, not showing any of the goofy manchild personality he had in part 1 and part 2
In fact, only THE NEXT GENERATION (part 4) could claim to have a worse Leatherface. This guy (the actor is named Dan Yeager) does not look very cool, his mask has the dumb evil brow like in the remake, and his movements might as well be Jason or any other killer. On the positive side, he does wear a tie like the one in the original (he puts it on for a special occasion) and there is one little moment after he cut off a guy's face when he does a bit of a dance of excitement. That was the only part where he seemed like Leatherface.
Those are big things, but the sequel also has two distinct advantages over the remake:
A. it's not a remake, so it doesn't have to be compared to the original, you compare it to the sequels, only one of which is really good
B. it's actually fun. It's not just trying to be grim and rub your nose in shit like a bad dog. It had us all laughing. Sometimes intentionally, I think. Not most of the time, though.
Daddario, who was a really good final girl in BEREAVEMENT, is not as real in this one. I mostly rooted for her, but I also laughed when she failed to clear a short wire barrier in a garden and bit it. She looks even more cartoonishly hot than in the other movie. She has piercing eyes like a model, big boobs, and shows her bellybutton for almost the entire movie. She chooses to wear a midriff-exposing sweater for her trip. After she's attacked and escapes the police give her a new shirt, which she wears with the lower three buttons undone. Later she's tied up with the shirt open, and when she gets away she buttons it up again, still only at the top. I mean I don't know, she must have some kind of problem that it gets overheated or something, she needs to keep it aired out.
Let me be clear, none of this is a complaint. The older I get the more I appreciate this type of thing. Apologies. But it's an example of how this is more like an '80s formula slasher movie than it's like the original TEXAS CHAIN SAW MASSACRE. Other ways: the first victim is an asshole that tries to rip off the heroes. Another victim smokes pot and seduces her best friend's long term boyfriend. Another victim is the cheating boyfriend. This is a dumb movie. If you're gonna appreciate it it's gotta be on the level of a later FRIDAY THE 13TH, not a Chainsaw Massacre.
I'm gonna have to look up who Trey Songz is, I know I heard the name before, but I didn't know until I saw it trending on Twitter that it was a big deal he was gonna be in this and that everybody assumed he would die first since he's the black guy. Well this is Obama's America, motherfuckers, so he dies third, I think. Spoiler.
UPDATE: I have been informed that he is a singer/rapper. So his fate might have to do with the rule that a rapper cannot be killed in a sequel to an iconic slasher movie (examples: LL Cool J in HALLOWEEN H20, Busta Rhymes in HALLOWEEN: RESURRECTION) unless they are playing themselves (Redman in SEED OF CHUCKY). In this case I think since he's also a singer it splits the difference, he survives halfway through. Or maybe the rule only applies to Michael Myers, like maybe the Thorn Cult cursed him to be unable to kill rappers. We're gonna need more data to be sure.
If you're gonna look at the racial politics of the thing I think the more interesting aspect is that the white heroine is with the black guy, and nobody every says anything about it, even in Texas. That's kinda progressive, but then they wimp out by having their sex scene get interrupted and then having him cheat on her instead of be a good boyfriend. And even though she doesn't know about that she doesn't seem too broken up about his death. He's never mentioned again.
(For those who have seen it, wasn't that a missed opportunity that after he was dead in the car wreck and Nikki was freaking out Heather didn't ask, "Why isn't he wearing a shirt?")
There are many good laughs from funny lines and happenings. For example I like the part where the lawyer (Richard Riehl) won't go onto the property with her, pretending he has another appointment and then getting the fuck out of there. And I really got a kick out of Leatherface running into a public place with his saw, something I always thought should happen in a sequel. Unfortunately he doesn't nail anybody, but at least he chases Heather up a ferris wheel and then throws his saw at the camera (in 3D!).
But in the bad-slasher tradition alot of the laughs come from the characters being stupid. It's just funny to have a car not turning over and the passengers keep yelling at the driver to start the car, as if they don't understand how it works. Or when the girl shoots through a door and the boyfriend keeps asking "Did you hit him?" as if she is gonna somehow know any better than him. Heather is the toughest and most reasonable one of the bunch, but she makes some hilarious mistakes. One weird touch is when she crashes a van through a barn to where here friends are, yells at them to get in… but then has her boyfriend drive.
The best one is that the lawyer gives her a letter from her grandma and tells her to be sure to read it, then she doesn't until the end when he is shocked to find out she hasn't read it. It sure would've been helpful since it explained everything.
Another funny moment is when the two cheaters come out off their sex barn, they see this nut wearing a skinmask sawing into a grave, and they yell "Hey!", causing him to come after them. That one is actually a believable stupid mistake for them to make, that's why I liked it. It's true to life.
There's one part that works as a small piece of commentary, but probly wasn't intended as one. When Nikki tries to shoot Leatherface she feels the need to one-line and yells, "Welcome to Texas, motherfucker!" The thing about it is that Leatherface is the one welcoming her to Texas. She just drove from an unspecified (I think) other state and arrived today on his property but is so self-absorbed that she has claimed Texas as her home and its natives as her guests. I've always loved the way the original TEXAS CHAIN SAW MASSACRE uses the protagonists being trespassing out-of-towners to make everything extra uncomfortable. Here they're not trespassing, because Heather legitimately owns the place, but Nikki manages to figure out a way to still be an obnoxious tourist.
I could not in good conscience recommend this if that was all there was to it, but the true worth of the movie is in the preposterous third act. If you're into shitty slasher sequels like I am please see the movie first, but since I know some of you will never watch it I gotta SPOILER SPOILER SPOILER share this with you guys. See, once Heather escapes she gets to the sheriff, who is trustworthy because he was the one who tried to legitimately arrest Leatherface back in unspecified year. But he gets taken aside by the mayor, who was the leader of the vigilante lynch mob and is still a total asshole, and Heather is left alone with a box labeled "EVIDENCE." She starts looking through it, reads the police reports and newspaper articles and figures out that she is Leatherface's cousin and that these people murdered her entire family. So suddenly it becomes the story of the rednecks coming after her because she's a Sawyer and she knows the truth. They're the ones that tie her up at the slaughterhouse, and Leatherface does show up and almost saw her arms off but she's able to prove that they're related and then they team up, like Sanaa Lathan and the Predator in AvP! I swear to you that she calls him "cuz" and throws him his saw. There are many beautiful moments of absurdity in this scene, but to me the highlight of the whole movie is afterwards when the two of them walk away together, then sit in the kitchen exhausted. It's just great to get that in a movie, that awkward moment between the gorgeous young woman and the mentally disabled cannibal graverobber that murdered her boyfriend and friends but then she found out he was her cousin and now they're gonna live together in a mansion.
You may have a hard time believing that that inbred freak could be related to this girl: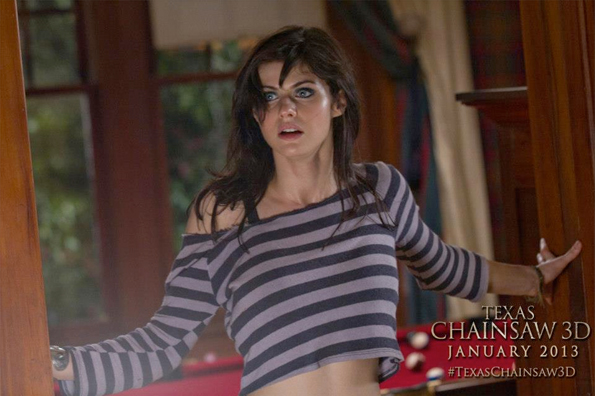 but you should know that she works in the meat department of a grocery store and uses chicken bones in her multi-media artwork. So she's a Sawyer.
The 3D is decent. I wish it was more of a gimmick-fest like MY BLOODY VALENTINE 3D and FRIDAY THE 13TH 3D, but it does have some cool shots and several protruding chainsaws. It's worth it for the main extended saw-in-your-face scene and especially the dimensionalized footage from the original. Even seeing Franklin's flashlight beam shine out of the screen was cool. And I always get a kick out of 3D that doesn't make sense, like when the photos of the vigilantes posing with their trophies are 3D, or the graphics on an iPhone.
I should also point out that Clint Eastwood's son Scott plays a cop in this. He doesn't talk as cool as Clint but he looks exactly like him. He could play Wolverine some day, maybe.
Anyway, I had fun, and I'd love to see what the hell would happen in the direct sequel to this one. But if I gotta choose whether this happened or part 2 happened then sorry, TEXAS CHAINSAW 3D, but lick my plate ya dog dick.