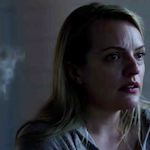 When we last saw Australian writer/actor/director Leigh Whannell two years ago, he had graduated from James Wan's main writer (SAW I-III, DEAD SILENCE, INSIDIOUSes) to director of "a ferocious low budget cyberpunk action thriller" (source: outlawvern.com) called UPGRADE. I guess not very many people saw it, but Blumhouse still liked him enough to listen to his pitch for a remake of THE INVISIBLE MAN. And it was apparently a good one.
It had me not long after the simple, eerie title sequence – yes, you can still have a title sequence! – of waves crashing on rocks, splashing up and dripping off of invisible letters. The opening takes place high above those rocks in the mansion of super-rich-tech-genius Adrian Griffin (Oliver Jackson-Cohen, FASTER, The Haunting of Hill House), who is asleep. His girlfriend Cecilia (Elisabeth Moss, SUBURBAN COMMANDO) is trying to sneak out, something she has clearly planned for and is very scared about, with a go-bag in a hidden compartment, a plan for turning off the security system and a rendezvous point with her confused sister Emily (Harriet Dyer).
I'm not saying it's on the same level, but it reminded me of seeing SCREAM for the first time – throwing you without much setup into this extremely tense suspense set piece with a woman, alone at night, afraid of a man who might be out in the dark somewhere, but we don't know where. And I like how it treats this sleek mansion with the giant windows and the amazing view – which must be a hell of a place to live in – into the scary place, the haunted house. That's how she treats it when she later has to return there.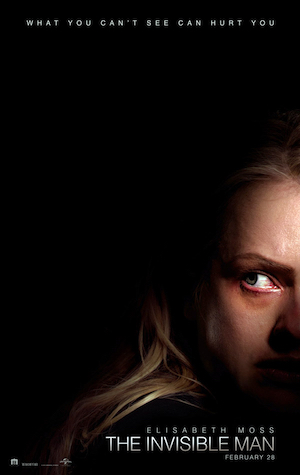 Once she gets away she hides out at the home of her cop friend James (Aldis Hodge, one of Zeus's nephews in DIE HARD WITH A VENGEANCE) and his teenage daughter Sydney (Storm Reid, A WRINKLE IN TIME). Whannell and the outstanding Moss take time to really show how traumatized Cecilia is from all this, as well as the support she receives from this family and the sense of humor they have with each other. It seems like she can stop being so scared and start healing when she's told that Adrian committed suicide and left all his money to her.
We know better, though, because
1) during her escape she walked through his lab, we know he was working on something
2) also we know we are watching a movie called THE INVISIBLE MAN
3) furthermore, we saw the trailer
so of course weird shit starts happening, things we see that she doesn't (a knife floating off a table, the oven burner turning up on its own), her hearing things, sensing a presence. He's still controlling her, scaring her, stalking her, only she can't see him. So she practically sees him everywhere. He torments her in increasingly cruel and devious ways, setting her up to look crazy as she tries to convince her family and the authorities that, you know, her famous dead ex-boyfriend is alive and figured out how to be invisible. I noticed that a bunch of the scary things he does in the trailer are not in the movie, but that's okay, he's bad enough.
Of course we can understand why everybody looks at her weird and thinks she's lost it, just based on the outlandish things she's telling them are going on, but also Moss is extremely convincing as a woman who has been through far too much – the red eyes, the slight shakes, the bitter smile as she explains the terrible truth, clearly not in a good place mentally. You feel so bad for her.
It's an extreme and powerful version of the "nobody believes you, I guess you're on your own" type of horror story, with extra uneasiness added by our knowledge that the fear of not being believed is a big part of why some women never tell anybody about being abused. I don't say this about many movies, but I think it's genuinely pretty scary, between its well-crafted paranoia of the unseen and the villain's unending penchant for cruel manipulation, which leads to some shocking oh shit moments. It might be too much for some people who have been through a non-sci-fi/horror version of something like that.
But of course she's gonna be an inspirational figure, she's not gonna crumble, she's gonna devise a way to stand up, to fight back, to get this invisible bastard, wherever he is. And there are some action scenes. Like UPGRADE, they're done with very smart, controlled camerawork, including long takes and stylized moves following falling bodies. There are a bunch of scenes where people get hit or shot by this invisible individual, getting knocked over, flipped, thrown, bloodied. It's a style similar to UPGRADE's "guy's body is being run by a computer so he has no control as it does a bunch of crazy fight moves" (though not always quite as convincing in my opinion, but that's okay), and it has the same choreographer, Chris Weir.
I like James Whales' 1933 INVISIBLE MAN, based more directly on the H.G. Wells story. It has the most modern pace of the classic Universal monster movies, the highest body count, and the most psychotic villain. I haven't seen it in a while, but I believe this is a remake more in the tradition of THE FLY, taking the title and the basic premise and completely reworking it. I mean, the original Invisible Man was the main character, we saw his research, he wore bandages and a bathrobe so as to be visible. This is not that at all. It's also not a remake of THE HOLLOW MAN, for the same reasons. Maybe HOLLOW MAN 2, I suppose – all I remember about that is Christian Slater, fake Seatle, and that I reviewed it for Ain't It Cool.
I'm glad this is doing well, because Whannell is good and it will help him to keep making movies. And if he has cool ideas for The Creature From the Black Lagoon or some shit I'm all for it but I actually hope he doesn't become stuck to a franchise and just keeps making different things. We need more directors like that these days.
For now, he is the latest guy who's supposedly doing a remake of ESCAPE FROM NEW YORK. I'll believe it when I see it. But he seems like the most promising person they've had attached so far.
SPOILER ENDING DISCUSSIONS. In the end, Cecilia does what she feels she has to do, and although I definitely feel some sympathetic relief as she takes that deep breath of freedom, I also think Moss deliberately plays that smile so that you'll question how on board you should be with what she just did. I actually think the ending is kind of like DEATH WISH – a cop has figured out what she did, has decided to look the other way, and her expression indicates that she might be dangerous now.
(Note: Whannell didn't write Wan's DEATH WISH-related movie DEATH SENTENCE, but he did play a part in it. Also, unrelated, he was in THE MATRIX RELOADED. And LEGEND OF THE GUARDIANS: THE OWLS OF GA'HOOLE.)
Thinking about this ambiguity later on I started thinking through the movie and how much of what's going on we only know because we believe Cecilia. We never see her time living with Adrian, other than her escape. Her family is unaware of the abusiveness of the relationship. The invisible person terrorizing her turns out to be, at least in one incident, Adrian's brother. Adrian claims that his brother was controlling of him, and doesn't confess to having abused her when she tries to get him to. For a minute I even wondered if it was supposed to be left a possibility that he never was the invisible man, and she wasn't as trustworthy as we thought (a twist that would be what they call "problematic," in my opinion), but then I remembered that he punched through a car window when she tried to leave. And I think we heard his voice saying "Surprise" from the suit. But having the rest of her life with him happen off screen is a very effective way to tell the story, putting us in a perspective not far off from the characters she's trying to convince, and avoiding abuse scenes that we could see on Lifetime or something if we wanted to.
Some questions: How is his breath coming out of that suit? Does it make sense for a hand covered with little cameras to create a handprint on a shower door, and if not is that why they cut that scene that I seem to remember was in the trailer? How did Adrian and his brother convince the police that he was dead? (Maybe a bribe.) Would I have been okay with it if there was a post credits scene with the Tom Cruise character from THE MUMMY because the Dark Universe is gonna happen after all? (answer: yes)
This entry was posted on Monday, March 2nd, 2020 at 7:44 am and is filed under
Horror
,
Reviews
,
Science Fiction and Space Shit
. You can follow any responses to this entry through the
RSS 2.0
feed. You can skip to the end and leave a response. Pinging is currently not allowed.