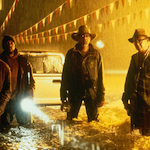 HARD RAIN is a very enjoyable '90s studio action movie (with a side order of disaster) that it turns out I must never have seen. I thought I had, but I would've remembered how good it is!
It starts, like many good films, by pulling out of the Paramount logo and using the logo's mountain as part of its scenery. I was thinking it would be cool if it continued to be in the background of shots throughout the movie, but no dice.
Anyway, a very cool shot that I think combines live action, digital and miniature models establishes the geography of the small town of Huntingburg, Indiana, where the Sheriff (Randy Quaid, VEGAS VACATION) is trying to evacuate the locals as the titular aggressive precipitation causes flooding that will soon be worsened by trouble with levees and dams.
Meanwhile this dude Tom (Christian Slater, THE WIZARD) and his uncle Charlie (Edward Asner, voice of Jabba the Hutt, Star Wars: Return of the Jedi – The Original Radio Drama) are working their shitty job driving an armored car, and they get stuck on a flooded road, unable to move further. Suddenly they're blinded by floodlights and some guys pretend they're going to help, but of course they really intend to rob the car. Uncle Charlie is mistakenly shot to death in the hubbub and Charlie runs away with the money.
I wondered why he would go through the trouble of protecting someone else's money in this situation, but the leader of the thieves, Jim (Morgan Freeman, TEACHERS), helpfully speculates that it's for protection. Tom knows they won't kill him if he's the only one who knows where the money is.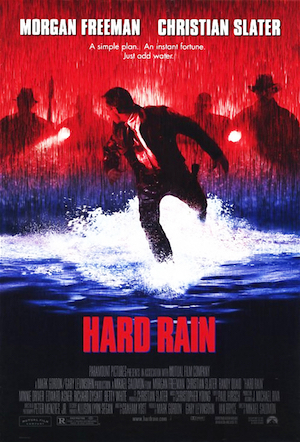 Though the Morgan Freeman gravitas caused me to assume he'd be some kind of mastermind, Jim kinda seems like he's just some dude. I mean, he's cocky enough to wear a cowboy hat and earrings, but so are alot of people. His crew consists of Bible-quoting Ray (Ricky Harris, MURDER WAS THE CASE: THE MOVIE, TALES FROM THE HOOD, THICK AS THIEVES, SIMON SEZ), young nervous guy Kenny (Michael A. Goorjian, SLC PUNK!, Party of Five) and Mr. Mehlor (Dann Florek, Mr. Slate in THE FLINTSTONES), a fired high school science teacher who's in charge of explosives.
Kenny is the dipshit who accidentally shot Charlie, pissing off Jim to no end. But he keeps him along because "His father asked me to look after him."
The first big action sequence is a classic. While Tom tries to get away on foot, sloshing his way through the rising water, Jim and the gang break into a boating store and steal a small motorboat and some jet skis. Tom breaks into a middle school where they chase him through the flooded hallways on their jet skis – then he steals one and gets to take his turn. It looks very real and I love how Ray confidently ducks under the hanging light fixtures.
Tom manages to hide the money in a cemetery and take refuge in a church, but rather than being offered the traditional sanctuary he's mistaken for a looter, gets bonked on the head with a large crucifix and wakes up at the town jail. His attacker was Karen (Minnie Driver, STAGE FRIGHT), who was working on a restoration of the church and straggling to try to start some kind of pumps so her work won't be ruined.
Tom explains what's up (a little too slowly – you oughta lead with "my armored car was robbed" in my opinion) and the cops go to check it out, leaving him locked in the cell like a misunderstood gunslinger in an old western. So now we wait to find out if they're in on it or if they'll decide they want to be in on it or if they'll just get killed right away or what.
Okay, I'll SPOILER it – they are not in on it, but decide they want the money themselves. So now there are more people with guns to look out for. The sheriff feels he's justified in shooting them because "they're looters," which is of course ironic because he too has decided that a natural disaster is a good opportunity to steal. Worse, this deputy Wayne (Mark Rolston, ALIENS, LETHAL WEAPON 2, ROBOCOP 2) decides to get rapey. Asshole.
That part's no fun until he gets his. Otherwise this is a great time. There are so many nice little visual touches. The opening shot has a conspicuous McDonalds in the town, which later helps us gauge the water level when we see the top of the arches poking out. Similarly, there's a statue of a soldier on a horse with a sword (I hope he's not a Confederate) which we see uncovered, then mostly covered, then we see it again when a boat crashes into it and breaks its propeller. That was some Brian DePalma shit.
There's lots of little problem-solving things: using a flashlight as a breathing tube, being handcuffed to a banister and having to unscrew it one piece at a time to move up the stairs ahead of the rising water. My favorite is when Tom is left alone in a jail cell and does the classic "whip your belt like a lasso to try to hook onto the keys that have been left out on a desk" maneuver. Except it makes more sense than in the old westerns because the building is flooding so he just needs to get the desk to float in his direction. And then when it works he realizes, duh – these aren't the keys to the cell, these are just somebody's car keys (which is communicated to us visually with the Ford logo).
I like that it's epic in its disaster/adventure but also has that OMEGA MAN type feel of a hauntingly empty town where you can just go where you want. There is one other set of characters, the funny old bickering couple played by Betty White and Richard Dysart. They're introduced telling the sheriff they haven't left yet because they're setting traps for looters, so you know that will come up again.
Neither Tom or Karen is a very well-defined character – like, I'm not sure why she's so confident about pushing a cop into the water and ditching him! – but Slater and Driver are both pretty charming and have goofy little moments together like when they're trapped in somebody's car and then look through the owner's tapes and note that they have the FOOTLOOSE soundtrack.
Also there's a funny idea that she talks a bunch about how much work she's put into restoring the stained glass windows in the church, so we have to think of it when Tom breaks one to fire out of, then a boat crashes through one, then more of them get shot up. I think this is the first time I've seen a movie where there are such stakes involved in this kind of property damage.
The genius of the movie is that it successfully captures the thrills of a big studio post-DIE HARD action movie (UNDER SIEGE-worthy score by HELLRAISER's Christopher Young, outstanding flooding effects and model work, crazy action on a variety of water-based vehicles, shootouts and explosions) but also feels very intimate and small time and personal. If there's a character who is anywhere near the best at what they do it's Karen at restoring stained glass, which as I've already explained does not turn out well for her. Otherwise we have a hero who used to sell construction equipment and now works a shitty security job he got from his uncle, and he's facing not a master criminal but just some guy who knows his uncle who's being opportunistic during the flood. And in the end the two are kind of on the same side against the also opportunistic sheriff of a small town who recently lost an election and seems to be hated by many of the locals.
And it's unusually good hearted for the genre. I was really impressed by the part where Tom is being attacked by Kenny (who killed his uncle!) in the water and realizes they need to climb out of the water up a wall because a transformer is about to explode. The standard action movie move would be to climb up the wall as his foe is electrocuted behind him, but instead he tells Kenny to get out of the water and tries to take his hand when he chooses the metal ladder that won't save him. And at the end of the movie after all the fighting he floats up to Jim and asks, "You all right?" I love it!
After the movie I read a quote from Freeman saying that (SPOILER) Jim originally died, but test audiences didn't want him to die and thought he should get some money. It doesn't seem tacked on to me, though. It seems more like the ending of THE FAST AND THE FURIOUS. In fact, there should be several sequels where Jim and Tom team up for bigger and more ridiculous flood adventures.
As appealing as all this is to me, it seems it didn't gel for people at the time. It's obviously an expensive movie – $70 million according to Wikipedia – and made less than $20 million at the box office, causing Total Film to label it the biggest flop of 1998 (the year of GODZILLA, SPHERE, THE AVENGERS, SIX DAYS SEVEN NIGHTS, etc). To give you an idea, BALLISTIC: ECKS VS. SEVER had roughly the same budget and box office.
Though not as bad as that one, HARD RAIN got pretty bad reviews and Roger Ebert for some reason totally hated it. I shouldn't have listened to those people for all these years! Thank you Fred Topel for bringing it up so many times.
I forgot about this, but Slater's BROKEN ARROW director John Woo was originally set to direct it. He left to do FACE/OFF, so we gotta respect that. Instead the director is Mikael Salomon, and it's the second of his three feature directorial works, after A FAR OFF PLACE (a 1993 PG-rated Disney adventure about teenagers and a bushman crossing the Kalahari Desert to escape murderous poachers) and before FREEZER (a 2014 DTV thriller about Dylan McDermott waking up trapped in a meat locker). He's mostly directed TV shows (Nash Bridges, Band of Brothers, Rome), but he started as a cinematographer in Denmark and then came to Hollywood and did ALWAYS, ARACHNOPHOBIA and BACKDRAFT. But exactly as Jan de Bont was hired to direct SPEED because he'd shot DIE HARD, I'm pretty sure Salomon got this job because he was the cinematographer for THE ABYSS. If you're filming a movie mostly on sets in giant water tanks you gotta have a guy who's willing to get wet.
And just like SPEED, the script is by Graham Yost (this time not rewritten by Joss Whedon, as far as I've read). And really this is the bridge between him as the guy who wrote SPEED and the guy who created Justified. It's got the giant action and the down to earth characters, including criminals so dumb they accidentally murder an accomplice at the very start of the crime, but also relatable enough that it's kind cute when they celebrate a bomb going off by yelling "Did you see that!?" and high-fiving while on jet skis.
If I could go back in time I would give them a quote that says HARD RAIN drives a hard bargain, do NOT give it a rain check!