Remember everybody, Sunday is Mother's Day. If your old gal is still around and on speaking terms you might want to send her some flowers or a fruit basket or whatever. Or if you got one of these mothers who's real big on SAW II-IV, REPO THE GENETIC OPERA and 11-11-11 then I definitely recommend surprising her with the DVD or blu-ray of this new sort-of-remake from director Darren Lynn Bousman.
The original MOTHER'S DAY was written by Charles Kaufman – not the SYNECHDOCHE, NEW YORK guy, the Lloyd Kaufman's brother guy. I don't remember it much but I thought it was kind of a Troma-esque riff on the TEXAS CHAIN SAW family of inbred maniacs type story. This is credited as a remake, but it doesn't have much to do with the original from what I could tell, and the tone is completely opposite. If anything it's too serious. But pretty good.
t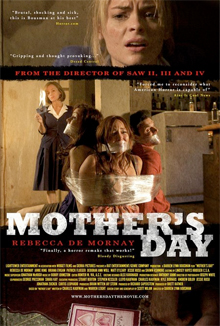 The reason I watched it: Rebecca De Mornay plays the mother. I'm not sure why I was thinking she was some revered artist above doing schlock, but I was surprised they could get her for this. She's good in it, a serious non-mega performance of a good looking, well dressed lady psycho. She looks like she could be reporting the news or working in the West Wing, but instead she's terrorizing a bunch of innocent hostages in her old house that got foreclosed.
The shit goes down when her sons come home, one sporting a could-be-fatal bullet wound earned in a botched bank robbery. They're outlaws who fucked up their system of secret communication (basically they lost the dedicated cell phone Mom gave them) so they didn't know she didn't own the house anymore. They bust in, realize they're not alone and have to take the new owners and their guests hostage. During the housewarming party, no less. The house is not even warm and this happens.
This does have some things in common with the SAW series. No Rube Goldberg contraptions, but the brothers are sickos who find a wide variety of ways to mistreat these people. Most disturbingly and most SAW-like, they seem bent on proving that human nature is ugly. They especially enjoy putting people in situations where they have to doom their friends if they want to survive. Some of their victims give in, and it's not even backstabbing – one girl stabs her friend in the front.
Just as they turn on their friends I turned on the movie a couple times. It seemed to agree with the torturers, having ugly secrets revealed so our protagonists are jerks, or even somewhat responsible for what goes down. But ultimately it seems to be saying that people can work through their fuck-ups, find redemption and unite to survive. I even found it moving when one character emotionally apologized for something while in danger. So the movie and I begrudgingly became allies.
When I wasn't feeling like I was getting my nose rubbed in it I was impressed by the amount of variety in the horrors that happen within this simple scenario. A few characters have to leave the house, so there are tense situations at an ATM, at a hospital, at a traffic stop. I don't know if the tornado was necessary, and if it was maybe they should've had one of the bad guys get sucked up and fly away like the cow in TWISTER, but I guess it adds to the helpless, apocalyptic atmosphere. There are some effectively gruesome sights, some admirable escape attempts, some savage reprisals, some good twists. It puts us in messy situations where the lines between self sacrifice and stupidity are not clear. It doesn't encourage an every-man-for-himself attitude, but acknowledges that sometimes it might be the smartest option.
It earned my respect as it went along. At first the characters – both victims and victimizers – seem like pretty typical bland studio casting and characterization. Good looking middle class white people with one gorgeous black couple; sweaty, spikey-haired bad guys trying to do a touch of redneck menace without going full (or even one-third) Hitchhiker. (One guy has one of those big leather bracelets with studs, so you know he's legit.) And it's hard not to be distracted by how obvious it is that the guy with the bullet wound studied Tim Roth's performance in RESERVOIR DOGS. But as the situation gets out of control the threat feels more legitimate. LAST HOUSE ON THE LEFT grimy, but with less rape. Refreshing.
In the house they got Shawn Ashmore, who I believe was one of the young X-Men. They also got Briana Evigan, the star of STEP UP 2, but she doesn't get to dance and they put some shitty tattoos on her. (It's weird that she's in this, because she's in Dolph's upcoming movie STASH HOUSE, which is about the exact same thing – couple in house that used to belong to criminals being terrorized because there might be loot hidden in the walls.) They have Frank Grillo, who I immediately liked because he's the guy from WARRIOR and THE GREY, but he turns out to be less deserving of my support than some of the other characters.
The standout in the cast of protagonists is Jaime King. She's only about 30 but she's got some womanly age around her super model eyes that makes her seem a little more real than when she was a youth. I remember she at first went by "James King," which seemed like a ballsy thing she could only pull off because of her looks. But she changed it to Jaime pretty quick.
Anyway she pulls it together pretty good and it becomes a story of opposing mothers, like ALIENS. Only a brief flashback actually takes place on Mother's Day, but the themes are definitely appropriate for the holiday. Both of these women dearly want to be mothers, but have some difficulties with it. One of them, in my opinion, would probly do a better job.
But De Mornay definitely makes the movie. I especially like her during the short period where she tries to pretend she's a nice lady. Seeing the violence in her (former) home she says "This is unacceptable!" and asks the hostages to "Please, sit down." Her eyes are wide and she seems very sincere. She's not being sarcastic as a way of threatening them, she's serious. Like she thinks her etiquette will make what they're doing more justifiable. I wish she'd kept that up longer, like the Cook apologizing for poking Sally with the broom in TEXAS CHAIN SAW, but she's still fun when she's more open about being evil. I disagree with some of the things she encourages her boys to do, but I guess it's always good to be a supportive parent.
This also might be the most crying I've seen a horror movie villain do in a long time. That's pretty unique that she gets upset as much as she gets angry.
Hopefully this won't be an implied spoiler, but I like how it ends too. These characters have to make it through a harrowing gauntlet of brutality, but there are parts that remind me of the more fun-oriented franchise horror of the '80s, and I like that. It's dark but more ridiculous than some of the horrible shit that happened to the characters earlier, so it works as a bit of an entertainment cherry on top of the punch-in-the-face sundae. Hope you enjoy it, Mom!