MARLOWE is a 1969 adaptation of the Raymond Chandler story "The Little Sister" that is still not available on the DVD now available as a Warner Archive DVD
. James Garner plays Philip Marlowe, as much of a wiseass as ever, but it's a little weird because he's a character so associated with the '40s, and here he is in a Summer of Love era Los Angeles where the gangsters and movie stars mingle with hippies. Marlowe still wears a fedora sometimes, but he doesn't act too retro. He fits in. And I mean he enjoys the ladies, so that's compatible with the times. Free love and all that.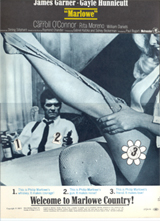 Marlowe takes a case from a young blond girl who's trying to find her brother. While investigating Marlowe starts coming across some dead bodies with ice picks in them. And this was before BASIC INSTINCT, so it was not a movie reference. He figures a murder spree connected to his case might be worthwhile to investigate. What seemed like a pretty simple case at first eventually involves a gangster, blackmail photos of a famous movie star, a burlesque dancer who Marlowe enjoys the company of, a sleazy landlord who takes bribes, etc. You know, mystery shit. Marlowe gets threatened by gangsters and what not, but never loses his dry sense of humor.
At one point a Chinese guy walks into Marlowe's office with a big smile on his face and kicks a hole through the wall so you can see the people in the next room. The kicker then turns very casual and tells Marlowe that his name is Winslow Wong, and that he works for the–
Wait a minute. Hold on a second here.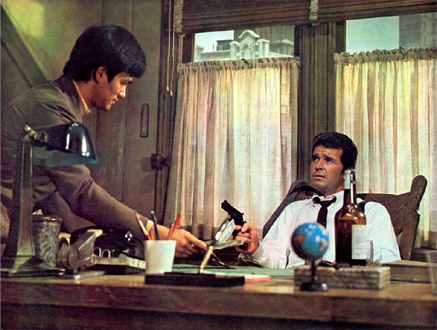 HOLY SHIT, THAT'S BRUCE LEE!
That's right, Bruce Lee as Winslow Wong walks into Marlowe's office and kills one wall and a coat rack. He then very politely tries to pay off Marlowe to drop the case. Marlowe refuses the money, so Bruce calmly agrees and then starts to destroy everything in the office Dragon style. He even jumps up and kicks out the ceiling light like in WAY OF THE DRAGON. Marlowe just sits at his desk and watches.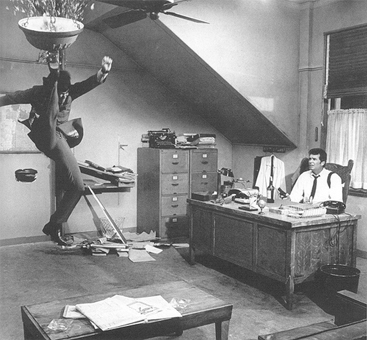 Bruce is only in one other scene, but it's another classic. Marlowe is snooping around the gang boss's restaurant hangout, so Wong lures him to an outdoor balcony and starts kicking at him. Bruce Lee being defeated by James Garner is pretty ridiculous, but at least they don't pretend Garner knows gung fu. Marlowe keeps jumping around in a panic, managing to dodge the kicks more out of luck than skill. Then a well-placed homophobic comment sends Wong into a fatal Leap of Fury. What makes the scene great is the way Marlowe walks back inside and explains what happened to the gang boss with a single hand gesture. Okay, so I've semi-spoilered it, but trust me, you'll still like it.
It's weird to see Lee doing a supporting villain role in a normal Hollywood movie. Although it's a smaller role it made me think of Jet Li in LETHAL WEAPON 4, how he was such a hero overseas but had to do roles like that to get work in Hollywood. But Lee hadn't done THE BIG BOSS yet. This was the year after GREEN HORNET. He had also done an episode of IRONSIDE which I watched recently. He just plays a karate instructor who gets interviewed because his father died. So you see him sparring with students and then he does a little acting. So I guess when he got MARLOWE he was seen as a minor TV star in the U.S.
The two Bruce scenes are the best thing about the movie, but I liked the whole thing. I believe it's what somebody who used the word "breezy" would call "breezy entertainment." Unless they were the type that uses "breezy" but not "entertainment," then I'm not sure what they would say. There are many other funny lines, memorable moments and clever stagings (like the way he uncovers the whole mystery standing off-stage talking to the burlesque dancer as she does a strip-tease). And I like when he gets fed up with his client crying so he pushes her out the door, gives her her purse and says "Kansas is due east." That's mighty hard boiled of him.
The script was by Stirling Silliphant (SHAFT IN AFRICA) who later wrote CIRCLE OF IRON for Bruce Lee, although Bruce didn't end up in the movie. I don't know the story by Raymond Chandler, but supposedly alot of the dialogue is taken directly from it.
Garner makes a great Marlowe. He was 40 at the time, a good age to have a bit of an old school/out of place vibe but still be handsome and charming so it makes sense when the women open up to him. I guess the movie didn't really catch on though, because they never made any follow-ups (or Adventures of Young Winslow Wong prequels).