There's alot of action movie news going around (I guess Jet Li's not gonna be in EXPENDABLES 2, and they're trying to get Donnie Yen?) but to me the big one is TOM YUM GOONG 2 (aka THE PROTECTOR 2). We already knew that Tony Jaa had returned from the monastery to do this sequel. We maybe were so fixated on his return to civilization that we didn't properly acknowledge what good news it is that Jaa has patched things up with director Prachya Pinkaew (ONG-BAK, TOM YUM GOONG, CHOCOLATE, ELEPHANT WHITE) after their falling out over ONG-BAK 2: THE WEIRDENING.
Now comes word that TYG 2 will co-star Jija Yanin, that badass little asskicker who starred in CHOCOLATE and RAGING PHOENIX. (thanks to rewrite in the comments for tipping me off.)

To show you what a small world we live in, note that one of the other stars is Marrese Crump, whose only previous feature film credit is in WRONG SIDE OF TOWN, directed by my old internet acquaintance "Demon Dave" DeFalco. I remember him from that because he had a good fight scene against Dave Batista. I guess he was also the RZA's stunt double in THE MAN WITH THE IRON FISTS, so that might be how he got this job.
Now, some of you might not give a shit about this next part, but I'm extremely excited to read that TYG 2 will be in 3D. Of course my first thought is "shot in 3D, right? Not fake 3D like CONAN?" Well, this photo from the Cannes Film Festival confirms that, at least according to the promo art, it's being "shot in 3D" like you would hope. Like you would demand. Like you would request in your column in the June, 2011 issue of CLiNT Magazine.
If you didn't, don't worry – I did. In a column titled "Badass Cinema 101 …in 3D. And 2D in select magazines" I wrote about why I thought there was alot of unfulfilled potential for real action movies shot in 3D. I argued that if we found out that one of the classic Bruce Lee fights or Michelle Yeoh's motorcycle jump from SUPERCOP or something like that had been shot with 3D cameras then we would want to see it immediately, because those are great, historic physical feats worthy of preserving in any way technology allows. I concluded: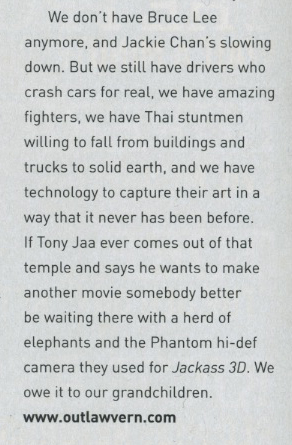 So you see, TOM YUM GOONG 2 IN 3D was my idea, in my opinion. And I'm glad I could contribute. Your welcome, future generations.
CLiNT Magazine is available on fine British news stands, I believe
This entry was posted on Monday, August 22nd, 2011 at 9:23 pm and is filed under
Blog Post (short for weblog)
. You can follow any responses to this entry through the
RSS 2.0
feed. You can skip to the end and leave a response. Pinging is currently not allowed.