Once again browsing the action section in a video store has led me to a strange movie that I never heard of before. This way of life is rapidly crumbling. When everything is piped into our faces on demand we won't have to stick with our risky bets. We'll click on something and if it seems shitty we'll click on something else and not give it a chance to turn interesting. In fact, we'll probly just turn it off and watch porn instead. So we will never see BRAZILIAN BRAWL.
But in my world, where you gotta actually go outside, travel to a building, pick out the movies to watch and physically transport them back to your home, you're gonna invest the time to try to give the thing a chance. And you are gonna watch BRAZILIAN BRAWL from beginning to end (about one hour) because you could not resist renting the movie with the cover that shows a guy doing a flying kick with two guns and the words "STARRING THE WORLD FAMOUS MARTIAL ARTS MASTERS THE MACHADO BROTHERS. THESE HOMBRES THROW DOWN."
The hombres that throw down are indeed from a legendary family of Brazilian Jiu-Jitsu masters. The Machados were originally taught by the Gracies, the family that started the Ultimate Fighting Championship and accidentally invented mixed martial arts. This movie features all five Machado brothers: Carlos, Roger, Rigan, Jean Jacques and John. But mainly three of them (I'm not sure which ones).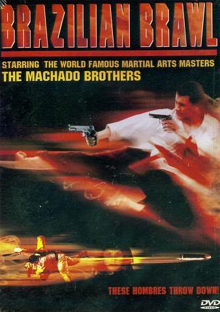 One thing you should know: this does not seem like a real movie. It seems like something somebody made on a couple weekends in their backyard. Not film students or hungry wannabe filmatists, but people who just decided for some reason to try making a movie, the same way you would try to build a new deck or something. But you'd probly be better at making the deck. We all know how to accept stiff acting and cliches in action movies, but this goes beyond that. It's the oldest cliches just slopped on with a shovel and not even fleshed out into an actual plot. It's terrible dialogue, amateurish acting and beginner camerawork. The kind of thing that makes Kevin Smith's movies look like Stanley Kubrick's. So this is not a real action movie. There's no getting around laughing at it.
It starts with footage of the brothers with students at their Jiu Jitsu school in Rio, when they get word that their uncle in California has been killed in a fake looking barn explosion. So three of them get sent to the farm to "settle the problems there." That means not only finding out who did it and killing them, but also hiring new farmhands and shit like that. Later they get arrested for some bullshit. They're in jail but need to hire some workers, so it's kind of like MR. MAJESTYK, except way less awesome.
The corrupt Sheriff (Matt Hall) looks like some kind of fighter or wrestler, but I can't find anything about him if he is. He's in the pocket of none other than #1 Clint Eastwood sidekick Geoffrey Lewis, who yells at him from an office. You might wonder how they got a real actor like Lewis to come in and film a couple scenes, but then you notice that he actually wrote it! I wasn't sure about that at first 'cause he's credited as "Jeoffery Lewis," but it really is him. I can't find any explanation of how he got involved. I couldn't find any references to him studying Jiu-Jitsu. He did hang out with those capoeria guys in ONLY THE STRONG, that's the only connection I can find between him and Brazilian martial arts.
The other biggest star is Dan Inosanto as the dead uncle. He doesn't do much, but it's a good blessing to have Bruce Lee's disciple, aka "Sticks" from OUT FOR JUSTICE, aka "The Old Man" from REDBELT, in your movie. I guess also there's a guy named Rikki Rockett, from some band, but personally I'm more excited about the guy who knew Bruce Lee. That's how I am.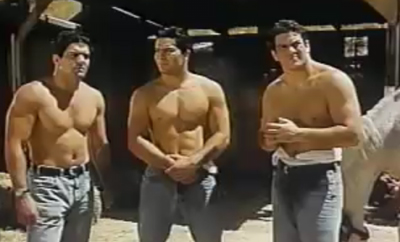 The funniest aspect is just seeing the Machado brothers stand or strut around together. It's three musclemen who look very similar and who enjoy finding excuses to take their shirts off. They're almost like the Barbarian Brothers except there's three of them. Their absurd larger-than-lifeness is strengthened by their theme song which is repeated a couple times and goes "Bad boys, bad boys, bad boys from Brazil!"
(At one point in the song there's a Rammelzee-esque  rapper. I don't understand one of his pop culture references: "Takin' out suckers coast to coast like… what's 'is face in GHOST." Which character in GHOST takes out suckers?)
You get lots of those weird moments of awkward storytelling, like when somebody asks where their uncle is and one of them says "He's right over there," and it cuts to sped-up footage of clouds moving. And somehow the guy knows that means he's dead.
They got funny lines, sometimes in subtitled Portuguese. When they're discussing that somebody blew up their uncle one of them says, "What we need to do is catch the snakes that did this… And cut their heads off!"
The brother who seems to be the leader (John?) thinks about that and then responds, "Yes and no…"
The fights do use some Jiu Jitsu moves, which if you're not familiar is mainly on-the-floor wrestling with chokes and bone-breaking arm and leg locks. There are alot of armbars, so that's different from most action movies, but the way it's performed and shot it mostly looks like some dudes fucking around and fake punching each other.
There is a fight in a jail cell where one of the brothers bites off a guy's ear. The sheriff sits and watches the fight lustily, but is not diabolical enough to think of starting an UNDISPUTED-style inmate fight circuit. I guess it would be harder to organize in a holding cell.
The script doesn't really stick with a martial arts theme at all. Suddenly the brothers dig into a weapons cache, take off their shirts, put on holsters and war paint. Good timing too, 'cause the sheriff and a bunch of thugs show up at the ranch and there's a big siege.
They all shoot at each other and all of them are just absolutely terrible, everybody misses each other over and over again. A dude in camo and a white headband awkwardly spins nunchakas. Suddenly it cuts to one of the brothers in a house fighting somebody that a guy on the IMDb bulletin boards thought was Oleg Taktarov. It really looks like his physique and I thought he might be right at first, but it's some other guy. Still, that seemed like the most realistic fight, kind of like MMA practice in somebody's living room.
Outside, after several minutes of everybody shooting off bullets with no effect, suddenly they shoot down most of the bad guys one after the other. And that's about it.
The copyright on the movie says 2003, but there's a computer monitor in it that sure doesn't look like what you would use in 2003. Turns out the movie was shot in 1997 under the title BAD BOYS FROM BRAZIL. It seems like one of those home made movies, usually horror, that come out of some small town somewhere by a first and last time director. But believe it or not at the time it was shot director Leo Fong had already done five movies, starting with 1985's 24 HOURS TO MIDNIGHT starring Cynthia Rothrock.
So I was real confused about what the fuck was going on here, but luckily John Machado has a youtube channel and he sort of explains it there. He says that Leo Fong brought Arnold Schwarzenegger into his school, he fought Arnold, Arnold told him he should make a movie with his brothers. Then after Machado saw EL MARIACHI he thought he could do a movie like that. But he admits "we were all white belts in the film making."
It would be cool to see them star in a real movie made by, say, a purple or brown belt. But this one's pretty funny. They take out alot of suckers. And it's short enough to sit through pretty easy.