Well, I don't want to start up the ol' Mel Gibson debate again. We all know how that goes. At some point somebody's gonna point out that he didn't kill anybody, so why is he persona non grata in Hollywood? Well, because of multiple crazed incidents where he threw raging tirades about Jews, blacks, rape and cutting off his girlfriend's head. Yep, he pretty much hit all of them except gays. And him being a movie star we still start to forget about it after a while and want to forgive him, but then every time he seems to be almost in the clear he does another one. Like he wants to be caught.
So I can understand why some people might not want to work with him. Don't pretend like you don't. If he was just a guy and not the star (and director) of movies we love you wouldn't want to share a shift with him or invite him over for the family barbecue, and you fuckin know it.

But I still like his movies, so I'm glad he made this basically-DTV crime movie where he's an unnamed thief on the run with a bunch of cash along the U.S.-Mexico border. Chased by American cops he crashes through the border wall and is claimed by Mexican cops who take the money and drop him in a prison that he describes as more like "the world's shittiest mall." It's basically a walled-off village run by two crime lord brothers. If you've ever been in a Brazilian prison, or at least seen the movie CARANDIRU, it's like that except even wilder. Inmates with enough money pay to have their families inside with them. People carry wallets (I know because Mel steals one). There's a VIP restaurant with waiters and everything. On Sundays they charge the public admission to come inside, enjoy the taco stands, sex tents and carnival rides.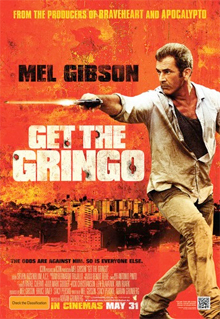 You know how sometimes in prison movies there's the guy that's been around the block a few times that shows the protagonist the ropes and tries to keep him out of trouble? In this one it's a ten year old boy. Mel repays him with kindness, cigarettes and shanking tips. The bigshots protect the kid; we find out it's because (SPOILER) one of them needs his liver. So Mel has a couple good goals here: get out of prison, get back his money, make sure nobody can come after him anymore, maybe save the kid's liver.
It's been said that this is almost like a sequel to PAYBACK. He's not Richard Stark's Parker (the sniper and family backgrounds he mentions don't really fit) but he could be Porter – a seen-it-all thief with a penchant for planning, fisticuffs, shooting, exploding, outsmarting. He even steals money from a disabled beggar again. He uses various aliases, but the credits just call him "Driver," which was Porter's job once.
I'd like to see Gibson do a whole series of these, the same character in drastically different settings, always with different names and titles, nobody knows if they're connected or not. And the ending leaves an opening for that, I think.
Insanity has been part of Gibson's persona for a long time – Mad Max, white guy in LETHAL WEAPON – and he milks it here, being introduced wearing a rubber clown mask, yelling through it to his wounded partner. (Like Parker he's not bothered by his partner's fate, but Parker might've tried harder to save him. Unless he just knows it's a hopeless case – we don't have an omniscient narrator to tell us what he's thinking.) I wasn't even sure it was Gibson at first, but it looks like his eyes and then his yelling sounds like that tape of him yelling at Joe Eszterhas. Scary way to introduce the character.
But that's part of what I enjoyed about the movie. You might think after his notorious cold feet over the director's cut of PAYBACK Gibson wouldn't want to play a sonofabitch like this, but here he is. He's nicer to women than director's-cut-Porter, but he spontaneously decides to burn down a taco stand and steal the money inside. I guess we're supposed to assume since they're in prison they're bad people, but shit, running a taco stand (especially in these conditions) can't be that easy. These are hard working individuals. Maybe I missed a visual clue that showed they were scumbags? There's also a part where a guy who as far as I know is totally innocent (maybe he was a character I forgot from earlier?) gets totally screwed. It's kind of a funny, mean joke, but an example of why this character isn't a thief-with-a-heart-of-gold like so many movie criminals.
I do think the tone is similar to PAYBACK, theatrical cut. It's mean and hard boiled but also kinda funny. It's kind of a heightened reality that makes it kinda quirky.
There's a little sadomasochism, like you'd expect in a Gibson movie. There's a sleazy guy from the American Embassy that's after him that kind of seems like a good dude at first, but I guess I misjudged him because he's played by Peter Gerety from Homicide: Life On the Street. Always good to see that guy. There's something the kid does that actually shocked me, but maybe you'll see it coming. I didn't. There's a pretty good murder plan that involves impersonating Clint Eastwood, which is in itself a felony in the United States, so that shows you how far this guy is willing to go.
Rookie director Adrian Grunberg is not the guy from Entourage, he's an assistant director who worked for Gibson on APOCALYPTO and with him on EDGE OF DARKNESS. He also worked on PERDITA DURANGO, TRAFFIC, FRIDA, MASTER OF COMMANDER, LIMITS OF CONTROL and WALL STREET 2: WALL STREET'S REVENGE, so he's had some interesting directors to learn from. Grunberg wrote the script with Gibson and Stacie Perskie (second assistant director, APOCALYPTO).
GET THE GRINGO is no PAYBACK (either cut), but it's an enjoyable movie. I wish there were more like this. If Gibson keeps making movies I hope he keeps doing these little starring/producing/co-writing projects between directorial works. I don't know. I'll try to ask him about it if I see him at your barbecue.