The new Steven Seagal picture comes out in the States today. I couldn't wait so I already imported the UK version. I like the design of the American cover a little better, but I don't regret a thing because the UK one has the all important "Steven Seagal is" before the title, something that's been sorely lacking from Seagal movies lately, not to mention from movies in general.
(STEVEN SEAGAL IS A SERIOUS MAN. STEVEN SEAGAL IS A SINGLE MAN. STEVEN SEAGAL IS AN EDUCATION. STEVEN SEAGAL IS PRECIOUS BASED ON THE NOVEL PUSH BY SAPPHIRE. etc. )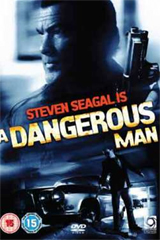 Unfortunately in my opinion this is only an adequate new volume to the Seagal library. It's from Keoni Waxman, the same director as the okay THE KEEPER and not necessarily any better. As is now traditional, it sounds like some of Seagal's lines are being dubbed in the first couple minutes, although it's possible that they had to loop them and processed them weird. If it is in fact another actor as I suspect I would like to congratulate them on finally getting a halfway decent Seagal-voice imitator. That's gonna come in handy.
Seagal plays Shane Daniels, a special ops individual going to meet his wife at her car when a guy is gonna carjack her and he shows up and chases him off and then off camera the carjacker is killed. The cops bring in Shane, who swears he didn't do anything, but they don't believe him.
"You're goin away for a long time, tough guy," yells the interrogator.
Suddenly… BAAAAAAAAOOOOWWWWWW… a MORTAL KOMBAT style distorted guitar wail. And then "STEVEN SEAGAL" followed by "A DANGEROUS MAN." It's a really cool credits sequence that shows pictures of the people as it names them, like an old cop show intro or something. More movies should start out this way.
Of course, I wish it said STEVEN SEAGAL IS A DANGEROUS MAN, but as it is it's still pretty cool. There's an implied comma. STEVEN SEAGAL, A DANGEROUS MAN.
When the credits end Shane has done six years and has just received a letter from his wife saying she has given up and can't wait for him any longer. Kind of a bummer because if she had done her research she would know he has been vindicated by DNA evidence and is about to be freed. The judge awards him $300,000 but he refuses it. "Your honor, I gave 14 years of my life to the military. 6 years hard time in a federal penitentiary. I don't know why you people think that money can replace a life."
In the tradition of HARD TO KILL Shane stops by a liquor store, but there's a new twist on the old classic: he gets in a fight outside of the liquor store, not inside. That's Seagal for a whole new generation, a generation that doesn't want to have to clean up a bunch of broken glass. Anyway the point is some guys are waiting there to rob him, and since they weren't there for the police interrogation or the meeting with the judge Shane feels he has to recount his backstory yet again:
"Let me tell you something. I just got out of prison for something I didn't do, and before that I used to like, you know, study real hard and learned all kinds of different ways to kill motherfuckers just like you. So, let me go, just let me go on by, or I'll fuck you up ugly."
"What's that mean, fuck you up ugly?" one of the thieves asks.
"It means your mama won't recognize you in your coffin."
Then the guy gets mad that he's talking about his mama. These punks today are so literal. This is an automatically enjoyable scene, and it suggests another good title: STEVEN SEAGAL IS FUCK YOU UP UGLY.
While this is not one of the better Seagal DTV movies it does have plenty of dialogue like that to redeem it. A word of warning, though: they must've thought the movie was too slow because every once in a while his voice gets a little high pitched, I think they're speeding up the scenes. Makes it a little silly sometimes, but I guess those Chipmunks movies are really popular, aren't they? Maybe that's what it is.
After Shane fucks them up ugly he steals their car. You know how it is when a guy tries to steal your wife's car and you go after him but don't kill him but some mysterious other person does kill him and you take the fall for it but then six years later you get exonerated by the Innocence Project and released but then some guys try to rob you. Obviously, what you do in a situation like that is beat them nearly to death and steal their car and then go to a rest stop to think about it.
Meanwhile there are two young men drinking and driving in a stolen car of their own. They pull over at the same rest stop. I don't know what Shane's up to, other than resting. I don't see any cruising going on, or any local groups providing coffee or McDonalds orange drink. Maybe he's just reflecting on why he was so honorable he wouldn't take the government's money but so dishonorable he spontaneously stole a car.
There are three cars here: Shane's (stolen), the young dude's (stolen), and some Chinese gangsters with a load of money and a kidnapped girl in the trunk. Stay away from rest stops, by the way. Just a word of advice.
A cop car shows up and tries to question the Chinese gangsters, but this leads to a shootout (the one Seagal and associates were sketching out in the season finale of LAWMAN). Seagal reverts to his special ops training and puts a flaming rag in the gas tank of one of the three cars, and then you have to wait in suspense and keep watching the flame burn for a long time before you figure out which car he was trying to blow up, because the geography is not very clear. I believe it turns out to be his own car blown up as a distraction. Kind of a short sighted plan, especially for a guy they didn't even see standing there in the first place.
Long story short, the gangsters, the cops and one of the car thieves all end up dead, and Shane leaves with the surviving kid (Jesse Hutch as Sergei), the girl from the trunk (Marlaina Mah) and a bag of money. So I guess he decided on being dishonorable after all, so he's open to stealing drug money. Sounds like the actions of a dangerous man.
The movie is basically about them driving to Bellingham, Washington and trying to straighten out a problem with the girl's uncle who's trying to emigrate. The gangsters he's an accountant for won't let that happen though, and this causes a clash between state troopers, the Bellingham PD, corrupt members of the Chinese military involved with Golden Triangle heroin smuggling operations, and the Russian mafia. It's funny, the actual Bellingham is mainly a town full of college students. It's only the 12th largest city in Washington. It's hard to imagine it being run by the Russian mafia, but I guess I don't know the place that well. Who knows what's going on? Seagal would know better than me.
(it's all shot in Canada, though.)
Early in the movie Sergei (whose dad is named Vlad – didn't notice an Ivan in this one) asks, "Look, do you have any idea what's going on here?" and to be honest I didn't. When Shane hears the girl's story he says, "I get it. I know what to do. I know what to do." And I just took his word for it. This is not the kind of direct and streamlined action story I prefer. But it does have plenty of good qualities and unusual touches, which I will now list.
It has a pretty decent villain played by Byron Mann (graduating from sidekick in BELLY OF THE BEAST, the same trajectory as Morris Chestnut between UNDER SIEGE 2 and HALF PAST DEAD).
It has a scene where Vlad is being threatened by cops. He responds by telling them he'll cut their balls off and saying, "Where we come from we fuck cops in the mouth when we run out of farm animals." It's one of those questionable boasts. Even if I understood why raping cops is supposed to be a status symbol I still don't see why you brag about fucking animals. Maybe it's a former communist thing. Or just something about the cold climate there.
Seagal either doesn't know about the zoophilia or isn't judgmental about it because he becomes honorary brothers with Vlad and knows how to toast it in Russian.
Most importantly Seagal has a whole bunch of corny tough guy lines that make me smile:
"Just give me a few hours to get into the wind."
"It ain't about trust, it's about survival."
"I will leave you here to get eaten by the fuckin jackals, who are coming soon."
"Well, unfortunately in the fabricating of your plans you inadvertently stepped into my mine field, and to answer the second part of your question, I want you dead."
"You know brother, where I come from the definition of death is emptiness. If that's the case I've been dead for a long, long, long time."
In fact there are so many of these type of lines, not to mention gratuitous boob shots, that it almost plays like the ultimate Seagal DTV movie in some ways. Just not my favorite ways. But I'm starting to convince myself that it's better than I thought. I've already heard from one reader who loved it, I think partially because the violence is pretty brutal. Indeed, there is some powersawing, and he pounds an icepick into a guy's head like a nail into wood. So we can all get behind that. He was serious about fucking them up ugly.
My favorite touch in the movie, though, is a weird little bit about Shane's race. At one point Sergei says something about that they saved the girl or something, and Shane says, "Whatchyoo mean 'we,' white boy?" It seemed like an odd thing to say, but I let it go.
Then, about 36 minutes into the movie, one of the bad guys is talking on the phone about "that Indian." Since there are no other characters who could be interpreted to be Indian, I can only assume he's talking about Seagal's character. And since there's no indication that he's Native American, what the hell, I'm gonna imagine that he was born in India. And that's a new one.
I don't think I'll be revisiting this one too often, but it does end with a hug, so it can't be that bad.
.
.
IMPORTANT PROCEDURAL NOTE: After a few months of failing to find any more movies that have "[actor] is [title]" on the actual credits, I've decided to broaden the "is…" tag to also include ones where it says it on the front cover.