NOTORIOUS, the biopic of the late rapper Christopher "Notorious (Biggie Smalls) B.I.G." Wallace comes out on DVD today.
I don't know about Gene Shalit or Tom Shales or some of these guys, but I gotta admit I don't come to NOTORIOUS as a Biggie fan from day 1. I was a late adopter. I knew a couple of those catchy songs with the R&B choruses, so I thought he was just a gangster Heavy D or a fat Ladies Love Cool James. But years after his death when I finally heard the whole "Ready to Die" album I was converted immediately.
It's true that Biggie (who was only 24 when he died) mostly had the same materialist tough guy obsessions that 50 Cent still has as a grown adult and business leader. He's rhyming about money and guns but like a real slick director his execution elevates the subject matter. He was one of the best storytellers in hip hop.
I just read a negative review of NOTORIOUS that called Biggie "talentless" and quoted one of his rhymes to supposedly prove it, but Biggie had the type of intricate flow that makes the words sound much more complex than they would be on paper. (And they're only on paper after you transcribe them because Biggie kept all the rhymes in his head.)
Instead of a quote here's my favorite Biggie song, where he somehow turns the idea "I'll shoot you if you try to steal my shit" into a great crime story:
(Or part of a story anyway, I guess nothing actually happens after he gets the titular warning.)
So I come to this movie pre-sold on Notorious B.I.G. the hip hop legend, and that definitely helps. I've been hoping for years somebody would make a sweeping, Scorsese-esque hip hop period piece, and this isn't it. It has many of the standard musician biopic problems (although with the MALCOLM X way of dying instead of THE DOORS) but it's way better than I was expecting.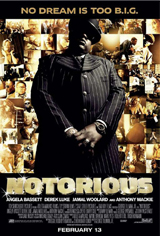 This is actually alot like 50 Cent's semi-autobiography movie GET RICH OR DIE TRYIN'. Both tell the story of a kid from a broken home who grew up on hip hop, envied other people's shoes, sold crack, had a wife and kid, stopped selling crack because of hip hop, also went to prison and got shot. They even have the kid who played young 50 Cent playing Biggie's close friend Li'l Cease.
GET RICH OR DIE TRYIN' is probaly the better directed movie, because I remember it had a couple really well put together scenes, particularly the fight in the prison showers and the shooting in the recording studio. But what makes this one way better is the guy at the center of it. First of all, Biggie is a better representation of a rapper success story because he is simply a way better rapper. When it comes down to it both of them are scumbags, but it's easier to look for Biggie's humanity because you hear it in his music. He has a sense of humor and fun. And Jamal Woolard, the rapper who plays Biggie, is a much stronger actor and screen presence than 50. More on him later.
As much as I like Biggie's music I had to call him a scumbag because I don't want anybody going in expecting otherwise. I've seen it called a whitewash and a hagiography (touche, fellas, you win the word duel) but he's not exactly portrayed as humanitarian of the year. For a movie produced by his mom and his friends it sure isn't easy on him. He doesn't just sell crack – he sells it to a pregnant woman when none of his friends are willing to do it. He gets his high school girlfriend pregnant then abandons her for Li'l Kim, then abandons Li'l Kim for Faith Evans (who he marries), then attacks Li'l Kim when she says in front of Faith that she's still fucking him, and attacks Faith when Tupac says in a song that he's fucking her. Just before he dies Biggie talks to all of them and tries to have his kids come visit him, so it's comforting to think he was going to start being a better father, husband and friend. But who the fuck knows? I'm not sure this counts as a Malcolm X style transformation.
I like that I didn't feel like the movie was trying to convince me he was a great person. It just knows that he was an interesting one, which is all you need for a movie. We're gonna have to accept this if Spike Lee is really gonna make a James Brown movie.
But NOTORIOUS is still pretty standard for the genre and suffers from symptoms of music biopic-itis. His career being so short you don't have to go through the usual amount of highlight reels, but there are definitely some scenes that tell naturalism to fuck off and have the characters just say exactly the best thing to sum up the importance of the moment. For example the very second Biggie meets Puffy, Puffy makes an impassioned speech about not hustling and instead following your dreams. Actually come to think of it it is possible that Puffy really did say that. But what about the scene where Biggie's friend decides to go down for Biggie on a weapons charge? This is an amazing sacrifice to make and made Biggie's career possible, but I kind of doubt that guy right then and there made a speech about how Biggie had something special and if he gets lifted off the streets it lifts ALL of us and etc. It's still a touching moment but I think would be more powerful if they talked about it like real people.
If you're familiar with some of the people portrayed in the movie you get to play that usual biopic game of comparing the actors to the real people. Angela Bassett is a great (if obvious) choice for Biggie's mom Voletta Wallace. She doesn't bother to do her Jamaican accent the whole time but still, Voletta is the ultimate Strong Black Mother in real life, you gotta get either Angela Bassett or Alfre Woodard. Anthony Mackie also does a great job in his scenes as Tupac. He's kind of like Jason Scott Lee in DRAGON – he looks and sounds totally different from Tupac, but gets his movements, his laugh and his smile down so well that he transforms himself. Derek Luke, on the other hand, never once looks or sounds like Puffy, to the point where I sometimes forgot who he was supposed to be playing. Naturi Naughton as Li'l Kim and Antonique Smith as Faith Evans – well, to be honest I'm not as familiar with those artists, I never really paid that much attention to them but as characters they work as two opposites, the trash talking, aggressively sexual woman and the classier one, both helped and hurt by Biggie. And Faith actually gets to be the tougher of the two because of the scene where she busts into a hotel and beats the shit out of a girl Biggie is sleeping with.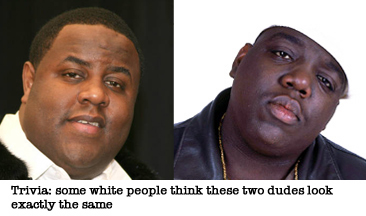 But the secret of the movie, what made me really like it despite its many flaws, is that they picked a good Biggie. Woolard is a first time actor and up and coming rapper under the name Gravy. When the first promo pics came out I kept seeing movie blogs saying "he looks exactly like him!" which meant "he is a large black man wearing sunglasses and a hat!" Actually he doesn't look much like Biggie, his voice is much higher and his rapping style is pretty different. What he does get right though is the charisma. This is a really good performance that made me like Biggie despite all the stupid shit he did. He wins you over with the little jokes he makes, like when he gets out of prison and holds his daughter for the first time, his mom starts crying and he says, "Why you crying? She ain't that ugly." You get to understand how he makes Faith forgive his problems by making her laugh and then it's a sad and pathetic moment when he tries to make her laugh but the power of his charm has run out and she cuts him off.
When Biggie songs play on the soundtrack they play the actual songs, but whenever he's performing them on stage or recording them in the studio it's Woolard. He doesn't really mimic the original style very closely but it's a good idea anyway, it makes him more real somehow, not just a guy playing dressup. The concert scenes are really effective with the crowd really yelling out the rhymes and getting into it.
One major obstacle: you can't do a movie about Biggie without talking about Tupac's death and the so-called East Coast/West Coast feud. The movie shows Biggie's friendship with Tupac and the incident where Tupac was shot and robbed at a recording studio while Biggie was upstairs. Tupac thought Biggie and Puffy set him up, started doing songs about it, went to Death Row Records where Suge Knight (only seen a few times in the movie) turned it into a feud with Bad Boy Records and exacerbated the whole thing to the point where New Yorkers like Biggie couldn't perform in L.A. without getting booed and vice versa.
The movie takes the point of view that the whole feud was a media creation, that Biggie and Puffy were completely innocent of the shooting and for the most part were above taking part in the feud, and of course that he was shocked when Tupac was killed. So I guess you'll either buy it or think it's bullshit depending on if you believe that homicide detective Russell Poole (who thought some crooked cops working for Suge Knight killed Tupac) or the guy in the L.A. Times (who claimed Biggie not only set up Tupac's murder, but went to Las Vegas himself and gave the killer his own gun to use. I tend to believe the version that does not involve a 6'3″ 300 pound superstar having to sneak into Las Vegas without being spotted by a single witness, but maybe they can make movies about other points of view on this.
Seriously, there should be two other movies here, the one about Tupac and the one about Russell Poole and the whole conspiracy, the real life L.A. CONFIDENTIAL. I gotta betray my coast and say that I think Biggie was a way better MC than Tupac, but Tupac was maybe a more interesting person. Like Biggie he was raised by a strong, single mother, but his mom was a Black Panther who was pregnant with him while she was in prison. So he grew up around black militants and considered himself a revolutionary. On the other hand when he was at Death Row he got caught up in all that stupid gangster bullshit. He would do one song about bitches and one song about his mother, he had that whole duality. It could be an interesting movie, but would face the same problem of depicting his unsolved murder.
So anyway, that's all difficult to deal with, and since they really don't know for sure who did it they have to leave that unanswered. But that's okay because in a way this is Voletta Wallace's story, and she's left wondering about her son's murder every day. This is her story because she's the mother who worked two jobs to raise her son alone. When young Big leaves the apartment it's like he's Batman, he has to go up on the rooftops to change into his hustler uniform. Like most parents Voletta is naive about what her son is up to, but when she finds out that wasn't a plate of rotten mashed potatoes she found under his bed and threw out she tries to put her foot down. Big goes out of her life for a while and she goes out of the movie.
The tragedy of this story is not just that he gets murdered, but that he repeats the sad pattern of his own childhood, not bothering to see his daughter very often and thinking he's still a good father because he sends her money. There's an extra layer of sadness when you realize that's Biggie's real son, who was a baby when his dad died, playing young Biggie dealing with being abandoned by his father. If Biggie had lived maybe he would've spent more time with these kids, or maybe not. There's a scene where Voletta says he'll make a great father, and you believe it, but then he screwed up and never had time for a second chance.
You have to struggle with all of these thoughts while watching the movie, just like Voletta did. She knew her son and why she loved him and also knew the things he did that disappointed and worried her. But then after his funeral we see (through real footage that could never quite be re-enacted) the crowds of fans lining the streets of Brooklyn during his funeral procession. The movie doesn't really address the morbid, inevitable feel of it, the self-fulfilling prophecy of a rapper who called his first album "Ready To Die" and his posthumous one "Life After Death," and ended that one with the words "You're nobody 'til somebody kills you." A guy who on "Suicidal Thoughts" confessed his feelings that he's "a piece of shit" and that he's going to hell. Those are the kinds of gloomy thoughts you could dwell on on a day like that. Instead somebody turns on a radio playing "Hypnotize" or something. Everybody smiles and goes crazy, rapping along and dancing, and Biggie's mom and everyone else remember why they loved this guy so much.