I'm starting to think the underground fighting movie is to modern DTV what the western was to b-movies in the '50s. They just never stop coming and yet somehow they're not all terrible, in fact a few of them are great. You got BLOOD AND BONE of course, you got UNDISPUTED II-III (unless you consider prison fighting a separate genre), DAMAGE with Stone Cold Steve Austin was surprisingly good, and there's even a good theatrically released one, FIGHTING. I'd recommend all of those above PIT FIGHTER, but I'll be damned, here's another pretty enjoyable and distinctively different take on this same type of storyline.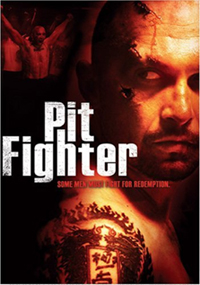 Dominiquie Vandenberg, fight coordinator for GANGS OF NEW YORK and BEOWULF, "stunt ninja" for MORTAL KOMBAT, plays Jack Severino, a dude who turns up in a small town somewhere in South America, bloody and with a little chunk of his brain shot off, so he doesn't remember much except the girl he lost. That would suck if he didn't because her name is tattooed really noticeably across his chest. He goes shirtless in alot of the movie and your eye goes right to it, so I'm surprised nobody ever calls him "Marianne." I guess they know better.
A sleazy doctor saves Jack's life and says he's now in debt to one of the local druglords for the medical expenses. So it's actually very similar to the health care we have here. Scarface's best friend Steven Bauer takes Jack under his wing and tries to get him some shit job in the drug smuggling industry, but then he finds out he can fight. I mean, he can really really fight, this is not exactly a Rocky story. He doesn't have to struggle that much.
But the fights are not glamorous. They take place in a dirty little back room. Not even a ring but a roped off square. It's the same spot where they have the dog fights, and there's a picture of a fighting rooster painted in the center of the floor. If you're one of these guys you wouldn't bring your parents to see you fight, is what I'm saying. Unless your dad is Michael Vick.
Despite the small audience Jack (who becomes known as El Gringo) has an interesting philosophy about how to put on a good fight. He purposely lets his opponent beat and bloody the shit out of him, then he lets loose and knocks them out. This way the crowd gets a good fight and he shows the other guy respect by not humiliating him. It's great because it takes the standard method of making a fight dramatic (good guy seems to be losing, but perseveres and then pulls a victory out of thin air) and turns it into a deliberate fight strategy. And it creates an explanation for why this guy is the baddest motherfucker around but can't just plow through everybody instantly. Well, he could, but he doesn't believe in it.
Vandenberg doesn't strike me as a screen legend in the making. He doesn't have a huge amount of charisma and as a fighter seems capable, not memorable. But he works pretty good for this role. He has some kind of authenticity about him, he doesn't look like a Hollywood guy.
Overall this is a pretty generic drug gangs/fighter-who-doesn't-want-to-take-a-fall type of story, but like alot of my favorite DTVs it has a few strange touches that make it memorable.
1. He has visions of the Virgin Mary, as in an actress is actually playing her, standing there in his room. I don't think I've seen that in a fight movie before. They don't do anything real crazy with it though, it's not like BAD LIEUTENANT where Harvey Keitel sees Jesus standing there and calls him a "rat fuck."
2. It has a really weird use for Scott Adkins. He shows up as a (Australian?) guy from Jack's past who he doesn't remember. He does a monologue full of flowery language:
"I know your face. I know it well. 'Cause when the fists were flying, or even the bullets, I've stood back-to-back with you. I've been soaked to the skin with rain, sweat and blood. I've smelled death on a spring afternoon. I've defeated the hands of an enemy that doesn't know Christ. Yours is a face with only one side. So help me, Jack… that I might be struck down where I stand if I lie, but I would die for you my brother. Your place isn't with this panhandling gutter trash. Whatever misfortunes overcome you, call me, all right? I'm at the Ambassador Hotel for the next two days."
So at the end Jack's gonna go get him at the hotel and they're gonna fight back-to-back and kick some ass together, right? Wrong! You never see Adkins again in the movie.
Looking at it with distance it's kind of clever, I think they wanted to give Adkins a chance to just act, and to show that Jack has become his own man, taking care of problems on his own instead of getting other people involved. But in the context of the movie and the expectations it sets up it's almost a crime. You don't imply to the audience that the eminent scene stealer of DTV martial arts is gonna help out the hero during the climax and then the surprise twist is ha ha, Scott Adkins doesn't fight in this one. That's not the kind of surprise that makes a movie better.
3. On the other hand what does happen without Scott Adkins is memorably crazy. I don't really get it. It's such a drastic change in tone that I kind of thought it was gonna turn out to be a dream, and then whatever does happen at the very end is a little ambiguous.
Jack turns out to have been an infamous enforcer who gunned down entire families of gangsters. So to get out of his troubles he takes them all on with guns and a sword. It almost plays like a Rambo parody with him running around screaming like a maniac, firing off hundreds of bullets, at first seeming like nobody can hit him for some reason, but pretty soon that changes.
You wanna know the weirdo reason why I watched this? I was so impressed by "Fight Professor" Stephen Quadros in his commentary on Pride FC 1-5 that I looked him up on IMDB and found out he did fight choreography and second unit for this one. Well, the fights are a little rawer and more reality based than in most movies, but I didn't think they were all that notable. The more significant voice in this thing is writer/director Jesse V. Johnson, prolific stuntman and sometimes director. This is his third movie as a director and I've also seen his ninth, THE BUTCHER starring Eric Roberts. These two movies have a similar tone to them, feeling real heartfelt about the melodrama, the love story, the torment, the trying to turn your life around. Both have heroes with slowly revealed secrets in their past, bad histories they want to live down, very loyal old friends who want to help them, and weirdly one-sided (but outnumbered) shootouts. THE BUTCHER had a much more charismatic central performance, but it could've used a little more of this:
This entry was posted on Friday, September 17th, 2010 at 12:49 pm and is filed under
Action
,
Martial Arts
,
Reviews
. You can follow any responses to this entry through the
RSS 2.0
feed. You can skip to the end and leave a response. Pinging is currently not allowed.