Sometimes you find a movie you never heard of, and you just have this feeling that this is the one you've been looking for, this is gonna change your life.
But usually you're wrong. Especially with this one. Some day I gotta learn that just because the cover is printed in special inks derived from 92% organic awesomeness doesn't mean the movie itself is gonna even be possible to sit through. 1986's SCORPION is a prime example of a movie where all the greatness was used up in the cover photo and none was left for the movie.
But you know, sometimes you got no choice but to flip that coin. When you come across a poster this good you gotta rent the movie: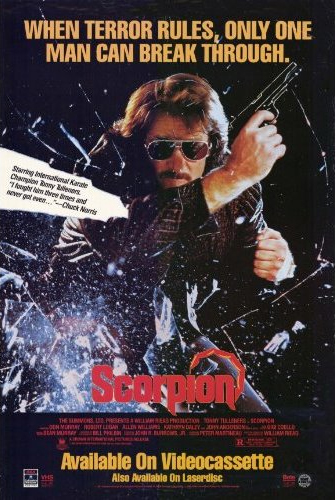 1965 International Karate Champion (middleweight division) and author of the book Beginning Karate
Tonny Tulleners plays Steve Woods, American superspy. Woods is code named "Scorpion" of course, but some dumbfuck prints his full name in the newspaper after he goes onto a hijacked passenger jet unarmed (and wearing running shorts) and single-handedly kills all of the terrorists onboard without a single civilian casualty or even injury. He's real bummed that his cover was blown, but it doesn't seem to affect him much. That's probly why the Bush administration thought it was okay to out Valerie Plame – they were obviously huge fans of this movie. Anyway they stop calling him Scorpion after that, so I'm not sure why that's the title. It could also be called JUSTACHE.
Arab terrorists are planning attacks on American targets, so Steve has to find out information, etc. He drives around in his Porsche with its giant spoiler and meets out in the open with informants, and they just tell him shit. Also there's a guy that plays recorder.
It actually seems like a pretty easy job. Theoretically it's dangerous, but he almost never gets into scraps or shootouts, there really isn't alot of action in this movie. There's a witness that gets gunned down at a hotel room where they're hiding him, but not when Steve is there.
A surprising amount of this movie is about Steve and the other agents standing around waiting in a hospital. Usually in an action movie they just have a minute or two in the hospital to show "oh shit, his partner and/or loved one is in a coma now," but in this one they have several very long scenes where almost nothing happens and they're standing around talking in a hospital room or hallway. There are two different parts where they talk about whether or not anybody has called the guy's family to tell them he got shot.
If you were forced to watch SCORPION, like for research or as part of some controversial pro-Tulleners legislation, it might be more amusing watching it with a bunch of people. There's some weird things that happen, like at one point he goes into the hotel room to look at the place and imagine what might've happened there. Suddenly the phone rings and he just answers it and it's for him. I don't know how the guy knew to call him there or why he felt comfortable answering it. I think if it was me I'd just let it ring.
Another part, Scorpion and his partner pull guns on a suspect who's running onto a crowded cruise ship. Everybody's screaming and then Scorpion fires into the air. What's that about? You think this guy really needs a warning shot? Or maybe you think gunfire is gonna calm down the panicking crowd? What the fuck, man. Never let Scorpion herd your cattle.
Also there's a childhood flashback about trying to push over a grave as a little kid, so at the end of the movie he actually goes to a graveyard and knocks over a grave, to prove to himself that he can accomplish anything, or something like that. That's how it ends (SPOILER). This is a shocking expose about the dark underbelly of the American intelligence aparatus, I guess. Going around desecrating graves.
If anything's good about the movie – and that's questionable – it's that Steve Scorpion Woods does sort of fit people's exaggerated idea of what a sunglasses-wearing, mustached karate asshole is supposed to be like in a movie like this, but honestly usually isn't. At the end when the douchebag bureaucrat who told him off before comes begging him for help, Scorpion just turns his back and drives away in his awesome Porsche. It's like a parody, except if it was a parody it would have more explosions, shootings, karate, and events.
Just by how Tulleners looks it's easy to assume that this was meant to be a knockoff Chuck Norris movie. In fact they probly thought it could be better than Norris's movies since Tulleners is known (in circles where people know of him) for beating Norris in a tournament. From the looks of it he won Norris's mustache, but not his screen presence. Still, I consider Tulleners the best U.S. karate fighter today. And by "I" I mean this March 1971 issue of Black Belt Magazine: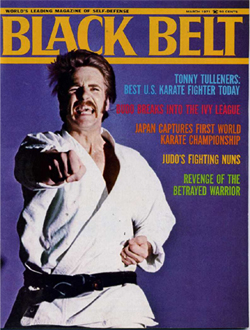 Although I don't think Norris has a very good body of work, this one existing Tony Tulleners vehicle is in a different category of cheap and amateurish. Cannon made crappy movies, but this is the type of movie made by people who could never dream of making a movie worthy of Cannon, they just don't have the skill set.
To be fair, writer/director William Riead clearly knows alot about making movies – because he directed more than 20 "Making of" documentaries for TV, including CLOSE ENCOUNTERS, FIRST BLOOD and LONE WOLF MCQUADE. But for whatever reason he wasn't able to apply any of that knowledge to this particular movie. Later he was able to work with the real Chuck Norris in one of his lesser known roles, the anti-smoking documentary DYING FOR A SMOKE. Rick Dees and Debbie Gibson were in it too.
Anyway, cross SCORPION off the list. But I'll keep looking. I'll find some more good ones, I promise.
(if you want a much more detailed dissection of SCORPION I found this one)