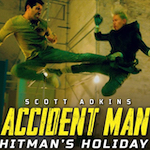 ACCIDENT MAN: HITMAN'S HOLIDAY is the latest real-deal Scott Adkins movie (like, he's the star, not just a guest appearance), and joins the first ACCIDENT MAN, THE DEBT COLLECTOR and DEBT COLLECTORS as one of the movies that showcase the once-stoic actor's sense of humor and verbal dexterity along with his trademark flying kicks.
If you're unfamiliar with ACCIDENT MAN, it was Adkins' passion project, based on a '90s comic strip by Pat Mills and Tony Skinner about elite hitman Mike Fallon, who elaborately plans murders to look like freak accidents. It has a sort of DEADPOOL style of heavy-narration cheekiness, but it's a top notch indie martial arts movie with a great cast and fights. Ray Stevenson (PUNISHER: WAR ZONE) plays Fallon's mentor and father figure Big Ray, who runs a pub for colorful assassins called the Oasis. When Mike's environmental activist girlfriend is murdered, he suspects a conspiracy, and ends up in battles to the death with his colleagues, including ones played by Michael Jai White, Ray Park and Amy Johnston.
Well, that left Mike on bad terms with Big Ray and banned from the Oasis, so the sequel picks up with him working far away in Malta. A crime boss named Mrs. Zuuzer (Flaminia Cinque, Thomas & Friends) gives him jobs and pays him well, the work is easy for him, the weather is beautiful, he has a nice place and a big TV.
He does feel guilt about having killed most of his friends, though. That comes up even before he runs into returning character Finicky Fred (Perry Benson, SID & NANCY), the humorously out of place old nerd who makes weapons and contraptions for his elaborate kills, and starts working with him again. The teaming of these two characters is one thing that makes this stand out from other modern action movies. This seems like a guy who could be in a PADDINGTON movie if he was into something other than inventing murder weapons. I like their chemistry – Mike is always cursing Fred out or grumbling about him but clearly likes him. The ol' Clint Eastwood style lovable grump friendship.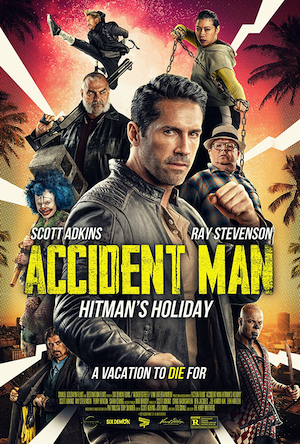 The trouble comes when someone tries to kill Mrs. Zuuzer's entitled adult son Dante (George Fouracres), and tries to make it look like an accident. Mike didn't do it but if he doesn't keep Mrs. Zuuzer's obnoxious kid alive she's gonna kill Fred. So curmudgeonly super killer Mike tries to clear his name while acting as babyman-sitter and fending off attacks from a series of increasingly cartoonish would-be assassins.
For example you have Yendi (Faisal Mohammed, "Huge Warrior," THE LEGEND OF TARZAN), a scary behemoth with facial tattoos and scarring who calls himself a vampire and always identifies and comments on people's blood types while fighting them. And maybe Mike's most dangerous new foe is an evil clown named Poco (Beau Fowler, "Vern" in AVENGEMENT). As I just mentioned in my TERRIFIER review I'm not generally pro-evil-clown (exception for Killer Klowns), but this is a good, weird physical performance, he's leaping around like an anime character, using a cinder block on a long stick as a giant sledge hammer, and it makes for a great battle.
Jesse V. Johnson did such a great job directing the first one, but it was Adkins' baby. For this one he brought on stuntmen turned rookie directors The Kirby Brothers (George & Harry), with the screenplay again written by Stu Smalls, co-story credit for Adkins. It's all very well executed, with a good mix of settings for the budget, including some outdoor fights, Mike's home and the warehouse laboratory where he and Fred test out and practice their experimental murder tech. Credited fight choreographers are Adkins himself, George Kirby, Hung Dante Dong (who was in NIGHTSHOOTERS), part 1's Tim Man (I read that he did pre-viz), and Andy Long of the Jackie Chan stunt team. They deliver that thing we love, that's so much more precious these days – the action movie where they were able to spend alot of time crafting the fights so that they are the main point of the thing and not just an obligation of the genre. Many Adkins fans loved last year's ONE SHOT, which I agree was a good simulated-single-take War On Terror thriller, and a very good acting performance from Adkins. But man, this is what I want in a Scott Adkins movie: tons and tons of flying kicks, acrobatics, grappling, smashed walls and furniture, sword fights, chain fights, characters straight out of a video game – the good shit. I'm glad he still seems to share my interests.
The best new character is Wong Siu-ling (Sarah Chang, Celina Jade's stunt double in WOLF WARRIOR 2), who Mike tells us is a descendent of Wong Fei-Hung, and the greatest martial artist he's ever fought. He pays her to periodically sneak up like a ninja and ambush him. It's pretty much the same joke as Cato in the PINK PANTHER movies, except of course this is Scott Adkins, so it's much more sophisticated fighting and choreography, with Guyver kicks and everything.
She's also just a really funny character – the way she flips him shit and acts like she hates him, but immediately seems charmed by Fred and goes out of her way to help him with his problems. I like her whole dynamic with Mike – he seems legitimately scared of her, but frustrated that he keeps losing to her. There's a great flashback of him discovering her beating up dudes while working as a waitress. She's in the background kicking ass over his shoulder while he's in the foreground drinking a beer, waiting for her to be done so he can make her an offer. The best thing about the inclusion of Wong Siu-ling is that Mike sort of pretends he's paying her to keep his skills up, but he's really trying to punish himself for killing his friends in part 1. He admits it in narration, and Fred recognizes it instantly. I think that's what clinches her as my favorite thing about the sequel. A punishment who becomes a friend.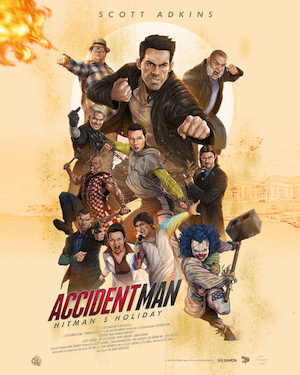 I can't deny that for me there's a little bit of a disposable feeling to this one – it's a fun new episode rather than the fresh new experience it was to see Adkins do this sort of thing for the first time. Also there was more of a tightness to the first story, the way it centered around the pub and this group of associates. And there's drama in the way he has to take on people he once liked (or still does like).
On the other hand I really think this is a good sequel because it returns to the same world and tone but mixes things up in many ways – the sunny Malta setting, the more outlandish gimmicks, the way the character is dealing with the fallout from the first movie, and changing as a person (but not in too heavy-handed of a way). Also it's kinda nice that the childhood flashbacks throughout the first movie are already out of the way, so we can get on with it. Mike has a complicated view of Big Ray, with some recognition that maybe it's sort of bad for a guy to teach a child how to be a hired killer, but also he wants to repair things with him. Like, who is he to judge? So it's an organic evolution from the first story, not a rehash. If not a permanent classic, HITMAN'S HOLIDAY is a nice little vacation, at least.
ACCIDENT MAN: HITMAN'S HOLIDAY hits U.S. VOD tomorrow, October 13th (October 24th in the UK)
This entry was posted on Thursday, October 13th, 2022 at 1:18 pm and is filed under
Action
,
Comedy/Laffs
,
Reviews
. You can follow any responses to this entry through the
RSS 2.0
feed. You can skip to the end and leave a response. Pinging is currently not allowed.