Lance Henriksen is one of my favorite actors. His chiseled-from-clay face and gravelly voice are always interesting even in the worst movies (and in my opinion he's done some of those). They imply a life full of experience, and work perfectly for his wide array of roles, from humane robot (in ALIENS of course) to flamboyant cowboy (THE QUICK AND THE DEAD) to heartless rich madman/pianist (HARD TARGET, probly others). Now Not Bad For a Human, a new book credited to Henriksen and Joseph Maddrey, gives us insights to both the art on screen and the life that inspired it.
Also there are pictures, if that helps.
The book will be available on Henriksen's birthday this Thursday (see the websight for details) but I was able to read an early copy for blurb-related purposes. Maybe it's flattery, but Maddrey told me  he thought of the idea for the book while reading the PISTOL WHIPPED chapter of Seagalogy. I forgot about it until I saw it quoted on his blog (short for web log), but in the book I made a pretty good list of Henriksen's achievements:
Henriksen is a legend. He's been directed by Steven Spielberg, James Cameron, Sidney Lumet, Walter Hill, David Fincher, John Woo, Sam Raimi and Jim Jarmusch. He'll forever be remembered as Bishop, the empathetic android who gets ripped in half in Aliens. There are also those who remember him as the ruthless vampire Jesse in Near Dark. In TV movies he's portrayed two of history's greatest Americans, Abraham Lincoln (The Day Lincoln Was Shot) and Charles Bronson (Reason for Living: The Jill Ireland Story). In the world of action movies he's a great over-the-top villain, memorably antagonizing Jean-Claude Van Damme in Hard Target and especially Brian Bosworth in Stone Cold (as the shirtless motorcycle gang leader Chains). His characters have encountered Damien, Pumpkinhead, the A-Team, Cagney & Lacey, The Terminator, Hardcastle and McCormick, Aliens and Predators, the Super Mario Brothers, Leonardo DiCaprio, Tarzan, whoever the killer ended up being in Scream 3, the Mangler, the giant bugs from Mimic, Evel Knievel, Pinhead, Bigfoot, Superman, and now, finally, Steven Seagal… That long and varied history as a character actor can be heard in Henriksen's deep, distinctive voice, and seen in every interesting line on his face. He rarely gets shots at leading man roles, but when he does he's really good at those too. He had a good run as the psychic serial killer hunter on the TV series Millennium, and I honestly think he's great in James Cameron's much-derided directorial debut Piranha II. He's the Roy Scheider of that particular Jaws rip off and he's up to the task. Despite everything he's accomplished I think he's still an actor who really hasn't been given his proper due.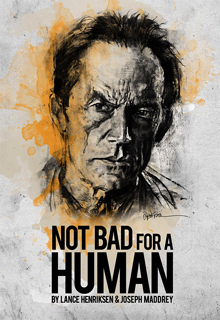 So Maddrey decided to give him some of that proper due. Having interviewed Henriksen previously for the horror documentary NIGHTMARES IN RED WHITE AND BLUE: THE EVOLUTION OF THE HORROR FILM, Maddrey convinced him to do a series of interviews about his life and his entire body of work (so far). Those interviews, boosted by some additional insights by the likes of Don Coscarelli, Bill Paxton, Walter Hill, Stuart Gordon, Craig R. Baxley and even Jim Jarmusch, became an excellent written-down-oral-history of Henriksen, starting with his childhood and going through pretty much film-by-film from his debut to today.
What surprised me most about the book was learning what a crazy life Henriksen lived before he became an actor. I don't want to give too much away, but he goes from a family of grifters to a Naval brig to being left in the desert for dead (and later giving an autographed copy of the Omen II novelization to a woman who thought for years that her husband had murdered him). After such a chaotic upbringing the stage accidentally became a much needed outlet for his anger and yearning to express himself. Next thing you know he's hanging out with Al Pacino talking about Shakespeare and trying to hide that he can barely read.
Some of you might remember that Henriksen used to sell pottery on his websight. Turns out that wasn't just some hobby he picked up on the side. He considers pottery as important to his life as acting, and the book draws parallels between the two artforms. It seems the creation is more rewarding to him than the eventual product, but of course sometimes that product is very good, or we wouldn't be reading this book.
Most of the book is about his movies and his experiences making them, his struggle as a young man to make it big, his eventual place as a valued character actor and his brush with TV superstardom. Yes, he has a couple funny things to say about working with Seagal. I was also really happy to find that the book has alot on STONE COLD, a movie it turns out he's very proud of because he convinced them to let him improvise all of his dialogue. Also it turns out his mom likes that movie alot.
Obviously there's alot on his relationship with James Cameron, how he was almost cast as The Terminator, etc. I gotta admit I was most interested in what he had to say about the one that gets the least study, PIRANHA II: THE SPAWNING, and I wasn't disappointed in the coverage. I believe Cameron said in an interview recently that he'd only spent a couple days on the movie, but that's not the story Henriksen tells. "He was in a room making rubber fishes by himself because they wouldn't give him enough. He would not give up."
The book goes on to claim that "Right up until the eventual release date, he fought for the film like he was fighting a war… and he won." This to me seems more believable because despite the miniscule production values there's a whole lot of James Cameron in that movie, from the underwater photography to the great stunts (some of which almost killed Henriksen, the book tells us) to even the career-long theme of a man trying to fix a broken marriage. I don't think Cameron should be embarrassed of the movie, and I'm glad Henriksen doesn't seem to be.
Of course, it's easy for him to say, having been in worse. He's one of the few actors you could read a biography of and he says, "That's the end of the Sasquatch movies. If you've done three, there are no more expressions you could possibly have left towards a Sasquatch that would be new, unless he steps on me."
(ABOMINABLE is a good movie, though, too bad they don't really discuss that one. I guess he's only in one part though.)
The book also addresses the long fought nerd controversy of his role in ALIEN III. Introduced as the CEO or something of Weyland-Yutani, I've always believed that the manner of his eventual death (SPOILER) meant that they had lied and he was actually another android. Well, Henriksen agrees, saying he played "Bishop II" as an "'advanced model' android." Take that, suckers. Of course, the troubled history of the production could mean they eventually changed that concept after filming. I guess.
Not all of Henriksen's roles are as beloved as Bishop or his TV character Frank Black (Millennium features heavily in the book), but alot of the stories are great even when the movies aren't, because he takes the roles so seriously. To play Torquemada in Stuart Gordon's version of THE PIT AND THE PENDULUM, for example, he lived in a dark castle, consuming only water and bread, wearing a hair shirt and no shoes, studying books on torture. For a more notable movie to people like us, HARD TARGET, he hung out with real gangsters and glued his ears back to look like a Doberman. It's great to hear these little stories that confirm the suspicion we've always had that Lance Henriksen just doesn't phone it in. It doesn't matter what it is, doesn't matter if it stars Brian Bosworth or a sasquatch. Doesn't matter that he used to work with Sidney Lumet and Steven Spielberg. He'll still throw himself into the role like he's throwing himself in front of a train.
If my book really gave any inspiration to this project I'm proud to have been able to do it. 'Cause like I told Maddrey, if this was just a book that came out I would've bought it as soon as I saw it. Although Henriksen is far from just a villain in action movies I think he's particularly great at that, so I'm happy to consider this an essential new entry in the slowly growing library of Books on the Films of Badass Cinema.
(note: in celebration of the new book I'll be reviewing a couple of obscure Henriksen movies)