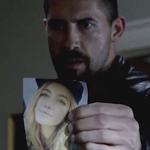 CLOSE RANGE is the new one from the DTV action power team of star Scott Adkins and director Isaac Florentine. That's an event because it's been two years since NINJA 2, and it seems like longer.
I think this is Adkins' gruffest performance without a Russian accent (he plays American). This time his character Colton MacReady is
1) an ex-Special Forces guy who's
2) now on the run because he
3) "disobeyed an order that would've disgraced him and his uniform" and then
4) "put his superior officer in the hospital" so
5) "He's been on the run ever since."
That's a backstory that could've been created with a refrigerator magnet set of action movie cliches, but I'm not against that. Those are good magnets.
I'm not sure about calling it "CLOSE RANGE" though. A better title would be "THERE IS A GRINGO THAT IS KILLING EVERYBODY!", which is what a guy yells as he flees from the opening scene, a THE RAID-esque series of long takes in which MacReady invades a Mexican cartel's office building hideout and kicks, flips, slashes, stabs and smashes eight different henchmen in pursuit of his abducted niece Hailey (Madison Lawlor). He brings her home but also (by accident) a thumb drive that brings down the wrath of the cartel and the local law enforcement who are in their pocket. The compromised sheriff is played by Nick Chinlund (CHRONICLES OF RIDDICK).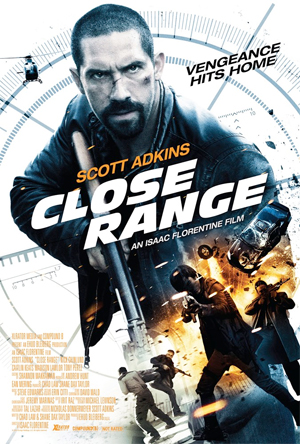 MacReady is not a lovable character. He hasn't seen his niece in so long he has to ask her if she remembers him. He bluntly tells his angry sister Angela (Caitlin Keats, who is a friend of the bride in the wedding scene of KILL BILL VOLUME 2) that he didn't do this for her. He doesn't make jokes. When a deputy asks if the guys shooting at them are "friends of yours" he says, "I don't got no fuckin friends," and I'm sure he's telling the truth.
His niece seems to like him anyway, and his sister likes to brag about how deadly he is, saying stuff like "My brother's coming back for us. He's gonna kill all of you." Then she smiles.
He gets sort of a Just How Badass Is He? speech courtesy of the sheriff. It starts with "He was a soldier. A highly decorated one at that, but… he was a loose cannon."
I like that it's his sister, not his ex-wife or something, because there's no love story or sexual tension in the movie at all. We don't need that in every movie that ever gets made, but most filmatists haven't caught on to that. The only couple is her and her ex, Walt (Jake La Botz, who played "Reese" in RAMBO), the dipshit whose debts to the cartel got Hailey kidnapped in the first place, and who they (and especially MacReady) openly disdain.
The opening text compares MacReady to an outlaw ronin. The sheriff says he's a "low life drifter" doing illegal jobs while having "no real possessions, nothing he can't walk away from." But really the movie treats him more like a cowboy. This is kind of like a companion piece to Adkins' EL GRINGO, but on the north side of the border. Like so many low budget action movies this takes place in a small desert town where nobody lives except the main characters and a bunch of cops, and they all know each other on a first name basis. They're cowboys that drive SUVs instead of horses. So in a way MacReady is the gunman who disappeared long ago and has wandered back into town to straighten things out.
A western influence is also betrayed by the guitar-and-whistling-heavy score by long time Florentine composer Stephen Edwards (HIGH VOLTAGE, BRIDGE OF DRAGONS, COLD HARVEST, U.S. SEALS II, SPECIAL FORCES, UNDISPUTED II, NINJA).
The fights are very good; as hard, fast, acrobatic and varied as UNDISPUTED III, but in the dirt instead of the ring, and often with guns that he has to pry out of people's hands and throw away or choke or smack them with. The choreographer is Jeremy Marinas (stunt double for Sub-Zero in MORTAL KOMBAT: LEGACY), who also has one of the big fights against him.
Marinas has a bunch of videos like this on Youtube:
…so I have learned that that's called "tricking" and it's a combination of martial arts, gymnastics and dance moves. He doesn't use it so much in this one, other than getting thrown around a little.
The best fight is against some guys with guns in an SUV. MacReady has a gun too but he doesn't just do some boring shooting. He plays chicken with them, running up the hood and over the top, then (since his gun jams) matadoring them into a cliff which he runs up it, spins around and jumps onto the hood and kicks in the windshield.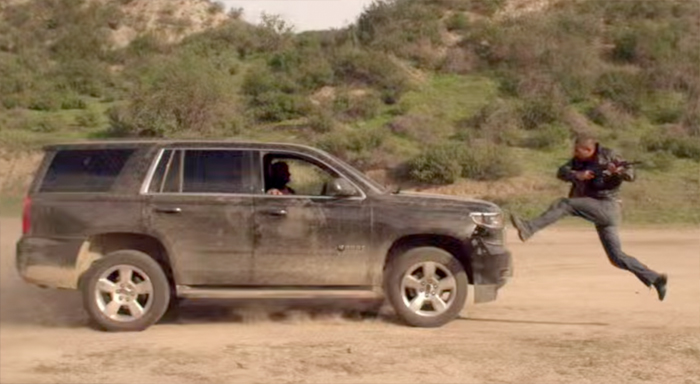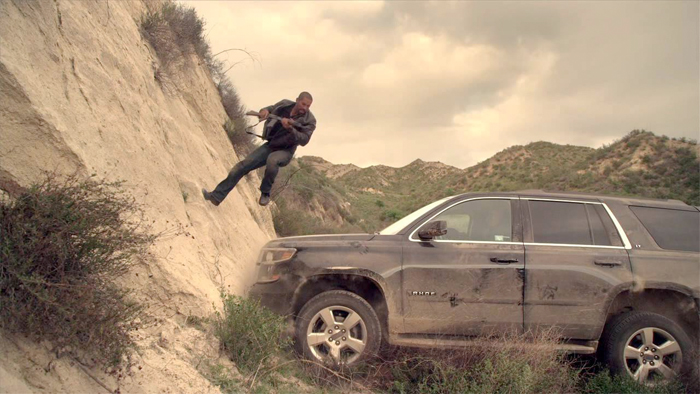 Come to think of it, there are some real John-Woo-circa-HARD-TARGET/BLACKJACK/MISSION:IMPOSSIBLE 2 type moves in this. Like when he kicks a guy and pushes himself backwards into a somersault, then runs with his gun pointed and firing backwards, without even looking. In slow motion, of course. And there's definitely some Woo in the massive amounts of ammo used and guns discarded in the long shootout in and around the house, firing through windows, doors, walls and ceilings. One difference is that eventually they're going to run out of guns and have a one-on-two fight with flying kicks, grappling and a fatal ball-stab.
This is a solid movie in the vein of mid-period Van Damme that will serve its purpose in the Scott Adkins library. Unfortunately we're so thirsty for good classical action that we wait with baited breath for the new Florentine joint, and to be honest this didn't make me as elated as the UNDISPUTEDs and the NINJAs did when they arrived. I guess because we've caught on to Florentine. He can't surprise us with quality in unexpected places. Now we take it for granted.
I wonder if my subdued reaction points to the value of mistakes in a movie like this? Here is a traditional story, well structured. The action scenes are great, well shot and frequent, the lead has a strong badass presence, the supporting actors are good, if slightly on the blandly polished Lifetime movie side at times. There's nothing really ridiculous or laughable in it unless you count those awesome moves against the SUV I mentioned. I think it could use some more unpredictable craziness or straight-faced absurdity.
The biggest thing missing  is a colorful fighting villain who's a worthy opponent, like Marko Zaror or Kane Kosugi. Tony Perez (Detective #1, HARD TO KILL) is good as Fernando Garcia, the cartel leader who pretends to be a friendly family man but is actually a mass murderer, but he's just an old man with guns, he's not a martial artist. We haven't seen a samurai sword on his wall. He doesn't have an 8 foot tall behemoth bodyguard he keeps on a chain. And he's not hissably douchey enough for us to cheer on a one-sided, OUT FOR JUSTICE style beating. It's not much of a matchup, so MacReady doesn't even end up taking him on at the end… he takes on another character who's arguably even less of a threat.
But like I said, this is really a western that happens to have a ridiculous amount of great martial arts in it. So it's okay that it ends with a quick-draw face off instead of fisticuffs. It's very well done, and I appreciated that more on the second viewing. I'd definitely be down to follow the drifting adventures of Colton MacReady in CLOSE RANGE 2, a.k.a. THERE IS A GRINGO THAT IS KILLING EVERYBODY AGAIN!
This entry was posted on Monday, February 1st, 2016 at 9:03 am and is filed under
Action
,
Martial Arts
,
Reviews
. You can follow any responses to this entry through the
RSS 2.0
feed. You can skip to the end and leave a response. Pinging is currently not allowed.