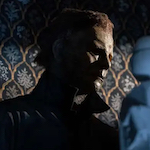 HALLOWEEN ENDS, the conclusion to David Gordon Green's HALLOWEEN trilogy, and part 4 in the HALLOWEEN series (timeline 3), is not what I expected. It's not what anyone expected, or could've predicted. The trailers made it seem like they completely ran out of material. Oh yeah, Laurie fights Michael again. She already tried that in 2018 with 40 years of preparation, hidden weapons and a dungeon. She wanted to do it in HALLOWEEN KILLS but a riot started at the hospital, some asshole bumped into her and the staples on her knife wound tore open. But now it's years later so she's gonna do it spontaneously in her kitchen, looks like. Seems redundant.
Oh well. I had faith, because I've liked these movies, I like this director. And it paid off. That stuff is in the movie, but it works because it's about so much more.
(You know I have to dig in deep with a new HALLOWEEN movie, so this is a HEAVY SPOILER REVIEW.)
The cold open takes place in Haddonfield on Halloween, 2019. A young man named Corey (Rohan Campbell, SANTA BABY 2: CHRISTMAS MAYBE) is called last minute to babysit for some rich couple. The kid (Jaxon Goldenberg) is a smartass. They watch John Carpenter's THE THING together – an obvious but too-perfect-to-pass-up nod to watching THE THING FROM ANOTHER WORLD in Carpenter's HALLOWEEN. Fears of Michael Myers are discussed. The kid points out that Michael kills babysitters, not kids. But Corey goes to the kitchen, hears a thump, comes back and can't find the kid. The mansion is huge. A door is open. A knife is missing. The kid is screaming upstairs.
It's an effective traditional stalking sequence, with the twist that the babysitter is male, and the not-huge surprise that the kid is pranking him, and locks him in the attic.
So now, of course, it's The Boy Who Cried Shape. Michael Myers will show up for real, and— oh wait, no. Not at all. Instead Corey angrily kicks at the door to free himself, it pops open, hits the kid hard in the face, knocks him over a rail and he plummets between the many flights of stairs, splats on the floor and dies just as his parents walk in and see Corey looking down from above. Then it cuts to the title, in the HALLOWEEN III font.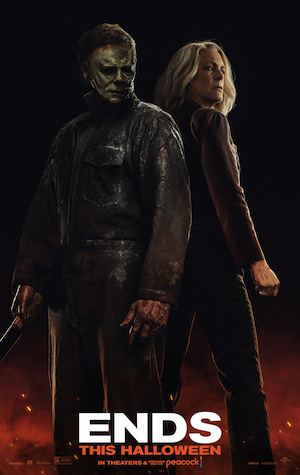 It's a shocking moment that I also took as dark humor, because it was the first real confirmation that I didn't know what the fuck this movie was gonna be. And then after the opening credits sequence we find Corey a few years later, having proven at trial that it was an accident, but infamous in the town, a new boogeyman for Haddonfield while Michael Myers is missing. He's one of the main characters but he's not on the poster and if he was in the trailer I sure didn't catch that he was gonna be this important. Hmm. Must be the season of the witch.
Yeah, don't worry, this is also about Laurie Strode (Jamie Lee Curtis, ROAD GAMES), who was cool but honestly kinda one-note in HALLOWEEN and HALLOWEEN KILLS, as the sort of T2-Sarah-Connor version of Laurie who has lived a life of paranoia and survivalism and carries on the legacy of Dr. Loomis by saying alot of lofty poetic shit about Evil. A beautiful thing about ENDS is that Laurie has changed – she gets to be happy! She's been to therapy, stopped drinking, bought a new non-survivalist house, is trying not to let the tragedies define her life anymore. And doing a surprisingly good job of it, it seems. Hard to believe this is the same lady who said, "WE FIGHT! WE ALWAYS FIGHT!" to Tommy Doyle, and then he went and fought and he doesn't always fight anymore because he's dead. I think she actually learned from that!
The healthiest we've ever seen Laurie in a sequel was H20, but there she was still secretly chugging glasses of wine, being (by regular standards) overprotective of her son, and imagining The Shape in reflections. Here we get to see her actually make a go at being normal, even celebrating Halloween, trying to make a pie, be a fun grandma. She gets to laugh, joke around, be more like Jamie Lee Curtis. There's even a whole scene just about her running into Frank (Will Patton, THE POSTMAN) at the grocery store and acting like the awkwardly flirtatious teen she probly would've been with Ben Tramer or somebody had she not been attacked that night in '78. In KILLS we learned why Frank blames himself for Michael's rampages and thinks he should be the one to kill him, but he, like Laurie, seems to be trying a different approach to life now.
Another lead who's not on the poster is Laurie Strode's granddaughter Allyson (Andi Matichak). She's important in the previous two movies but here she's way more of a character and performance. She lives with Laurie, but she's an adult now, working at the hospital. In these movies she's lost both parents, her boyfriend and multiple friends, so yeah, she's been going through some things (like she has a cop ex-boyfriend who's a real piece of work and appears to be way older than her). But I like that she's not the standard broody, dark kind of troubled. She's a person who's maybe making some bad and/or rash decisions, but seems fun to be around. She doesn't take sad showers and look out windows, she invites a boy to a bar to get drunk and dance to Dead Kennedys, which is a better idea, I think.
A combination of happenstance and intentional matchmaking on Laurie's part brings Corey and Alysson together. Laurie and Allyson meet him and know about his outcast status and instead of it being a strike against him they think maybe there's a connection there. There's some sincere young love melodrama a little bit like Green's early film ALL THE REAL GIRLS. During the course of the movie Corey morphs from put-upon geek to angry rebel in what many have pointed to as an homage to Carpenter's CHRISTINE, but I sensed more David Lynch as they drive around on a motorcycle at night and talk about wanting to burn the world down. Pretty soon Laurie starts to think oh shit, did I set up my granddaughter with The Evil? But she's not too impulsive about it. She investigates, goes and meets his mom (Joanne Baron, who is in EYES OF LAURA MARS, written by John Carpenter!), talks to him about getting help. Well, also in the same scene she threatens him in a badass way and disappears like Michael and you wonder if he hallucinated it.
So how the fuck does Michael Myers fit into this? We find out surprisingly late in the movie, after another encounter with some teens Corey has an ongoing beef with (I love the very Green/Danny McBride touch that these bullies are in their school's marching band). They knock him off of a bridge and leave him for dead, but suddenly a pair of hands pulls him through a pipe into a little cave where Michael has apparently been living since HALLOWEEN KILLS!
Seems like an homage to the beginning of HALLOWEEN 5, but coming in the middle of this in-some-ways-more-grounded story it feels like a thrillingly wild swerve. At the same time it feels very in control because of the way all the pieces have come together, with an earlier scene taking place on this same bridge, before the camera moved down below, giving us the feeling Michael must be down there, but taking its time confirming it.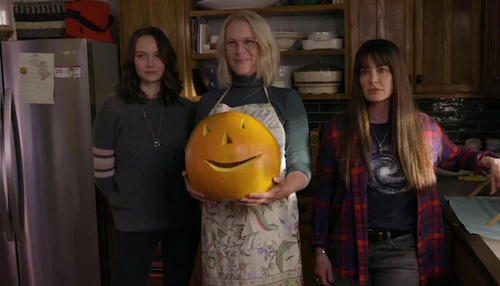 I love this odd swirl of a more human, character-based HALLOWEEN and something more unhinged. Laurie and Allyson feel fuller, because they're given more opportunities to do things besides react to Michael, but also they make some wild choices at times – Laurie slashing the marching band's tires, and setting up her daughter with a weirdo, Allyson immediately falling hard for and pursuing said weirdo, noticing all the signs and choosing not to judge him anyway. It's a movie that can and will be unreasonable, and you're not sure how far it will take it, or where it might go. I believed Allyson could join in on the murders. I believed Laurie could commit suicide. My friend Suzy said she started to wonder if Laurie really would team up with Michael, as we joked before the movie when looking at the poster. It feels like Green is very in control, but also liable to take his hands off the steering wheel every once in a while just to see your reaction.
As much as I liked HALLOWEEN 2018, it was mostly what we expected, right? Maybe I'm remember wrong, but it seems like we found out about it and we saw the trailer and there were some choices made and everything but overall, the general plot and feeling of it ended up being pretty much what we figured they would be. KILLS also has a certain amount of that, though it threw people off by taking advantage of being a middle chapter to get epic about the town of Haddonfield, and operatic about the theme of evil, and mostly to dismantle macho notions of how to deal with problems. Everybody says all the cool movie character stuff that you say about the badass shit you're gonna do, all of them fail, the character who represents the heart of the series is killed, and now in ENDS Laurie has strangers confronting her in public about the repercussions of her actions that night. There was no triumph in KILLS. The empire struck back.
So I love that although ENDS follows up on that stuff thematically and character-wise, it takes several big steps away from the normal slasher sequel path to something more unusual. I know there are many people mad that it goes 50% Season of the Witch by keeping Michael off screen for a while, but for me it works. And when he shows up he's not just doing the same exact shit we just saw in the other two. Yeah, he's still hard to kill and good at smashing heads, but he's a little worn out and vulnerable, and just like Laurie he sees something he recognizes in Corey's eyes. But he feels more positive about it. There's an ambiguous montage that can be interpreted as some kind of supernatural transference of evil, but I'm gonna look the other way on that one. I say he just likes this kid and lets him lure him to places to kill certain people. And sometimes he tries to sorta show him the ropes, like Godzilla teaching Minilla to blow smoke rings.
That means when the outrageous kills do come many of them are not done by Michael – which, I didn't know this but apparently it's carved into stone somewhere that that's illegal and ruins horror and is bad because that's not what you do because I'm against it because the Bible and everything. Okay fine bud, I don't go to your church though so leave me out of this. All I know is there's a part where a radio personality (Keraun Harris) whose voice was the first we heard in the movie is killed on air and his tongue is cut off and left on top of a record that keeps spinning around and the needle repeatedly hits it and bounces over it, and if you can't appreciate that then we're just in a different sect of horror fandom is all.
(The first two Green HALLOWEENs challenged our enjoyment about this sort of thing by making even the most minor victims so likable – this one relents a little and makes many of them jerks.)
ENDS mostly feels very different from HALLOWEEN KILLS, but it continues one of the things I really liked about that one, which is its unusually detailed attention to the citizens of Haddonfield and the repercussions of the events of previous movies. For example we learn that one of the victims of the most upsetting scene in KILLS – Laurie's drone-loving neighbor Sondra (Diva Tyler, Eastbound & Down), who was stabbed in the neck with a fluorescent light – actually survived, but can't speak, and her family blames Laurie for riling Michael up. And I believe a woman briefly seen having hung herself was the mother of Oscar, Allyson's friend who died in '18, and then she found him in the morgue in KILLS.
There are things I wouldn't have caught if I hadn't just rewatched KILLS the night before. Like that cop Allyson dated, Officer Mulaney (Jesse C. Boyd, Hap & Leonard), can be inferred to be related to the trio of siblings bullying Lonnie in the '78 flashback in KILLS. And there's a shot in the same flashback where young Hawkins and his partner look out on the town and there's this radio tower, which is a major location in ENDS. I sometimes miss the seat-of-your-pants, paint-yourself-into-a-corner method of old school franchise horror, where they would kill the bad guy and figure out later how to bring him back to fight a whole new set of characters you never saw before, often filmed in a whole different place. But here I really respect that they cared enough to build little details into the world of Haddonfield.
Although this trilogy shows a high degree of reverence for Carpenter's original – bringing him on to do the score, mimicking and re-mimicking his credits sequence, imitating his style in KILLS' '78 flashback, using the fonts of the original three he produced, etc. – all three, and maybe this one most of all, have a texture, a sense of place and personality that's all David Gordon Green. I notice it in all the minor characters – the unusual faces he casts, the quirks they get to show in the bits of their lives we see before the horror hits them. Even an asshole, like the marching band kid with the mullet (some singer called Marteen) is gonna be an interesting looking asshole you wonder about. They aren't fodder, they're unique individuals.
My favorite example in this one is Corey's dad (Rick Moose, "Dying Mobster," THE ACCOUNTANT). If one of the other HALLOWEEN sequels had a guy who looked like that in the cast he'd be playing some sleazy asshole who gets killed and kinda deserves it – here he's one of the hardest deaths to take, despite being a pretty small character with limited screen time. I think at least a few people around here will agree with me about how much humanity we get just from seeing that he spends Halloween night in his cluttered little office at the junkyard with his cat, watching HARD TARGET with headphones on. (Which, my friend pointed out, his wife would never let him watch at home.)
I still like HALLOWEEN H20 and its perfect that'll-do-pig ending where Laurie chops off [a paramedic she believes is] Michael Myers' head, the end. ENDS obviously has to deal with the same issue – how do we kill this possibly supernatural guy so it seems final? – and the way they do it is alot of fun (and very disgusting), though it violates the trilogy's usual Jedi-like rule that violent reactions (even retaliating against bullies at a convenience store) make everything worse. But I'll allow it because ENDS is less about ending The Shape (who we all know will be back before long in some other timeline, from some other team of filmmakers) than about giving a happy ending to Laurie and to this version of Haddonfield. Yes, it's ridiculous, but good ridiculous that they apparently see it as healing to gather at the junkyard and body pass Michael's corpse into a grinder so they all can see with their own eyes that there's no Boogeyman, there's no Evil, the fucker is gone. It is so satisfying to see that characters I liked before, like Sondra, the sheriff (Omar Dorsey, DJANGO UNCHAINED), and Julian (Jibrail Nantambu, BODY CAM), that hilarious kid who had to see his babysitter get killed in the first one, are present for this. I suspect there may have been other faces in the crowd that I didn't clock.
I don't think horror movies need to have happy(ish) endings, but I really assumed Laurie and Lindsey (Kyle Richards, THE CAR, CURFEW) would both die, and it warmed my heart that they didn't. I love that Lindsey doesn't even get attacked! She's just around to be a good friend (and serve drinks). Back when Curtis made the one genuinely terrible movie in the series, HALLOWEEN RESURRECTION, the idea was that it was important for her character to die in order to have her ending. David Gordon Green doesn't play that shit! No, an ending for Laurie is allowing her a life beyond being the main character in HALLOWEEN. A life where she can stay in Haddonfield, or she can leave, and either decision wouldn't have anything to do with fucking Michael Myers, who is in the past.
I love the final montage. It's a series of shots inside Laurie and Allyson's house, no people, just empty rooms on an ordinary day. It reflects the ending of Carpenter's original, showing places near the house where Michael was shot and then disappeared, implying through sound and music that he could be anywhere, or that he is everywhere. The evil is not gone, it tells you.
So you see these similar shots here, but the music isn't threatening, so you think it's trying to get your guard down. You think okay, what's the catch, what's gonna jump out at me, what's gonna put a scary drippy question mark after the "THE END"?
And then we see Michael's burnt mask, left behind in the kitchen when they killed him! Scary, right? No. Actually it's just sitting there on the coffee table. Nobody's scared of it anymore. They've moved beyond it. Halloween ended. Maybe some of the decorations still have to be put away, but it's November now. It's beautiful.
You know, I've watched every HALLOWEEN movie multiple times, same with every FRIDAY THE 13TH, and every NIGHTMARE ON ELM STREET, and every TEXAS CHAIN SAW MASSACRE and every CHILD'S PLAY. I've seen the SLUMBER PARTY MASSACREs, and SLEEPAWAY CAMPs, and PROM NIGHTs, and SORORITY HOUSE MASSACREs, and SCREAMs, and I KNOW WHAT YOU DID LAST SUMMERs. I've Slasher Searched so long the bottom of the barrel is practically clean. Many of those are movies I adore, a few are actual masterpieces, some are just shit I get a kick out of, some are total crap, many are something in between, but I enjoy the ritual of watching all of them. So I feel qualified to say that whatever you may think of this HALLOWEEN trilogy, Green and company have done something very unique here, delivering excellently on much of the basic stuff I want in a slasher movie, but also being unusually ambitious with sequel structure, attention to detail, attention to theme, and most importantly giving the trilogy a distinct personality and humanity. I'm not saying it's the best, I'm just saying it's unprecedented and special, and I appreciate it.
Lindsey, please pour Laurie a Shirley Temple, and let's have a toast.
To Laurie and the girls – Happy Halloween, happy trails, I'm glad you three survived!

P.S.
suggested alternate titles: HALLOWEEN JR., HALLOWEEN & SON, THE HALLOWEEN'S APPRENTICE, HALLOWEENS, MY BOYFRIEND IS A HALLOWEEN
Or also NIGHT BLADE 3, which is the name of the limited holding company or whatever on the credits. Cool code name.