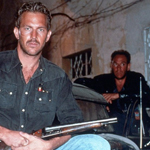 REVENGE is a 1990 film directed by the late Tony Scott. REVENGE is called REVENGE because it's based on a novella called Revenge (by Jim Harrison) and because both are partly about revenge. But don't let the stripped down title lead you to expect a pure revenge tale. Or at least not one that's in a hurry to get to the revenge part.

I don't remember ever hearing of this movie at the time but I know a couple people who swear by it. Now that I've seen it I think it's one of Scott's best pictures. It's got beautiful cinematography of sunsets and beaches and shit, and the opening has TOP GUN style fighter jet footage (I kinda wish this was TOP GUN 2: REVENGE OF TOP GUN), but I still never would've guess it was a Tony Scott joint. It's very quiet and deliberately paced, no pop music soundtrack, not hyperactive, almost more Ridley-esque. That might not be the case in the 20-minutes-shorter director's cut which came out a few years ago, but I took some people's advice to stick with the theatrical. Sorry Tony Scott.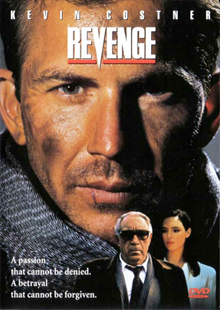 Kevin Costner plays Jay Cochran, a hot shit Navy fighter pilot who hangs up his, you know, plane and goes on a vacation to Mexico. He's got this rich friend named Tibey (Anthony Quinn), an older guy who he apparently saved the life of on a hunting trip one time, and he takes him up on an offer to come visit. Jay's buddy back home refers to Tibey as a "warlord," and since Tibey has a bunch of pushy, gun-carrying bodyguard type guys in sunglasses you get a bad feeling about this right away. Also he has a bad enough temper to pick up a large dog by its skin and toss it in a swimming pool right in front of his guest. But otherwise he seems like a really nice guy, and I mean that.
Now, let me mention one other factor, I think you'll be able to see what the significance is. Tibey has a smokin hot younger wife named Miryea (Madeleine Stowe) who seems a little distant from him. But she seems to take well to Jay.
You see what I mean? Can you sort of guess what type of situation might happen there, with those characters? The husband is older, the wife is younger, she doesn't seem to like him that much, she does seem to like Kevin Costner… in my opinion there is a direction that these relationships could possibly go in that would cause a dramatic conflict that might happen in a movie like this. You know?
If that doesn't help you to figure out what I'm getting at I will just say that Miryea has a vagina and Jay has a penis and there are ways those two facts could come into play, specifically through physical contact. I think you know what I mean. If not let me show you a diagram.
SPOILER IN DIAGRAM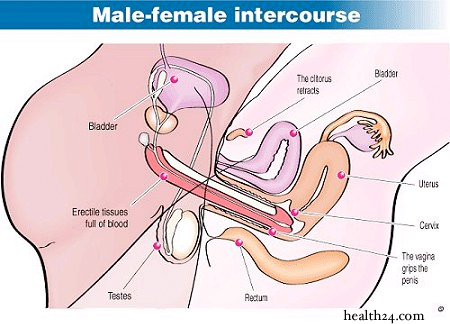 END OF DIAGRAM SPOILER
So yes, he's gonna do the thing pictured above, but only after wincing and trying not to for a while. And knowing he shouldn't do it. And still staying around.
I mean, I kept yelling at my screen: get out of there, Kevin Costner! You're making a mistake, Kevin Costner! He called up his friend. Look buddy, see, I think I'm in love with the wife of the dangerous criminal who you told me I should never even fucking visit, what do you think I should do, old pal? His buddy says Kevin Costner, get the fuck out of there immediately. The call is coming from inside your pants.
Yes, in the tradition of MATCH POINT this is a movie that could also be called KEEP YOUR DICK IN YOUR PANTS. Or another good one would be WHAT THE FUCK DID YOU THINK WAS GONNA HAPPEN?
Because yes, after (SEE DIAGRAM) during a party and then later at his cabin and then in a Jeep while driving and then in a different cabin with lots of candles Jay and Miryea learn that yes, in fact what you would assume would happen, what Jay's friend warned him would happen, what I warned him would happen when he fucks Tibey's wife, does indeed happen. Jay gets beaten almost to death and honestly I didn't feel too bad for him. What Tibey does to Miryea, though, is in my opinion in poor taste. But again, what did you expect, Kevin Costner? This is Tibey.
This is a slow burn movie, that's what I like about it. It's a two hour movie and the shit doesn't pop off until more than an hour in. Before that it's kind of this romance, but there's all this tension from the very beginning. Tibey's right hand man Cesar (Tomas Milian) scolds Jay for not being on time, he tells him he doesn't work for Tibey so he can get there when he wants to. Tibey tries to get him to stay on his property, but he wisely refuses. He plays tennis with Tibey and gets competitive about it even though these guys they're playing against are probly other dangerous drug lords and shit. He just has this attitude that he's a guest there, he's not part of their world, he's gonna be himself, but he keeps stepping all over the protocol. If Tibey didn't stand up for him he'd probly be dead or at least have his legs broken, and he doesn't seem to pick up on this.
Jay has a dog named Rocky who he brings along on the trip, does dumb little tricks with, brings out on the beach to play and stuff. In one of the more vicious points in the movie SPOILER Tibey and friends kick the door in on the cabin and blow Rocky away. I do feel bad for Rocky because he was innocent, he wasn't fuckin Tibey's dog or anything. And from the way the poor pooch looked at Jay I figured he didn't approve of the behavior either. But I think Tibey is coming from a point of view that this dog was around, he had to have known about the affair, ethically he should've intervened or tipped Tibey off to what was going on. He did neither, so he faces the consequences. Pretty harsh.
In the second half the movie kinda turns into a western. He's left bloody and half dead out in the middle of nowhere, a rural Mexican couple scoop him up and nurse him back to health using methods that involve wrapping a necklace of teeth around his foot. Once he's better he's not even specifically on a mission of revenge, he just wants to find Miryea, but he hooks up with two cousins (Miguel Ferrer and a pre-DIE HARD 2 John Leguizamo) who owe Tibey some revenge and work as an underground network to aid Jay in finding him. It starts to feel a little mythic as Jay seems to coincidentally run into every person involved in his beating and Punisher them. No, not punishment. Revenge.
Quinn is great, and very likable despite being, you know, horrible. I have to admit I liked Tibey better than Jay. He's a bad man, but in this specific situation he's the wronged party.
In my opinion the ending makes the movie, so I'm gonna have to go all out SPOILER in these last paragraphs to sing its praises. If you've seen it you know it: Jay gets Tibey at gunpoint, Tibey pulls out his gun too, they could kill each other. Tibey regretfully says, "Perhaps we both deserve to die." But then he lowers his gun and says, "I ask you as a man, and as a former friend, to ask my forgiveness for taking my wife." And Jay does it. And then lets him go.
I love this! Tibey is obviously a bad person, he's a murderer. But he's acted honorably toward Jay the entire time. His friendship was not an evil front, it was genuine. He's even wearing the fighter pilot jacket that Jay gave to him! That's what he chose to go riding in, despite everything that's gone down. He's the one that got screwed over, not just by infidelity but by a disloyal friend. They both know this, so they leave it at that. Look, maybe I went overboard slashing her face, drugging her and forcing her to work at a whorehouse. But also you shouldn't have betrayed me. Call it even. Here, I'll tell you where she's at, dying of AIDS. You can go find her.
And I like how it ties in with what Jay said about his time in Vietnam. He decided that was a war about killing when you didn't mean to, now he means to kill somebody but ends up not doing it. So maybe he learned something.