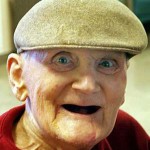 I'm not sure why but the other day I decided it was time to start The Great Asian Catch-Up Binge of 2005. You know how it is, some movie like HERO or something comes out in Asia, plays some big film festivals in the west, makes a big stir, comes out on region coded DVD and bootlegs, everybody goes nuts, I don't get around to watching it, then it gets shelved by Miramax for a couple years, almost comes out cut and dubbed with a new soundtrack by R. Kelly, they change the title to MAXIMUM FORCE or something, then at the last second they change their mind and do an actual theatrical release, and a couple months later if it's still playing that might be when I finally see it. But usually not.
Well people have been going ape shit for movies from pretty much every Asian country over these last couple years. I'm sure alot of them are good but I just can't keep up. So what I have decided to do, I am going to try to watch some of the ones people just won't shut their god damn yaps about. Get it over with so I know what they're talking about. I'm planning to watch ICHI THE KILLER from Japan and the INFERNAL AFFAIRS trilogy from Hong Kong. But in honor of the six party talks with North Korea going on right now I'm going to start with Korea and that movie OLDBOY that everybody couldn't stop talking about a year or two ago and then moved on leaving me in the dust. It finally came out on American DVD, so I rented the old region 3 import version.
No, this is not the red guy with the giant hand. THat's Hellboy that's a different movie.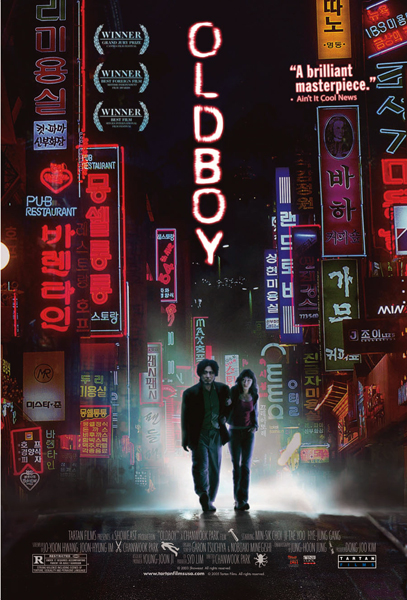 After all the hoopla, somehow I managed to not even know what this one was about. the cover of the american version makes it sound like this guy just got out of prison and is gonna get revenge. A story we can all relate to. However it turns out to be something more surreal. This guy was kidnapped and locked up in what looks like a hotel room. He didn't know why or who or how long he was gonna be there. Turned out to be 15 years. Sometimes they would do weird shit to him. They would gas him to make him go to sleep and sometimes he'd wake up with a haircut or he'd get hypnotized. He planned his escape and then right before pulling it off they just let him out without explanation.
By the way the guy's name is Oh Daesu or something like that but let's call him Oldboy. Detective John Oldboy. So Oldboy gets out and yes, there is some revenge but first of all it's a mystery where he has to find out who in fuck's name did this to him and then when he does he has to figure out why. And also, why they let him out. Oh shit. Bad things could happen in my opinion.
In a weird way this reminds me of the great Dave Fincher picture THE GAME. The tone is totally different, but it has a similar paranoia and a world where these elaborate conspiracies can take place. Later there is a really great and ridiculous twist (actually way more preposterous and fucked up than what happens in THE GAME). This is from Korea though so it's much more sadistic than most americans would do. There's alot of torture, more mental than physical.
Well, physical too though. I guess the most famous thing about this movie is the way John Oldboy uses a claw hammer. To give you a hint, it is not for removing nails. Definitely the highlight of the movie is an elaborate scene where, in one long take, he fights through a hallway of gangsters using a hammer. About halfway through the crowd he falls down and when he gets back up he doesn't have the hammer but he has a knife sticking out of his back.
I think maybe even better than this whole scene though is one little moment earlier, where he walks into the office of the guy who watches over the hotel/prison. Oldboy holds up the hammer. Then there is a freeze frame and a red dotted line is drawn from the nail remover end of the hammer to the head of the sorry motherfucker that's about to feel its wrath. And that's all you need, they don't need to show it. (Don't worry though, you'll get your horrible hammer violence later.)
It's actually a very sad movie. Most of it's not fun. But I liked the part where he was sitting in his cell staring at three chopsticks and said, "All I can figure is the guy next door must be eating with one chopstick."
This is a stylishly shot and original movie. A good combination of exaggerated colors and silly comic book logic with realistic documentary type techniques like jumpcuts and what not. And the guy that plays Oldboy is really good, lots of good deadpan looks. I liked it alot. At the same time I'm not sure I do understand why this is the one that caught on so big. I guess maybe the hammer is all. Anyway I'm not saying it's overrated though. I'm glad I caught up with it and that when I did it was still called OLDBOY and not HOTEL VENGEANCE.