To celebrate the release of my new review book that's named after Bruce Willis it's only appropriate that I review a Bruce movie I never reviewed before. And by far the most requested title in that category is the notorious-flop-turned-minor-cult-movie HUDSON HAWK.
I'll start by laying out the three basic schools of thought about why HUDSON HAWK crashed and burned.
1. The McClane Factor. Audiences had originally loved Bruce as David Addison on MOONLIGHTING. Nobody expected DIE HARD to be so good. But it re-invented action and it re-invented Bruce. Sure, they still had a taste for David Addison, but they hungered for John McClane, especially right here in 1991. Moonlighting was over, DIE HARD 2 had just happened, Comedy Bruce had been shed to reveal Action Bruce fully grown beneath… then all the sudden he comes out with this. It's like, all due respect to the black eye mask, but right after you see THE BIG BOSS or FIST OF FURY for the first time you're not anxious for Bruce Lee to go back to playing Kato.
HUDSON HAWK is way more MOONLIGHTING than DIE HARD. His character is the opposite of John McClane in many ways. McClane is a cop, Hawk is a cat burglar. McClane is a working stiff, Hawk loves cappucino. McClane wears an undershirt and no shoes, Hawk a fancy black overcoat and hat. McClane makes smartass comments to leaven his seemingly doomed situation, when Hawk makes them it emphasizes his fearlessnes. McClane is having trouble keeping his marriage together, Hawk is so smooth he scores a hot nun. If you went into this movie hoping to see a character kind of like John McClane you would feel a little like Karl hanging from a chain.
2. The media was out to get Bruce. This seems to be Bruce's theory. Some of the critics and other media establishment individuals weren't onboard the Nakatomi Express yet. They looked down their noses at DIE HARD, especially after there was a sequel. They thought it was low culture, dumb violence for dumb people. So they wanted Bruce to fall on his ass, and this obviously self-indulgent pet project with a cocky attitude and shameless silliness was too juicy a target to pass up. It was panned viciously and that may have contributed to its financial failure.
3. It wasn't very good.
Which of these is the real reason? I have always believed it was a Neopolitan ice cream style striped-combo of the three. But after my latest viewing I put less emphasis on the third one. I think I've seen it three times now, and each time liked it better than before. Admittedly it started at a pretty low level of liking, but this time was the best so far. It doesn't all work, but if you're in the right mood it's funny and unusual.
Bruce plays Eddie something, aka the Hudson Hawk, or I thought that's what they said but at some point they seem to switch to Hudson Hawk being his actual name. Anyway he's a very talented cat burglar just out of the joint, relaxing and discussing a straight career path with his brother and co-bar owner Tommy Five-Tone (Danny Aiello) when some crooks called the Mario Brothers (no relation) force them to do a museum heist. This turns out to be a setup by nefarious CIA man James Coburn and a team of younger agents (he calls them "the MTV-IA") code-named after candy bars.
In the movie's most perfectly surreal moment he's just survived a harrowing high speed gurney-roll through freeway traffic when David Caruso rappels down from who knows where and holds out a card that says, "MY NAME IS KIT KAT. THIS IS NOT A DREAM." Next thing you know the Hawk is poisoned, packed in styrofoam shipping peanuts and flown to Rome where he's forced to steal Leonardo Da Vinci's codex from the Vatican. In the process he falls for a pretty girl (Andie McDowell) who's trying to keep the Vatican's artifacts safe, and he turns out to be embroiled in an evil plot to rebuild a hidden Da Vinci invention that creates gold (not because they want to be rich but because they want to destroy the world economy).
Jesus, I gotta add theory #4, that the movie failed because these were the fucking movie posters they made: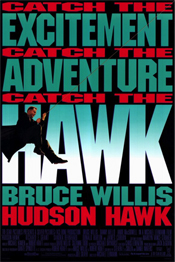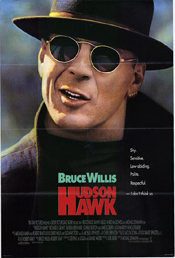 That stupid one on the left I remember as the poster but also I found this one on the right, which says:
Shy.
Sensitive.
Law-abiding.
Polite.
Respectful.
–I don't think so.
For Christ's sake, man. I know somebody probly worked hard at least on the typography there on one of them, and everybody has bills to pay. Don't want to make anybody feel bad, but come on. Let's have some pride in our work, fellas. I personally believe you could've done better. just my 2 cents.
The screenplay was credited to two writers, Steven E. de Souza (the E is for Excellence [nah, just kidding, it's so he doesn't get confused with all the other Steven de Souzas]) and Daniel Waters. De Souza is famous for being one of the writers of DIE HARD, and his credits also include 48 HOURS, COMMANDO and RICOCHET. But also THE FLINSTONES, BEVERLY HILLS COP 2-3, STREET FIGHTER (also director), JUDGE DREDD, and as much as I love it I gotta say KNOCK OFF. Waters meanwhile is known as the visionary writer of HEATHERS, but also had a streak of big studio movies: THE ADVENTURES OF FORD FAIRLANE, then this, BATMAN RETURNS and DEMOLITION MAN. My guess is that de Souza wrote the thing up based on Bruce and his friend Robert Kraft's story notes, then Waters probly went in and rewrote all the dialogue.
The weak side of it is the summer event movie side of it. It has that early '90s mediocre studio fantasy adventure feel, with effects by ILM (for a Da Vinci flying machine and exploding gold machine) and a score working itself up too much trying to sound epic and thrilling no matter what's on screen. If this was supposed to work on multiple levels I don't think the fantasy adventure level quite succeeded. Bruce does too much swinging around and falling with comical looks on his face for the action to have any weight to it, and Richard E. Grant and Sandra Bernhard are too campy and over the top as the villains to be taken seriously at all.
I mean I'm just saying I doubt anybody's watching this thing excited to get to the flying machine sequence.
But as a comedy it's much more successful because it's jam-packed with goofy little touches (a bomb shooting onto a thug's head, Caruso painted silver and disguised as a statue) and a Shane Blackian amount of quips. Everybody always has a smartass comment to rattle off to everybody else's smartass comment. They're even making clever quips when they claim that they can't make clever quips. At one point Coburn says, "I wish I could come up with this glib repartee the way you guys can. But I can't, so I'll just paralyze you."
And glib is just the right word for it. Everybody jokes to cover any fear of death they may have. When they've been paralyzed and shown a shocking USA Today cover story Hawk and Tommy try to get them to turn to section B to check the Mets score.
I'm sure some of you will quote your favorite lines in the comments. Here's a couple of mine:
Asked how much time he did Hawk says, "Put it this way. I never saw E.T."
Richard E. Grant The butler guy slashes the mobster and says, "So much for his cut." Then, "Forgive my dry British humor."
The moronic Butterfinger thinks he's in France (he's in Italy) and announces, "Ah, to be in Par-ee and in love!"
Also, one of the most ridiculous one-liners ever, after somebody gets beheaded: "I guess you won't be going to that hat  convention in July!"
(why July? Hudson Hawk really has a detailed idea of this imaginary hat convention. I'm surprised he didn't say where it happens and how much it costs for a VIP badge.)
I like the candy bar agents, a colorful bunch of characters. The standout is Butterfinger, a huge, dumb oaf with a Boz-like haircut. When part of a plan is going awry he asks, "You want me to rape him?" so they distract him with his copy of One Fish, Two Fish, Red Fish, Blue Fish. When he's shot he calls Coburn "coach." Then there's the mute Kit Kat. As he falls over dead thankfully he has a card prepared that says, "I ALWAYS LIKED YOU."
If you're like me, the main thing you remember about this movie is the heist sequence at the beginning, where Hawk and Tommy sing "Would You Like To Swing On a Star" to themselves while sneaking around the museum, because they have the lengths of songs memorized and use them to time their movements. Of course this makes no sense at all, and Tommy even points it out ("You know they invented something while you were inside – it's called 'the watch'"). But if you just go with it it makes for a fun little musical number. Aiello actually isn't a bad singer and Bruce does better than on RETURN OF BRUNO.
This actually has a bit of that Bruno in it, because it's Bruce indulging his white bluesman sensibilities, showing off what songs he loves and thinking he looks real fuckin cool adjusting that hat all the time.
What I didn't know until I watched the DVD extra "The Story of Hudson Hawk" is that this movie comes entirely out of Bruce's music-playing. It's actually a really good half hour featurette of Bruce and co-story writer/music supervisor Robert Kraft. Kraft is at the piano for the whole interview and plays and sings the theme song much more appealingly than Dr. John did on the end credits. They explain that they met in 1979 when Kraft's band was performing in a club. Bruce was in the audience and was presumptuous enough to pull out a harmonica and start playing with them. You'd think this would get Bruce beat up, but instead they became friends. Later Kraft wrote the song, Bruce vowed it would be a movie some day, many years passed and then somehow he turned out to be right.
So for Bruce fans this is a must-see, because it shows you so much of Bruce's personality. It captures his wiseass side, his musical persona, a little bit of his action side, his Jersey pride and his friendship with Kraft. It shows that as much as we love Action Bruce it's not a bad idea to invite Comedy Bruce out every once in a while. This movie has really grown on me over the years, from "not very good" to "actually has some funny parts" to "for the most part I like this!"
a couple notes:
1. I don't know why they're making such a big deal about Willis and Stallone working together on THE EXPENDABLES, because they already worked together on this one. Well, Frank Stallone, anyway.
2. This was not the first time Bruce collaborated with Kraft on a movie. Kraft wrote a song for LOOK WHO'S TALKING TOO.
3. IMDb's database recommends that if I like HUDSON HAWK I may also like Jodorowsky's HOLY MOUNTAIN and BLUE STREAK starring Martin Lawrence.
This entry was posted on Wednesday, April 28th, 2010 at 1:28 am and is filed under
Bruce
,
Comedy/Laffs
,
Reviews
. You can follow any responses to this entry through the
RSS 2.0
feed. You can skip to the end and leave a response. Pinging is currently not allowed.