This movie came out in 1979, but it opens with the hero doing moves in front of a black void like so many '80s ninja and karate movies. Instead of having credits written on the screen this guy says them out loud, introducing himself and the name of the movie. And it's a hell of a name. If a movie called THE DEADLY ART OF SURVIVAL was no good it would still have a leg up on most other movies, because most other movies aren't called THE DEADLY ART OF SURVIVAL. I don't know if "good" is the best word to describe what this is, but it's at least interesting.
New York indie director Charlie Ahearn, a few years before directing the seminal hip hop picture WILD STYLE, ran into a young martial arts instructor named Nathan Ingram who wanted to make a movie. So on Super-8, on weekends, without a script, they paid off his students and other neighborhood characters in pizza and made this raw, sometimes gritty, sometimes funny little time capsule. The sights and conversations are unusually authentic while the fight scenes are charmingly home made.
Ingram plays a character with some similarities to BERRY GORDY'S THE LAST DRAGON's Bruce Leroy: he lives with his mom in New York, has a poster of Bruce Lee on his wall, his students are very loyal. But most of his problems are less cartoonish than Leroy's. In the opening scene he's talking with some dudes who he thinks are his friends, but they're really luring him to their neighborhood to beat him up, because some drug dealer mistakenly thinks he's trying to steal his pregnant girlfriend. In a long, documentary-like scene in a taxi cab he's stuck in a debate between two of his students about whether or not he can justify using illegal means to support his kid. It seems like these were probly real conversations and real issues in Ingram's life at the time. The title is both his martial art and his just trying to get by in life.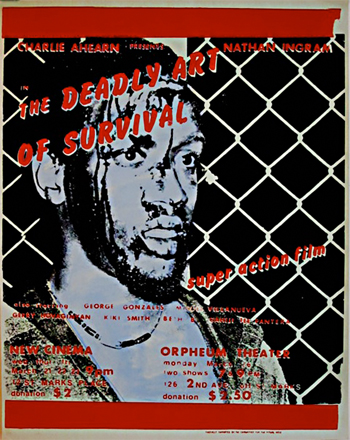 The best scenes are random conversations, like a guy talking about a Bootsy Collins concert he just went to (he says he likes Parliament but not Funkadelic, and is impressed by Bootsy's amps). There are some cleverly set up static shots, like a talk in front of a chain link fence with somebody riding around on a dirt bike off in the distance. You're not really sure if that's there to look interesting or if somebody wandered into their shot. Then in the same shot one character hops the fence, runs and gets on the back of the bike.
Like some of the best independent films Ahearn gets some interesting people on camera and just lets them be themselves. I like the guy we see looking in the mirror for a long time, combing his hair, his mustache, and even his chest hair, not knowing a gun is waiting for him around the corner. I don't know, the chest hair thing might be a joke, but I don't think it is. It looks like it's the guy's actual grooming routine.
They have some interesting locations, too. Some scenes in a pool hall, and in a church. I mean you see those types of places in movies, but this doesn't feel like a real movie. It's obviously a real place and they just brought some cameras in.
Where the movie gets goofy is with his rival, Handsome Harry, proprietor of the Disco Dojo. I'm not sure what's supposed to be disco about it, but it's a tiny room with a graffiti mural, and Harry has a desk and a metal folding chair in the same room as his office. (Alot of this stuff is filmed in super-closeup if they didn't get a good location.) He tells the kids to close their eyes, then blows pot smoke at them. When he gets mad at Ingram he sends two ninjas after him.
The ninjas keep sneaking into shots and stealing things when he's not looking – his wheels, his hat, his sandwich, even his baby. I didn't really understand it was his baby though, and it was clearly a doll or just a bundle of blankets. To be honest it's kind of hard to understand what's supposed to be going on in this plot. I wonder if on weekend #7 they remember what the hell they were doing the day they started?
The ninjas are funny. They know some moves, but they look like kids playing around, especially when their shirts come up and you can see red or white t-shirts underneath. A couple times they use ninja tricks like finger sparks or smoke bombs and it doesn't help them at all, it's just like a little magic trick. They might as well just pull out a couple sparklers and wave them around, or pull a rabbit out of a hat maybe. Or guess which card you picked.
Apparently the fight choreography and alot of the scenes came from skits that Ingram and his students did to teach at–risk-youths. And it does have a skit feel, because you can tell they're not really hitting each other most of the time. On the other hand it's pretty impressive how much choreography they manage to have without cutting.
The best is the last fight, which takes place under the Brooklyn Bridge and has some bird's eye view photography. The cool part is there's a really long fight sequence done in one shot that ends with him kicking Harry over a ledge into some water. The movie's not as good as DEADBEAT AT DAWN, but it kind of reminded me of that type of deal. It seems like it's some guy you could know so you're impressed by the stunt he pulled off, even if it's just the deadly art of kicking Handsome Harry into some water.
This entry was posted on Tuesday, April 27th, 2010 at 1:15 am and is filed under
Martial Arts
,
Reviews
. You can follow any responses to this entry through the
RSS 2.0
feed. You can skip to the end and leave a response. Pinging is currently not allowed.