Well, I'm feeling good, my new book is getting good reviews, I got the next two days off work. What should I do? How 'bout review something even more obscure than the other day's comments-killer THE DEADLY ART OF SURVIVAL? I mean, if I had to guess I'd say this one was probly a little better known that that one, but I can't even find it listed on IMDb. So everybody's gonna think I made it up. They need documentation and records. But I swear to you, I watched GINGER BAKER IN AFRICA on an officially released DVD and everything.
Before you get too excited, I gotta tell you that GINGER BAKER IN AFRICA is not at all like SHAFT IN AFRICA. It's much more experimental. It's about how in 1971 Ginger Baker, the drummer from Cream, wanted to build a recording studio in Nigeria, so he flew to Marrakech and then drove across the desert. Although it's real footage it's not really what you would usually think of as a documentary. It doesn't really explain much, but it also doesn't linger on scenes long enough to be direct cinema. It's pretty confusing. It doesn't matter.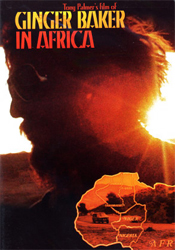 It's lots of footage jumping around (not always in order) showing different sights in the villages and cities he visits. Businesses with hand-painted signs, rotten animal bodies covered in flies, "birds of prey" flying overhead. Baker narrates like a beat poet, his voice distorted like it's rattling through a vent or a pipe. There are a couple cartoon parts, very stoned-out '70s looking, underground comic book/psychedelic album cover style. Also it keeps cutting to a map to show progress, like an old serial. But mostly it's lots and lots of footage of Ginger Baker driving a Jeep through the hot desert, looking real cool in the glimmer of the magic hour, narrating about the terror of being surrounded by dust. And he has to change alot of tires, too.
And then there's the music. The movie starts and ends with a crazy jame session. Pale-faced, frizzy-red-haired Ginger pounding away, lost in the rhythm, his face stupid-high, probly off of both the music and unnamed drugs although it could be just the music, who knows? And in this little room there's a gang of Nigerian musicians including another guy on drums and some dudes rocking out on some psychedelic fuzz bass and guitar. And I think at some point I saw a white dude with an afro playing a flute, but that might've been a mirage.
One thing I really enjoy about this is you see alot of people wearing traditional African clothes and some of them living in huts, so for an ignorant American like me it's easy to assume they're separate from the rest of the world, living some quaint tribal lifestyle I could never understand. But then you look at these guys, and you know they want to be the African Jimi Hendrix, and they probly got all the Funkadelic records at home. Rock n roll went all over the place. We're not that different from each other.
He also visits some places where they do live a more traditional lifestyle, and he jams with those guys too. He demonstrates how a talking drum works. (To the cameras, not to the locals. That would be pretty condescending if he demonstrated it to them.)
No offense to Ginger, but my favorite scene as far as the music goes was the one where he wasn't playing. It's after he meets up with the legendary Fela Kuti, and you see Fela and his band performing for a while. Holy shit. I know people love Fela, but I'm not familiar with him. I guess he must be like George Clinton, not playing an instrument or anything but being more of a ringleader, putting together this mad assault of rhythm and horns. I don't think it even shows him singing. Just dancing crazily. Man, the women shake so fast in this movie, it's intense. Like the music is gonna make them explode. Anyway, I got a better idea what Fela's about now that I saw this.
Even when it's not showing people play it's a constant musical barrage. Most of the movie you hear the frenzied type of jamming you'd hear at the end of a long show before the band throws their instruments down and struts off stage. The sound is kind of tinny, I don't know if that means he didn't do a very good job setting up the studio or they just didn't archive it properly for the DVD. But it just adds to the hazy, druggy feel of the whole thing.
This movie takes you back to a time when it was cool to be worldly. Ginger's down with the Nigerians. He doesn't act like a tourist. He just walks around like he belongs there, and alot of people seem to know him. Hey, it's Ginger. Get the guitars. It's not like Schwarzenegger's PARTY IN RIO, he doesn't seem to have hosts bringing him to all the tourist joints, and I definitely didn't notice him groping anybody.
Ah hell, the only way you'll understand is if I give you a taste:
The cover says "Tony Palmer's film of Ginger Baker in Africa." I looked up Tony Palmer, turns out he directed Frank Zappa's 200 MOTELS, so he knows how to hang around some crazy shit that makes no sense. But it doesn't matter. I'm glad he got this shit on film. You don't have to understand it, you just have to feel it.
Unless IMDb is right and this movie doesn't exist. If so please disregard this review.
This entry was posted on Thursday, April 29th, 2010 at 6:53 pm and is filed under
Documentary
,
Music
,
Reviews
. You can follow any responses to this entry through the
RSS 2.0
feed. You can skip to the end and leave a response. Pinging is currently not allowed.