July 3, 1985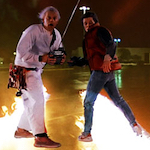 There was only one movie in 1985 that was bigger than RAMBO: FIRST BLOOD PART II, at least box office-wise, and it was considerably bigger. It would inspire two sequels, a cartoon and a movie ride at Universal Studios, though you could argue that its cultural impact was smaller than RAMBO's merely because it couldn't really be copied as much. How would you imitate something as high concept and specific as BACK TO THE FUTURE?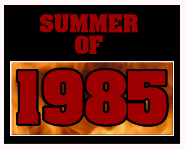 Its success surely comes from a combination of factors – the zippy direction of Robert Zemeckis, the unusual squeaky-voiced-nerd-who-carries-himself-as-a-rock-star appeal of Michael J. Fox (after MIDNIGHT MADNESS and CLASS OF 1984), the heart-pumping score by Alan Silvestri, the comic support of Christopher Lloyd, Crispin Glover, Thomas F. Wilson and Lea Thompson – but all of that hangs on the ingenious premise: kid gets sent back in time to his parents' high school days and endangers his own existence when his mom gets eyes for him instead of his dad. (read the rest of this shit…)
VERN has a new action-horror novel out called WORM ON A HOOK! He has been reviewing movies since 1999 and is the author of the film criticism books Seagalogy: A Study of the Ass-Kicking Films of Steven Seagal and Yippee Ki-Yay Moviegoer!: Writings on Bruce Willis, Badass Cinema and Other Important Topics as well as the crime novel Niketown.