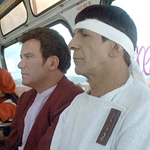 In case you don't know, I am not nor have I ever been a member of the Trekko community. I am at best a casual enjoyer. Just so you know who you're dealing with here before reading this review I will make two potentially disqualifying confessions:
1. I have watched WRATH OF KHAN a few times over the years and it's always pretty good but I honestly have no clue why everyone I know considers it one of the great movies.
2. The first J.J. Abrams STAR TREK is the Star Trek I enjoyed the most.
But you know, I've seen good episodes of various shows and I respect the philosophy of it, the emphasis on ideas, the respect for knowledge and wisdom, and the colorful style of the original show. I wish I could appreciate it more, but maybe I'm just a philistine.
With this in mind I had to go to the experts to ask which STAR TREK picture I should watch for the Summer of '16 Origins series, and I was prescribed STAR TREK IV: THE VOYAGE HOME (1986). I was under the impression that "the one with the whales" was the one everybody made fun of, but Wikipedia says it was well received, and according to my friends who grew up on it it's the one they watch the most.
The crew of the Enterprise (original TV show cast) are now the crew of the (not sure what it's called), a ship that has been both culturally and actually appropriated from the Klingons during whatever happened in part III while they were participating in the search for Spock. From the sound of it they stole the Enterprise to rescue Spock who had died from wrath in part II but was put on a planet that genesissed him and they got him but the Enterprise got blown up in the process much like how Ferris Bueller got Cameron to steal his dad's Ferrari for the day and then it got destroyed. After all that they're basically in exile on Vulcan, kickin it VIP space style, but they're wanted for the unauthorized use and destruction of the Enterprise plus some other bullshit that they're actually innocent of. In a really cool scene, Admiral Kirk (not sure when that happened) has the crew line up and each answer if they agree to samurai up and go back to the Federation campus on Earth to face the charges.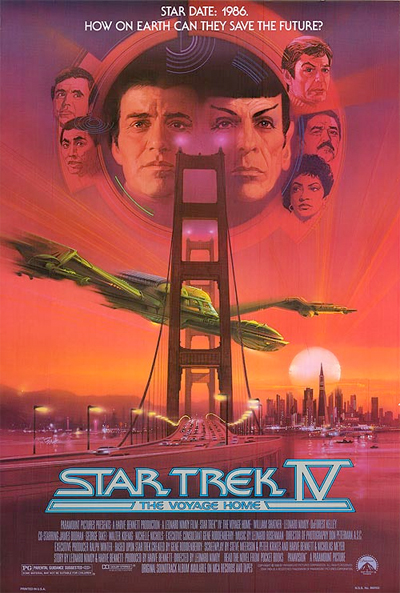 Before they leave, Spock's mom says "May your journey be without incident," but their journey ends up being very much with incident to be honest. They're totally voyaging home, you know, and they find out there's this big tube in space that's sending weird sounds to Earth. Nobody on Earth knows what the fuck the deal is, but Spock figures out it's a message in humpback whale language. All they gotta do to stop this tube from going to town on Earth is to get a whale to tell them to cool it. But whales are extinct, so they have to travel through time to California, Earth, circa 1987.
See, it's the ESCAPE FROM THE PLANET OF THE APES or the BEASTMASTER II: THROUGH THE PORTAL OF TIME of the series. If I had cared about Star Treks at the time I suspect I would've thought it was a poor Star Trek. That seems like some cheap ass, MASTERS OF THE UNIVERSE style bullshit to take them out of the usual futuristic space sets and put them on a normal street walkin around and going to an aquarium and stuff. But see… now that I'm watching it it's 32 years later, so the sights and fashions and what not of when they filmed is as exotic to us as the sci fi fantasy worlds are. So now I can dig it. It's funny to see Spock tying a headband on (do they remember THE KARATE KID in the future?) to cover his pointy ears and walking around the city in a weird space bathrobe. Just by being himself he comes across like some brain damaged hippie priest or UFO cultist or something.
This is an oddly comedic STAR TREK picture and what's really cool is that it doesn't have a villain. They just have a puzzle (what's up with this probe?) and a weird task (can we get us some whales?) and they set their minds and talents to achieving it. We need a whale? No big deal, we'll slingshot around the sun to travel through time (?), make the Enterprise invisible, park it on a field somewhere.
They befriend a lady named Gillian (Catherine Hicks, CHILD'S PLAY) who works at the aquarium and just thinks they're regular people trying to help whales. I get the idea maybe she's dealt with some real weirdos in this business and has learned to be tolerant of their foibles. Eventually Kirk tells her that he's from the future and, worse, proves that that's true.
A big chunk of this movie is basically a string of comedy skits with the Enterprisers trying to achieve their objectives with only a very vague sense of how to fit in in 1987. They all seem like goofballs, not understanding how money works and stuff. Bones gets real funny when they have to bring Chekov to the hospital and he's surprised and kind of outraged by how primitive it is. He has a medical kit and cures some lady's kidney disease with a pill.
Kirk knows enough about American history to blame Spock's spaciness on the '60s, but he thinks he's coming off smooth while saying he used too much "LDS." Chekov actually makes out the best in the '80s just because he happens to be wearing a brown leather jacket that can pass for cool. He looks like John Saxon with more hair.
I know we're supposed to laugh about this, but Scotty in my opinion is way too loose with the ol' Prime Directive and the butterfly effect and what not. I'm sorry, the man is a genius and a good friend to everyone but they should never, ever trust that dipshit to time travel. He gives away the formula to a futuristic advancement as a short cut to get his part of the mission done, then makes up a totally half-assed justification for why it's okay. He sounds like somebody trying to rationalize cheating on their diet. "Well, work was kinda shitty today so I deserve this jar of frosting."
On the other hand, he has some classic not-understanding-how-'80s-computers-work gags.
The broadest and most enjoyably dated scene happens when Kirk and Spock are taking the bus. Imagine that! I know people who are too impatient to use public transportation because they're used to driving. These guys usually get beamed around and they're okay with it! Anyway, a punk with a red mohawk, a dog collar and a Troma-esque attitude refuses to turn down his boombox, so Spock K.O.s him with the Vulcan nerve pinch thing.
It occurs to me that this is a much more cartoonish and less subtextually loaded version of the basic conflict between Sal and Radio Raheem in DO THE RIGHT THING. If Sal had done the nerve pinch on him it would've seemed horribly out of line and racist, but in the long run could have possibly saved his life? I don't know. I guess we'd have to slingshot around the sun, travel back to earlier in the summer of '89 and teach him that move to find out if it would make a difference. Maybe the cops would've shown up and acted like savages anyway.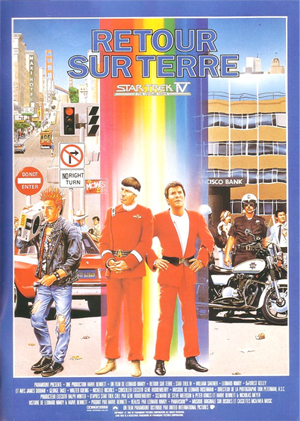 Kirk Thatcher, who played the punk, is interviewed in the book Destroy All Movies: The Complete Guide to Punks On Film by Zack Carlson and Bryan Connolly. He says "In the Star Trek universe, I think I'm the only character that got to flip off Kirk and Spock." He was an associate producer on the movie, and though this isn't mentioned in the interview he went on to direct a bunch of Muppets related stuff, including the popular web video where they sing "Bohemian Rhapsody." And he directed for that show Dinosaurs and was one of the designers of the dinosaurs. Anyway, during production on THE VOYAGE HOME he convinced Nimoy that this guy on the bus should be a punk, and should be played by him. Then in post-production he didn't like the songs they were thinking of using (maybe Flock of Seagulls) so he wrote and recorded the song "I Hate You" himself.
The song has lyrics like "Just what is the future? / The things we've done and said / Let's just push the button / We'd be better off dead!" Thatcher says the lyrics are "about living under the threat of absolute annihilation." It doesn't sound like this was intentional, but I like the irony of this cynical doomsayer being opposed by the harmonious futurists of Star Trek. They are literally from the future and the earth hasn't been blown up. The whales have not been saved, but the crew have come back to get a do-over on that. Things are looking good. Cheer up, punk rocker.
There's a similar underpinning to one of the best jokes, when Chekov keeps asking a cop to help him find "the nuclear wessels." The fact that he's of the future and doesn't know that this is a suspicious question for a Russian to ask an American implies that everything will get sorted out with this whole Cold War thing.
There could've been a whole other fish-out-of-water situation if they had carried Gillian over into the next sequel. When they go back to the future she comes along to help with the whales and seems to think nothing of such a drastic lifestyle change. I guess she mentions not having anybody in her life, but jesus. You're comfortable never seeing anybody you've ever known ever again? Having every one of them be long dead as of right now? I hope you've gotten to see Prince in concert, or Bruce or whoever it is you like. Because they're all gone, they're all dead as soon as you take off. Hell of a decision to make on the spot.
She's thrilled to work in a science department of the future, and jokes about having 300 years worth of advancements to catch up on. But something tells me that after the initial novelty wears off her co-workers are not gonna be too psyched about having to work with unfrozen cave woman over here.
It's interesting that the series would take this sort of light-hearted turn to keep things fresh on part 4. THE VOYAGE HOME is a stark contrast to two great, serious sci-fi films that came out in '86: ALIENS and THE FLY. But it was far from the only jokey one that year. You also had SHORT CIRCUIT, HOWARD THE DUCK, CRITTERS, NIGHT OF THE CREEPS and maybe you could count CAPTAIN EO due to the wacky antics of his ragtag crew. I'd say it's better than a couple of those.
And Leonard Nimoy, who had directed part III and continued with this one, would go on to become more of a comedy director. The next year he did 3 MEN AND A BABY. He also gets a story credit here, which implies that he must've come up with the time travel premise. The screenplay is credited to Steve Meerson & Peter Krikes (DOUBLE IMPACT) and Harve Bennett (also wrote STAR TREKs II, III, IV and V) & Nicholas Meyer (director of THE DAY AFTER).
This was a good recommendation. I honestly dug this one. It has the lovable ensemble in unusually comedic scenarios, but underneath all the silliness is a really cool and weird sci-fi premise. I like the 2001-monolith-esque inexplicableness of the floating tube that speaks whale language. Too often the aliens in Star Trek are just dudes with different kinds of bumps on their heads who we can easily understand. Here is a truly unexpected space encounter. But it figures it would be something like this. We really fucked up, letting those whales go extinct. We're gonna need 'em later. It's a good thing we have a peaceful force of science loving star trekkers ready to roll their sleeves up, put on their headbands and solve some problems. Let's start doing that in the present, though, not just in the future.
History: Obviously this is the fourth movie in the series following up on the Star Trek TV series. There was also an animated series and since then there has been Star Trek: The Next Generation, Star Trek: Deep Space Nine, Star Trek: Voyage, Star Trek: Enterprise, more STAR TREK movie sequels and then ones based on Next Generation and then the reboot movie series of which this summer we have the second sequel and there's gonna be a new TV series also.
This entry was posted on Tuesday, August 2nd, 2016 at 12:38 pm and is filed under
Reviews
,
Science Fiction and Space Shit
. You can follow any responses to this entry through the
RSS 2.0
feed. You can skip to the end and leave a response. Pinging is currently not allowed.