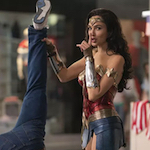 WONDER WOMAN 1984 (actual onscreen title: WW84) is, due to a strange confluence of events, in an unprecedented position. As the first sequel to a big-cultural-phenomenon comic book movie it was highly anticipated and also something of a question mark – I think we were pretty optimistic, but didn't necessarily know if director Patty Jenkins (who hadn't done a big movie before, just MONSTER and some TV) could repeat the magic, or build on it, or if the audience would be as hungry for it a second time. And then the pandemic kicked the world's ass, America's in particular, so the movie got pushed back until the Warner Brothers executives panicked and dumped a year's worth of movies to streaming and it became the highest profile meant-for-theaters blockbuster released directly to streaming on Christmas day.
I enjoyed the movie, and what I enjoyed most is Jenkins' apparent disinterest in making it a modern Marvel-esque or (even moreso) Snyder-esque comic book movie. Though the action is of the modern volume and contemporary FX-based style, the tone and storytelling are more reminiscent of the Christopher Reeves SUPERMAN movies, some of the corny '90s adventure movies I like, a tiny bit of the Burton BATMAN movies, and even (not in a bad way) SUPERGIRL. As I write this I realize that there wasn't a single moment where I thought, "Ah, that's setting up for the next one." (read the rest of this shit…)
VERN has a new action-horror novel out called WORM ON A HOOK! He has been reviewing movies since 1999 and is the author of the film criticism books Seagalogy: A Study of the Ass-Kicking Films of Steven Seagal and Yippee Ki-Yay Moviegoer!: Writings on Bruce Willis, Badass Cinema and Other Important Topics as well as the crime novel Niketown.