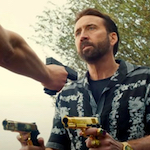 I'm going to start this review nice and then get all my complaints out and then be nice again. THE UNBEARABLE WEIGHT OF MASSIVE TALENT is a fun movie with the irresistible gimmick that it stars Nic Cage as himself (or, I guess, "Nick Cage," according to the credits). It's pretty funny and kind of sweet, it allows him to refer to his "nouveau shamanic acting" process a couple times, references some of his movies, even has a de-aged and sometimes mega version of himself as his invisible spirit guide, "Nicky." It's a nice mainstream acknowledgment of what used to be a somewhat fringe opinion: that Nic Cage is brilliant and awesome, whether as an action star, as a work-a-day b-movie headliner, or as an eccentric weirdo.
The plot involves Cage at a low point because he's been rejected for a role he wants really bad (directed by David Gordon Green, who wrote the foreword to Seagalogy, which means I'm two degrees from Nic Cage), he's running out of money, and his daughter Addy (Lily Mo Sheen, UNDERWORLD: EVOLUTION) and ex-wife Olivia (Sharon Horgan, GAME NIGHT) are fed up with him. So he agrees to accept an offer to attend a rich dude's birthday party in Mallorca for a million dollars.
The rich dude is Javi (Pedro Pascal, THE GREAT WALL), who seems very nice, and is nervous about meeting Nick because he's trying to get him to read his screenplay. Nick is understandably uncomfortable with the whole thing until they stay up late talking about movies and really hit it off. Then the next day CIA agents Vivian (Tiffany Haddish, THE CARD COUNTER) and Martin (Ike Barinholtz, SUICIDE SQUAD) pull him into a van and tell him that Javi is the leader of a dangerous arms dealing cartel that has kidnapped a politician's daughter (Katrin Vankova) to sway an election. Though Nick doesn't believe them about Javi, they convince him to wear a wire and spy on his new friend. Light-hearted comedy ensues, with a plot combining an undercover story and a buddy movie. Some laughs, some not very committed actions scenes, some warm friendship and learning simple lessons about family.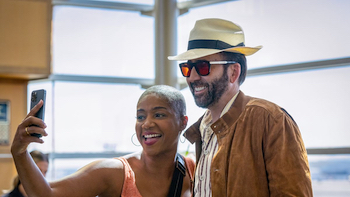 Cage has said that this is not much like his real life, and it doesn't seem like it is. Obviously the whole family situation is completely fictional, basically just a character he would play in a regular movie, and the Hollywood stuff like meeting with Green doesn't feel particularly authentic either. The one part that felt very true to me is the scene where Vivian approaches him as a fan (even though she's just doing it to plant a bug on him). His selfie-smile and polite small talk about THE CROODS 2 seems more real than anything else in the movie.
Obviously as a big fan of Cage I can't help but get a kick out of seeing him star as a version of himself. It at least lightly stands up for and celebrates his approach to acting, his desire to always be working, his Elvis-esque swagger (giant belt buckles, etc.) and also his straight forward appeal as an action hero. And of course as someone who adores FACE/OFF I appreciate that it's referred to more than once. When Javi says it's his favorite movie, Nick says, "Woo is the Maestro." Which I can imagine being what Nic would say too.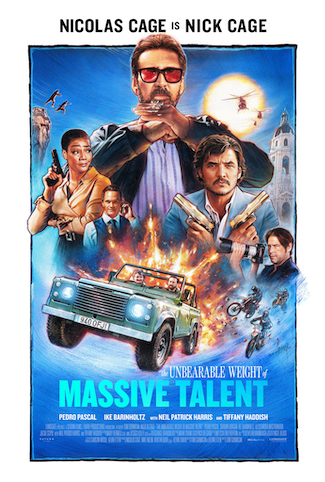 So I appreciate the gesture. I mean – what are the chances that a movie like this would exist? Not high. So thank you. But I also think Cage is worthy of a smarter and more artful tribute than this. I trust that writer/director Tom Gormican (THAT AWKWARD MOMENT) loves and appreciates Cage's body of work, or he wouldn't have come up with this movie and spent years trying to get him to do it. But it seems very much like the work of somebody who likes Nic Cage but all of his friends are terrible doofuses who stare blankly when he brings it up, so he thinks he needs to hold back – that just the act of pointing out that Nic Cage is awesome is gonna be a little too out-there for the mainstream. The movie seems designed for people who haven't given much thought to Nic Cage in years and will think, "Oh yeah! I remember CON AIR!"
Even the title kind of bothers me. It sounds outlandish, so long and ostentatious. Seems to think it's funny to say Cage has "massive talent," right? But obviously they think he does, know he does. So it feels like they're pandering to the bozos who don't. I don't know.
I mean, if you're doing a movie about this topic, how does VAMPIRE'S KISS not come up? Let alone DEADFALL? People don't have to have seen them, you're already explaining your references anyway, why not share the uncut nouveau shamanic megablast with the masses? You're scared it's gonna break 'em? The reference to THE WICKER MAN is treated as an in-joke, where you'd have to know it to notice it. I think a better movie about Nic Cage would have to address his performance in that movie. Glory in it. Try to top it.
I guess I have a problem with the lack of specifics. They don't give us a title or premise for the David Gordon Green movie Nick is trying to get a part in (though the dialogue we hear and how it comes back is funny). They also don't give us a title or description of Javi's screenplay, or an idea of how good or terrible it is. And though they reference, I don't know… a little more than several of Cage's movies, they don't go into any detail about any of them. There is no room for deep cuts, except maybe as things seen in the background of Javi's trophy room if we get to pause it in the future. We see the ax and chainsaw from MANDY and Javi says "MANDY is a masterpiece," and that's it. Castor Troy's beautiful golden guns from FACE/OFF play an important part – they just call them the guns from FACE/OFF. Nothing else. No discussion of the movie. No quotes from the movie. The name Castor Troy is not mentioned. Of course the gun case with the Chiclets isn't there. There are no visual references or anything. I'm not saying you gotta do all that, there are different ways to approach it. But this is the way you would approach it if you only looked up Nic Cage on Wikipedia and didn't really know anything about him.
It's also a little deflating of the legend of Nic Cage in that it just portrays Nick as a quirky but pretty ordinary single dad in L.A. whose career and hangups are getting in the way of connecting with his daughter. This is not the Nic Cage who lives in Las Vegas and buys castles and dinosaur skulls and has a son named Kal-El. It's very possible that he doesn't want to promote that image of himself, but imagine how much more fun it would make the movie!
So, this is a movie that's trying to get your attention with the absurdity of its premise, but the execution is much more square and middle of the road than the subject matter. Luckily I got that sense from the trailers, so I had no trouble bearing the weight of mild disappointment.
I was aware of this movie for quite a while before I connected it with that long ago interview where Cage sang the praises of the movie JCVD and its performance by Jean-Claude Van Damme. In a way the two movies are similar: he and Van Damme both play themselves at a mostly fictional low point, encountering an action-movie-like scenario in the real world. For the most part, though, they are drastically different. JCVD is more high concept drama than comedy, and tries to show a very grounded Van Damme who can't turn real life into one of his movies. UNBEARABLE WEIGHT is sillier, more about goofing around than subverting expectations or dissecting anything about movies or celebrity life. All of which are the right idea for Cage – a wild comedy is better fit for him.
But JCVD is a much better looking movie, it is a much more interestingly directed movie, what little action it has is far better executed than what we have here, and because it's more legitimately autobiographical for Van Damme it led to a profoundly personal and vulnerable performance from him, easily one of his best. By contrast, Cage's movie is artistically bland and unexceptional compared to the movies we love him for, and his performance is more about nodding to his previous career highlights than creating new ones.
So my misgivings are all about what the movie could've been, not what it is. I think it's fair to say it's only trying to be a pleasant movie that gives you a few smiles and laughs, and gives Nic Cage a high five and tells him "You're the best, man! Loved you in FACE/OFF!" At that it has succeeded. I enjoyed it well enough. It's cute. And I'm glad if it puts the final nail in people using Cage's unique career as a punchline.
This entry was posted on Wednesday, April 27th, 2022 at 4:54 pm and is filed under
Comedy/Laffs
,
Reviews
. You can follow any responses to this entry through the
RSS 2.0
feed. You can skip to the end and leave a response. Pinging is currently not allowed.