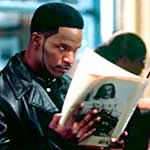 When BAIT came out in 2000 I had no interest. That continued for 12 years. Then one night, in a dream, I was thinking that because of my love for Jamie Foxx's performance in DJANGO UNCHAINED I was gonna rent his closest thing to an action vehicle. When I woke up I thought, "Yeah, actually I do want to rent BAIT." So I did. You see, I don't have a hundred updates a day for you guys, but I'm always working, even when I'm not conscious.
Foxx plays Alvin, a petty thief who gets busted trying to steal a bunch of prawns, and winds up in a cell with a guy (Robert Pastorelli) who recently betrayed his partner (Doug Hutchison) in a gold heist, and also is dying of a heart condition and gives Alvin a message for his wife which is a hint about the location of the hidden gold. The betrayed partner is a psychotic computer genius, and the Treasury Department wants him real bad 'cause he 1) killed two security guards and 2) broke a type of encryption that's used to protect weapons, therefore posing a threat to national security. Or at least that's their pitch when they ask for the money for a super-high-tech tracking device/bug that they implant in Alvin's jaw without his knowledge before they get him released so they can surveil him until the psycho comes after him to get his gold back. (And no, the psycho is not a leprechaun. Maybe a metaphorical leprechaun, I haven't really considered that yet. I'll have to think on that a bit.)

This is when Foxx was known as a comedian. ANY GIVEN SUNDAY was his only non-comedy role at that point. So he does goofy shit while a control room full of people listens, watches things on a giant screen and looks at maps and files on smaller screens. David Morse is the Heartless Asshole In Charge, Jamie Kennedy is the Wacky Young Computer Expert, David Paymer is A Guy That's There Also.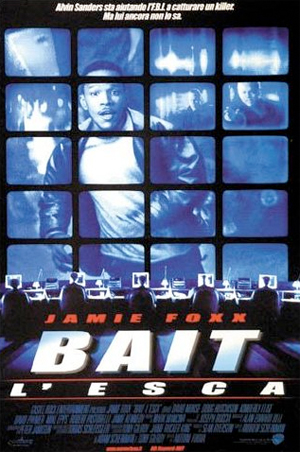 I think they're going for a 48 HOURS type of tone. Foxx is cracking jokes, but the action thriller around him is supposed to be serious. It's only ludicrous because movies like this can be ludicrous, not as a joke. It gets into really corny territory with the little moments where the analysts in the control room are  rooting for Alvin to patch things up with his justifiably-fed-up girlfriend Lisa (Kimberly Elise) while David Morse seems to almost delight in him being in danger. Or when the woman in the control room kinda bites her lip and tries to hide that she's turned on while they listen to Alvin and Lisa having sex.
We're supposed to laugh at Alvin's irresponsibility and then be proud of his sudden maturity. He keeps getting into trouble (like when he tries to turn in a resume at a restaurant he once robbed, and they recognize him) so the Treasury people have to keep intervening to save his ass without him knowing. They even start sending him checks from the government to make sure he doesn't get too desperate for money.
It's kind of cool but ridiculous when he suddenly starts recognizing the faces of people that have been following him, pieces together what's happening and comes up with an action hero master plan. Of course he straightens shit out and everybody's happy. I guess it's kind of like the Ewoks triumphing over the technologically superior Empire using asymmetrical warfare. A dude that got busted stealing prawns can still elude their state-of-the-art tracking system just by getting Mike Epps to switch clothes with him.
I think the bug-in-the-jaw thing is actually supposed to seem like a cool idea, but I gotta say that as a tax payer I am extremely disappointed in this project. Not just due to privacy and human rights concerns, either. Just on its face you gotta wonder why they can't keep track of him using the satellites and agents they already have, and then it turns out with those and the implant they still lose him. This whole program is a fiasco, I want answers.
The screenplay is by Andrew Scheinman (NORTH, KANGAROO JACK: G'DAY USA!, FLIPPED, THE MAGIC OF BELLE ISLE) but also Tony Gilroy. That's pretty funny since he did all the BOURNE movies. I guess BAIT gave him some practice writing those scenes of government people looking at screens and saying lingo.
But BAIT has less in common with other Tony Gilroy joints than with MONEY TALKS. Both star a guy known from Def Comedy Jam as a dumb petty thief who jibber jabbers alot, talks tough but immediately backs down, screams during action scenes and slides into Al Pacino imitations for no reason. Both get busted for a petty crime and get mixed up in something huge by being in the vicinity of a big time criminal. And then they're on the run from the bad guys and their girlfriends are angry at them for being fuckups but they sweet talk them about trying to be responsible now. I think MONEY TALKS is a way funnier movie, but it's also interesting to me to contrast the instincts of its director Brett Ratner with BAIT's Antoine Fuqua, both former music video directors. Ratner went for a retro feel: score by Lalo Schifrin, heavy use of Barry White song, classic car show provides vehicles for chase. Fuqua, on the other hand, was all about making a year 2000 movie with a serious action thriller score by Mark Mancina and using any possible chance for fake computery shit on the screen, whooshing us through a cartoonish CGI representation of the information super duper highway and stuff like that.
This was Fuqua's second feature, after REPLACEMENT KILLERS. He's gone on to movies that are a little more respectable – TRAINING DAY and TEARS OF THE SUN have their moments, and I kinda liked BROOKLYN'S FINEST too – but as far as their straight up hackwork, I kinda prefer the Ratner flavor. Or maybe I'm just a sucker for Lalo Schifrin.
I didn't know this at the time, but I read that this movie was a huge money loser. And that's probly a good thing. If Foxx had gone through BAIT 2 and 3 and other action comedies maybe he would've taken longer turning into a good actor. If you look at his filmography since 2000 he hasn't done as many comedies as he's done roles like Bundini Brown in ALI or Tookie Williams in a cable movie or COLLATERAL, RAY, JARHEAD, MIAMI VICE. Normally I don't celebrate the funny-person-going-dramatic trajectory, but I think he's turned out to do better work as a dramatic actor than as a comedian. Or R&B singer. And it all leads up to his excellent and I think under-recognized badass performance in DJANGO UNCHAINED. So thank you, box office failure of BAIT, for giving us Django.
This entry was posted on Friday, February 22nd, 2013 at 2:20 am and is filed under
Action
,
Comedy/Laffs
,
Reviews
. You can follow any responses to this entry through the
RSS 2.0
feed. You can skip to the end and leave a response. Pinging is currently not allowed.