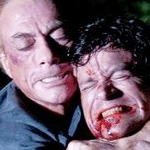 As of today, ENEMIES CLOSER (2013) is the most recent movie directed by Peter Hyams, and his third collaboration with Jean-Claude Van Damme (after TIMECOP and SUDDEN DEATH). Part of the After Dark Action series (which also included EL GRINGO and DRAGON EYES), it's a lower budget take on a DIE HARD type of movie. Or I guess a SUDDEN DEATH type of movie. But this time the John McClane/Darren McCord is Tom Everett Scott (AN AMERICAN WEREWOLF IN PARIS) and Van Damme gets to play the Hans Grueber/Joshua Foss.
Scott plays Henry, an ex-Navy SEAL trying to figure out his post-war life while working as the ranger of a state park that's an isolated island with only one other person, an old man, living on it. This is a recipe for having to fight with a couple of bears over pic-a-nic baskets, but he lucks out and all he has to deal with is being in the way when a small plane smuggling "a load of some very naughty shit" crashes in the water nearby and a ruthless gang of killers come looking for it. I mean, it's a pain in the ass, but it's more within his skill set. (read the rest of this shit…)
VERN has a new action-horror novel out called WORM ON A HOOK! He has been reviewing movies since 1999 and is the author of the film criticism books Seagalogy: A Study of the Ass-Kicking Films of Steven Seagal and Yippee Ki-Yay Moviegoer!: Writings on Bruce Willis, Badass Cinema and Other Important Topics as well as the crime novel Niketown.