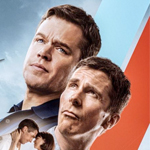 FORD v FERRARI: VROOM OF JUSTICE is a perfectly enjoyable, kind of square and obvious, know-it-all-car-guy underdog racing picture. It has been widely described as a "dad movie," and sure enough a one-day awards season engagement drew a different crowd than I usually see at the Cinerama, with a higher contingent of gray-haired men. Everyone applauded and cackled at the sticking of it to the man, and in recognition of all the lines from the trailer. A good time was had by all.
It's the story of Caroll Shelby (Matt Damon, TITAN A.E.), one of the only Americans to ever win the 24-hour-Le-Mans, now retired from driving due to a heart condition, making his living building and selling cars and sponsoring a racing team. Then one day he's approached by Lee Iacocca (Jon Bernthal, THE ACCOUNTANT), who has convinced Henry Ford II (Tracy Letts, who also played the grouchy boss in LITTLE WOMEN and maybe other best picture nominees) that the way to make his grandpa's car company into Not Your Grandpa's Car Company is to build a car that beats Ferrari in Le Mans. It's a tall order, but Shelby agrees to give it a shot and recruits his friend Ken Miles (Christian Bale, POCAHONTAS), a "difficult" automotive genius, to help develop and drive the car. (read the rest of this shit…)
VERN has a new action-horror novel out called WORM ON A HOOK! He has been reviewing movies since 1999 and is the author of the film criticism books Seagalogy: A Study of the Ass-Kicking Films of Steven Seagal and Yippee Ki-Yay Moviegoer!: Writings on Bruce Willis, Badass Cinema and Other Important Topics as well as the crime novel Niketown.