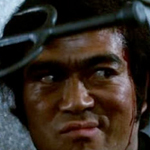 "I may in fact be worse than the villains. But I know the way they think and act."
Sonny Chiba is… THE STREET FIGHTER, a.k.a. Takuma Tsurugi (or Terry in the English dub). He's an A+ anti-hero because he's just straight up a bad person, but he's so cool he keeps luring us into rooting for him.
And he's definitely in the Bad Motherfucker Hall of Fame. We're introduced to him disguised as a Buddhist monk to visit Tateki Shikenbaru (Masashi Ishibashi, SHOGUN'S NINJA) on death row. Shikenbaru is apparently a murderer, but he seems like an honorable guy who's excited when he realizes he gets to have a karate duel in his cell with someone as good as Tsurugi. But Tsurugi hits him with a special delayed-asphyxiation blow that causes him to collapse just before execution. The prison officials decide they legally and/or ethically have to transport him to a hospital, at which point Tsurugi and his sycophantic partner Rakuda (Goichi Yamada, DOUBLE SUICIDE AT NISHIJIN) ambush the ambulance, abduct the prisoner and send him to Hong Kong. (read the rest of this shit…)
VERN has been reviewing movies since 1999 and is the author of the books SEAGALOGY: A STUDY OF THE ASS-KICKING FILMS OF STEVEN SEAGAL, YIPPEE KI-YAY MOVIEGOER!: WRITINGS ON BRUCE WILLIS, BADASS CINEMA AND OTHER IMPORTANT TOPICS and NIKETOWN: A NOVEL. His horror-action novel WORM ON A HOOK will arrive later this year.