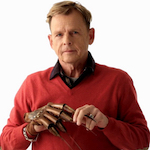 SCREAM, QUEEN!: MY NIGHTMARE ON ELM STREET is a really good horror documentary. It may also be interesting to non-horror fans interested in the history of gay Hollywood in the '80s. It's the story of Mark Patton, who played Jesse Walsh, the young protagonist of A NIGHTMARE ON ELM STREET 2: FREDDY'S REVENGE in 1985. As he sees it, he was a hot young actor getting his big break as the lead in a highly-anticipated sequel, only to find that it had gay subtext in it that was dangerous to him as a closeted gay actor. His representation told him there was no way they could put him up for straight roles anymore, and he only did a CBS Schoolbreak Special and an episode of Hotel where he punched George Clooney before disappearing for almost 30 years. He says he decided to quit after he was cast as a gay character but asked to still pretend he was straight.
I didn't know or understand any of that as a young horror fan in the '80s. I just knew part 2 was my least favorite. As the documentary says,  it was "not a fan favorite." Jesse is a boy who moves into the house where Nancy lived in part 1, finds her previously unmentioned diary, starts to be haunted and then possessed by Freddy, who grows inside him and tears out of his skin. (The FX for that have always been amazing.) Then Freddy appears outside of dreams and attacks a fuckin teen pool party. At that time there were no instructions on how to make a Freddy sequel, so they just had to guess. Part 3 added the element of a group of misunderstood teens working together, being in dreams together, finding ways to fight back. It was so appealing it became the formula for three more movies, making 2 seem like it didn't know what it was doing. (read the rest of this shit…)
VERN has been reviewing movies since 1999 and is the author of the books SEAGALOGY: A STUDY OF THE ASS-KICKING FILMS OF STEVEN SEAGAL, YIPPEE KI-YAY MOVIEGOER!: WRITINGS ON BRUCE WILLIS, BADASS CINEMA AND OTHER IMPORTANT TOPICS and NIKETOWN: A NOVEL. His horror-action novel WORM ON A HOOK will arrive later this year.