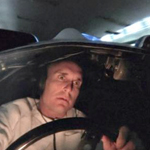 So, we got this new STAR WARS movie coming up at the end of the month. The world has breathed a sigh of relief that the Star Wars story and characters have been liberated from the tyrannical grip of their creator and are finally where they belong: as a trademarked intellectual property of the Walt Disney corporation to hire different less visionary/uppity directors to make authorized fake versions of every year forever.
But what do we really know about former Star Wars creator George Lucas, other than that he is one of history's greatest monsters and childhood rapers? Not much. We know he moved millions of people for generations with his Star Wars movies, revolutionized the technology of special effects and theater presentation, sold his creations for $4.05 billion (actual number, not funny exaggerated one) and then donated almost all of that to charity. That's kind of nice trivia, but of course it doesn't change the sinister fact that he altered a bunch of things in his beloved movies years after the fact and then made three new movies that some people thought were bad, making him the boogie man of twenty first century pop culture.
But perhaps there is a way for us to separate the artist from the special editioner. Exhaustive research has uncovered evidence of Lucas's name in the credits of other films that do not even take place in space. Outlawvern.com is prepared to EXCLUSIVELY report that George Lucas had a hand in some movies that weren't about any star wars at all. And though it may be painful, though it may be politically uncorrect, I thought maybe they would be worth getting to know and understand. How do we prevent this from happening again, etc.
So, throughout this next month or two, depending on how long it takes me, I will be doing LUCAS MINUS STAR WARS, reviewing every non-Star-Wars movie released by his company Lucasfilm (note: I already reviewed HOWARD THE DUCK so I might skip that one) and a few others that he had a hand in outside of his company, starting with his directorial debut THX 1138. (read the rest of this shit…)