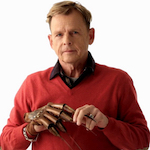 SCREAM, QUEEN!: MY NIGHTMARE ON ELM STREET is a really good horror documentary. It may also be interesting to non-horror fans interested in the history of gay Hollywood in the '80s. It's the story of Mark Patton, who played Jesse Walsh, the young protagonist of A NIGHTMARE ON ELM STREET 2: FREDDY'S REVENGE in 1985. As he sees it, he was a hot young actor getting his big break as the lead in a highly-anticipated sequel, only to find that it had gay subtext in it that was dangerous to him as a closeted gay actor. His representation told him there was no way they could put him up for straight roles anymore, and he only did a CBS Schoolbreak Special and an episode of Hotel where he punched George Clooney before disappearing for almost 30 years. He says he decided to quit after he was cast as a gay character but asked to still pretend he was straight.
I didn't know or understand any of that as a young horror fan in the '80s. I just knew part 2 was my least favorite. As the documentary says,  it was "not a fan favorite." Jesse is a boy who moves into the house where Nancy lived in part 1, finds her previously unmentioned diary, starts to be haunted and then possessed by Freddy, who grows inside him and tears out of his skin. (The FX for that have always been amazing.) Then Freddy appears outside of dreams and attacks a fuckin teen pool party. At that time there were no instructions on how to make a Freddy sequel, so they just had to guess. Part 3 added the element of a group of misunderstood teens working together, being in dreams together, finding ways to fight back. It was so appealing it became the formula for three more movies, making 2 seem like it didn't know what it was doing.
The beauty of that is that is that it was the only one that I didn't watch a million times. Revisiting it decades later was great because there was so much I had no memory of. And sure enough, it's true, Jesse's S&M nightmares, transformation into Freddy and other elements clearly point to a young man struggling with his sexuality, making it completely unique in '80s horror. SCREAM QUEEN! does a great job of establishing the homophobic hostility of pop culture of the '80s. A montage includes clips from Eddie Murphy's DELIRIOUS, TEEN WOLF and ADVENTURES IN BABYSITTING. (It's both a cheat and a horrible indictment of our culture that they include CAN'T HARDLY WAIT, which came out in 1998!)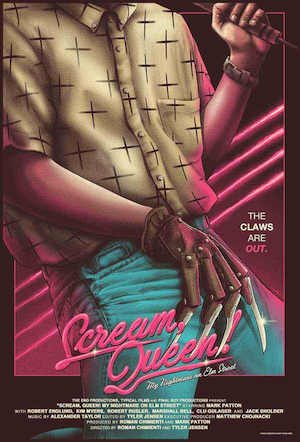 But before they even get into that there's a montage summing up the slasher craze and the concept of a "Scream Queen." One of the movie's big questions is whether part 2's lack of popularity comes from the world not being ready for a male scream queen. It discusses Jesse "screaming like a girl," and a goofy-as-shit scene where he plays music and dances alone in his bedroom (with particular emphasis on closing a drawer with a series of butt bumps).
An appalling collection of online comments proves that at least during the internet age (the CAN'T HARDLY WAIT era) many people were happy to say despicable things about "the gay Freddy movie." If that was a factor in its unpopularity in the '80s I didn't pick up on it at all. One of the interviewees, the drag performer Peaches Christ, seems to agree – saying that fans "couldn't articulate" what they didn't like about it back then. Later Peaches and lesser known fans will give moving testimonials of what they did pick up on, and what it meant to them to see a horror protagonist feeling alone, outside and confused in ways that they could relate to.
But the doc is less about horror analysis than Patton's personal story. After quitting acting he moved to Mexico, where he lived anonymously for decades. If he had any inkling he was a horror icon he didn't do anything to take advantage of it. Even his husband didn't know much about his acting career. He did his first retrospective interview after the makers of the great 2010 documentary NEVER SLEEP AGAIN: THE ELM STREET LEGACY hired a private investigator to find him. He was surprised anybody cared.
That documentary seems to have changed the trajectory of his life. As SCREAM, QUEEN! begins he's on a tour of horror conventions and hosted screenings, now regular activities for him. He's used his appearances to raise money for charities and awareness about HIV (of which he's a survivor). He goes back to the beginning to tell his story of leaving Riverside, Missouri, moving to New York City, quickly getting into commercials for Big Red and Mountain Dew, then being directed by Robert Altman in first the play and then the movie COME BACK TO THE FIVE AND DIME, JIMMY DEAN, JIMMY DEAN. He's already made a couple worshipful references to Cher before we realize he worked closely with her.
In addition to the ELM STREET experience, he talks about trying to work after the death of Rock Hudson, when shows started demanding blood tests of their casts because some actors thought HIV could be transferred from kissing. He talks about his relationship with Timothy Patrick Murphy (THE BUSHIDO BLADE), a huge star on Dallas at the time, also closeted, and soon to die from AIDS.
And then we've got these scenes with fans at screenings and conventions – a more well-traveled topic in horror docs, so I'm impressed that they don't drag the movie down. We see regular stuff like some really great ELM-STREET-characters-besides-Freddy cosplay, or Patton greeting other actors who have become his friends on this circuit (he hugs Ari Lehman, who played young Jason Voorhees in FRIDAY THE 13TH). But Patton's unusual status as a gay horror icon makes for more passionate than usual fan testimonials and more creative Q&As (re-enacting his dance, a drag Freddy tearing out of his fake stomach, etc.)
And it's all leading to his first ever reunion with some of the other FREDDY'S REVENGE cast and director Jack Sholder. Seeing them approach each other for the first time is great, but even better is when they hang out in private that night. Most of them seem fairly unaware, but very sympathetic, about what Patton went through during and after filming. As in NEVER SLEEP AGAIN, Sholder says he was totally clueless about the subtext during filming. But Robert Rusler (who played Jesse's best friend Ron) can't believe it. "Stop playing dumb, Jack!" he says. "I knew during the first audition!"
Patton's ELM STREET bitterness is entirely focused on the screenwriter, David Chaskin, who he says denied writing it as a gay movie for years, blaming it on an effeminate star, and only admits it now that society has come around to appreciating gay horror movies. Sholder seems a little confused about this beef, and tries to intervene, ultimately setting up a meeting between the two. I won't tell you what happens, except that it gets very uncomfortable.
I remembered that section from NEVER SLEEP AGAIN different from how they describe it here, so I rewatched it afterwards. Feelings and memories change over time, and who knows how it was edited, but in that one Patton doesn't seem to have any resentment about FREDDY'S REVENGE at all. The segment ends with him jollily saying, "The experience of making NIGHTMARE ON ELM STREET was wonderful." And in his interview Chaskin does say that the subtext was intentional (Patton makes a distinction that I don't fully understand between saying it was subtext and saying it was text).
One thing about Sholder's story seems to change: in the SCREAM, QUEEN! reunion he says he didn't realize the bar they filmed in was a gay bar, but in the older interview he recounts a story about telling Bob Shaye "go to the gay bar" to film his cameo. So maybe Rusler is right that the director is playing dumb.
It was my fascination with Freddy that turned me into an incurable, Fangoria-reading horror fan, so the ELM STREET movies have a special place in my heart, even if I can't claim as deep of a connection to them as some of these fans have with the character of Jesse. I think it's cool that there are three really good documentaries about the series, all very different from each other. NEVER SLEEP AGAIN is the obsessively detailed, extremely long film-by-film dissection for superfans. I AM NANCY is Heather Langenkamp's exploration of horror heroines overshadowed by the monsters they battle. This is another thing entirely, and possibly the best of the three.
SCREAM, QUEEN! is available on DVD or Prime video and came on Shudder recently for Pride month. There's also a limited edition pink vinyl soundtrack!
This entry was posted on Tuesday, June 23rd, 2020 at 10:46 am and is filed under
Documentary
,
Reviews
. You can follow any responses to this entry through the
RSS 2.0
feed. You can skip to the end and leave a response. Pinging is currently not allowed.