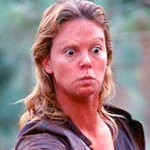 I'm about 13 years late on this one, but it turns out there's a reason Charlize Theron got an Oscar for MONSTER. Jeez. Playing Aileen Wuornos, "the first female serial killer," she not only transforms herself, she transforms Wuernos.
That first part got all the attention. Theron was a well known actress by that point, but in movies like 2 DAYS IN THE VALLEY, THE DEVIL'S ADVOCATE, REINDEER GAMES and THE ITALIAN JOB her acting chops usually took back seat to her hotness. Here she wore fake teeth, bleached her eyebrows and had her skin looking freckled and rough, a pretty decent likeness of the real woman and (though it looks natural in the movie) extreme enough to get a bunch of attention. I actually think the most drastic part is the hair, though. The way the movie tells it she has the hair of a butch lesbian before she even discovers that she is one.
This is a love story. Aileen, going by Lee, decides rather than kill herself one rainy day she'll take her last five bucks to a bar and get a beer. And this lonely young woman Selby (Christina Ricci, CASPER) approaches her, talks to her, buys her a pitcher. Aileen protests at first – "What is this, a gay place?" she had snorted to the bartender earlier – but she can't really pass up a person being nice to her. Too rare. (read the rest of this shit…)
VERN has been reviewing movies since 1999 and is the author of the books SEAGALOGY: A STUDY OF THE ASS-KICKING FILMS OF STEVEN SEAGAL, YIPPEE KI-YAY MOVIEGOER!: WRITINGS ON BRUCE WILLIS, BADASS CINEMA AND OTHER IMPORTANT TOPICS and NIKETOWN: A NOVEL. His horror-action novel WORM ON A HOOK will arrive later this year.