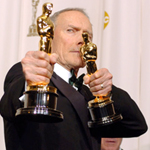 I saw all the best picture nominees this year, an old family tradition. I actually completed the check list a while back. It was easier than usual because I only had two I hadn't seen at the time of the nominations, and only one of those I hadn't been planning to see already. There was also one nominee I watched a long time ago but didn't review. So for the sake of completism I'll write a few words about those last three before tomorrow/tonight's Oscar rituals are performed.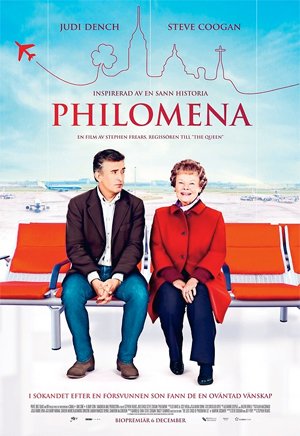 PHILOMENA is the only one I saw purely because of the Oscars. That makes it this year's THE MISERABLES, but I was less reluctant to see it and less impressed afterwards.
This one is an odd choice for top nine movies of the year. Ironically it kinda fits into the pleasing middle-of-the-road category of entertainment that the main character turns his nose up at throughout the movie, but that's okay. He doesn't have to be right. I enjoyed his movie even if he wouldn't.
It's the true story of a disgraced British political reporter who decides to write about an old lady trying to find the son who was taken from her against her will and given up for adoption when she was a young nun. Steve Coogan (COFFEE & CIGARETTES) plays the arrogant, atheistic journalist and Elemental Judi Dench (CHRONICLES OF RIDDICK) is the naive, overly forgiving mother. Their mission takes them into the nunnery and to America, uncovers dirty secrets of the Catholic Church (not child molesting, a whole different scandal), and even deals a little bit with the plight of gay Republicans in the '80s, believe it or not. It's a crowdpleaser with a good balance of outrage, sweetness and easy-going humor. Coogan is the relatable one who gets to be a dick and tell everybody off and Philomena is the role model whose even temper we tell ourselves we'll aspire to.
By the way, it's pronounced fill-oh-mee-nuh. I mention that only because knowing the pronunciation saved me from imagining this  every time I read the title:
One funny part for Americans is seeing our country through the eyes of British tourists. The Lincoln Memorial seems different from their perspective. Philomena is more excited about BIG MOMMA'S HOUSE being on TV, kinda like our people who are obsessed with DOCTOR WHO and DOWNTON ABBEY and shit. She's also fascinated by Mexicans, telling a hotel cook that "where I'm from we have Indians." The ol' "she doesn't know any better" cuteness.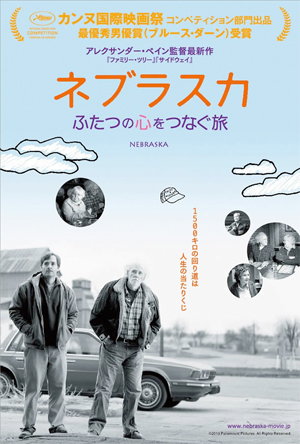 NEBRASKA is the one I saw a while back. It's the black and white Alexander Payne movie about Will Forte (MACGRUBER) driving his senile, alcoholic father (Bruce Dern, THE DRIVER) to Nebraska because he incorrectly believes he won a million dollars in a sweepstakes. Nobody can convince him he's taking his junkmail too literally, and there's only one way to shut him up. Along the way they end up visiting relatives and digging up old drama about who thinks who owes them money. He sees people taking advantage of his dad, who now is telling them all he won a million dollars, and they believe him. Great.
Dern is as great in it as everybody says, off in his own world, ignoring things he doesn't want to hear, focusing on what he wants to, occasionally growling stubborn replies. Recognizable and mysterious at the same time. Sometimes I worry I'm gonna turn into a guy like that.
It didn't occur to me until a couple weeks after seeing the movie that Payne's first movie, CITIZEN RUTH, was a great starring role for Bruce Dern's daughter Laura. And Laura Dern was also in JURASSIC PARK part 1, and Payne and his writing partner Jim Taylor did a rewrite on JURASSIC PARK part 3. All three JURASSIC PARK movies were released in many states, and I will have to do some more research on this one but I have a strong hunch that one of the places where they were released was, yes, Nebraska. Holy shit man this might be some kind of Da Vinci Code type shit I am unraveling here.
NEBRASKA is not written by Payne and Taylor, instead it's another Seattle writer, Bob Nelson. This is really weird to Seattleites because he never did another movie but he was on TV for years in a local sketch comedy show called Almost Live! that played after Saturday Night Live. It's a show that everybody around here used to watch but it's hard to defend because it was mostly just dumb stereotypes about the different cities and neighborhoods in Washington state (for example lots of jokes about the women of Lynnwood, home of Randy Couture, having tall bangs). But it was a significant show in that it was the origin of Bill Nye the Science Guy (he would come out and do science demonstrations, not even strictly comedy) and in later seasons it had a guy who ended up starring in SPY KIDS 4.
http://youtu.be/i01HUHJYSqg
Oh shit, look, the Oscar host was on one time too:
But Bob Nelson is their first Oscar nominee. Even though Payne didn't write it it has his usual sense of observation, the feeling that these are based on people he knows, not some movie archetype. You wonder if any of the locations were just as is, because they look like real houses and bars, not sets. For me the most relatable part was Forte sitting in the living room with his cousins, awkwardly striking up inane conversations and watching TV. I know that feeling.
(Did you guys know that one of the cousins is a mean brother or something in HOME ALONE? That's what a buddy told me but I think I'm too old to know that movie very well. How would I know there was a brother, the kid is home alone, that's the whole point, there are no other family members there.)
Stacy Keach is great playing an asshole who used to be Dern's business partner, a big fat fish in a small pond who thinks he's justified in pushing Dern around, and enough of a dick to know how to do it well through public humiliations in bars and private conversations in restrooms. I will say one positive thing about this individual though, there's a karaoke scene and he does "In the Ghetto" by Elvis Presley, which in my opinion is a respectable karaoke go-to for a man to have.
DALLAS BUYER'S CLUB is the best of the three. Matthew McConaughey (TEXAS CHAINSAW MASSACRE: THE NEXT GENERATION) plays Ron Woodroof, a hard partying heterosexual rodeo star who got HIV in the early '80s, the pre-Magic Johnson and Easy E days when people thought it was a gay only disease. Or at least that's the character in the movie, it uses bull riding as a metaphor for his risky lifestyle. I was kinda confused when I read that the real guy was not in the rodeo. He just got alot of tail on his own accord, I guess.
Anyway, he doesn't believe the doctors at first, then when he does he goes about beating their 30-days-to-live diagnosis, somewhat by accident because he's not exactly taking good care of himself. He can't get into the experimental AZT program at the hospital, so he finds a way to get the pills illegally. And keeps doing coke. It's not until his source dries up and he's forced to go into Mexico looking for the pills that he learns how toxic they are and is convinced to live a cleaner lifestyle and use a cocktail of protein pills and vitamins that work better for him.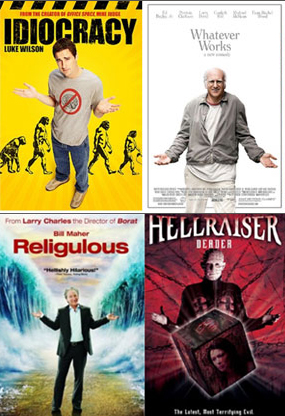 Of course a guy taking pills isn't much of a movie. The Buyers Club of the title is a way he finds to get around laws to be able to distribute these pills to other patients. This is interesting, because impending death somehow turns this completely selfish guy into a crusader for others. He sets up a ragtag clinic in a hotel room and fights the FDA, the courts and an AZT-slinging doctor to help people like him who are dying while the medicine that can help them is held back by the bureaucracy (or necessary safety precautions, depending on how you look at it). He's brazen and funny and travels to other countries in disguise and does what he can to get the latest medicines.
To be frankly honest this movie nauseated me in the beginning. The idea of blood diseases freaks me out, and McConaughey is skeletally thin for the role, he's sweaty, fucking some girl in a smelly bull pen, snorting coke, bleeding and getting it on other people… it pushed all my buttons. But once I got through that it's not a depressing slog. As far as AIDS movies go it's at least superficially upbeat and hopeful. It's like the man himself, focusing on the fight at hand instead of dwelling on the inevitable outcome. I think it leans too heavy on the doctor being a bad guy instead of misguided, but mostly it finds humanity in flawed people, and speaks up for ignored people.
It seems like McConaughey will get the best actor Oscar for this, and he already got the Golden Globe and the SAG. In my opinion other than the MACHINIST style weight loss this is not the transformative performance for him that some have made it out to be. What it is is a role that really lets him tap into what he's good at: the swagger, the defiance, the brazenness, the completely unapologetic good ol' boyness. It's thrilling to see such a great actor get a role that uses him fully and that he's obviously passionate about. So even though I woulda voted for DiCaprio for WOLF OF WALL STREET (which I think taps into his strengths in a similar way but also has him doing all kinds of new tricks) good for McConaughey and his career renaissance. It's about time.
The bigger surprise is Jared Leto as transgendered junkie composite character Rayon. I mean he was good getting his face punched in in FIGHT CLUB, but I didn't know he had one of these in him. Obviously it's gotta be a challenge to learn how to portray a man living life as a woman, but the real feat is the way he captures the kind of person who is supportive and caring to his friends but frustratingly self-destructive. And also funny. A friend that always makes you sigh and shake your head in disappointment but also you always want to look out for him.
I'd say this is a respectable year for best picture nominees. I liked all of them. It's also exciting in that there are three legitimate frontrunners. The awards that traditionally predict the best picture winner have actually been split between GRAVITY, 12 YEARS A SLAVE and AMERICAN HUSTLE. I'm bad about this sort of thing but I'm leaning toward GRAVITY being the winner, which I'm okay with. It's not my favorite movie of the year but it's an astonishing technical exercise that expands the possibilities of what can be done with movies, while also being about characters and emotions and acting. Also it's a great director finally getting the respect he deserves.
So that would be cool, but I think I'd rather see 12 YEARS A SLAVE win. If you think it doesn't have a shot, please consider that when I was walking out of the theater I said "That should be best picture but old white people would never vote for it." I have traditionally been wrong about this sort of thing, for example after ARGO I said "well, I guess that's not gonna be the big Oscar contender then," after
THE AVIATOR I said "that's gotta be best picture and best actor" and after PIRATES OF THE CARIBBEAN: CURSE OF THE BLACK PEARL I said "that's the kind of performance that should be nominated for an Oscar but never would be."
As for AMERICAN HUSTLE, it's a movie that I really liked but I would feel uncomfortable with it being called the best picture in a year with so many better movies. It makes sense that it's up for all the acting awards, but I think it's more of a fun mess than a solid classic. Devin Faraci of Badass Digest wrote a piece I really liked called AMERICAN HUSTLE Will Be Destroyed By Winning The Oscar, that has to do with that thing I always suffer from where you like a movie and then start to resent it after it wins a bunch of awards. He makes a really good point about movies like DANCES WITH WOLVES that would probly be remembered in a more positive light if you could discuss them just as movies and not have to start out talking about whether they deserved to win best picture. He posted that way back in December and of course at the time I thought "oh come on, just 'cause they're wearing funny wigs like in ARGO doesn't mean it's gonna win a bunch of Oscars." But a few months later it seemed like the favorite to win everything.
Anyway, as you all know, it doesn't really matter. If I had to guess, I'd say THE WOLF OF WALL STREET will be the one most people are still familiar with in ten years, and it doesn't have a chance of winning. Or maybe 12 YEARS A SLAVE if they let them show it in high schools. But these are all pretty good, good job this year Hollywood.
My other best picture nominee reviews:
Also, I am not an Oscar voter but I did vote in The Muriels this year. They are slowly unveiling the winners on the Muriels blog (short for Muriels weblog).

Anyway, have fun everybody, whether you're watching the Oscars or making a huge point of not watching the Oscars or whether you aren't able to watch them because you are at church although what church really runs that late, that's kinda weird.
This entry was posted on Sunday, March 2nd, 2014 at 12:20 am and is filed under
Blog Post (short for weblog)
. You can follow any responses to this entry through the
RSS 2.0
feed. You can skip to the end and leave a response. Pinging is currently not allowed.