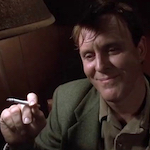 August 7, 1992 brought us the release of not only best picture winner UNFORGIVEN and feature length movie 3 NINJAS, but also one of the most joyfully deranged thrillers of the era, Brian De Palma's RAISING CAIN. I reviewed RAISING CAIN a few years back… oh jesus actually it was 18 years ago what the fuck… and it's an okay review as far as describing what the movie is like, but I could not in good conscience do a series on the weirdness of Summer '92 and not revisit it. This is one of the top achievers in the field.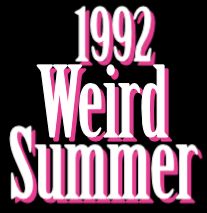 Five years earlier, De Palma had had a huge mainstream success with THE UNTOUCHABLES, a well-reviewed hit movie that nabbed four Oscar nominations and won best supporting actor for Sean Connery. He'd already cashed that in to make the acclaimed war drama CASUALTIES OF WAR (1989), and then his attempt at a big zeitgeisty literary adaptation, THE BONFIRE OF THE VANITIES (1990), had been one of Hollywood's most notorious fiascos. So it might've seemed at a glance like a shrewd move to return to the genre he'd originally been known for – the amped up Hitchcockian thriller.
Except nothing is safe about RAISING CAIN. It opens with doting father Dr. Carter Nix (John Lithgow in his followup to RICOCHET – whatever you've done in your life no offense but it wasn't as good as that man doing those two movies in a row) and his young daughter Amy catching a ride home from the playground with another parent, Karen (Teri Austin, THE VINDICATOR). In a 2 1/2 minute conversation while driving they joke around about parenting, and there's some odd exposition about Carter's father being a pioneering child psychiatrist, then he starts talking about sending Amy to a hospital in Norway to be part of an experiment, and tries to convince Karen to do the same with her kid, much to her befuddled amusement. Then he starts sneezing uncontrollably, which turns out to be cover for him to blow some kind of powder in her face to blind her, pull the car over and chloroform her so he can kidnap her son.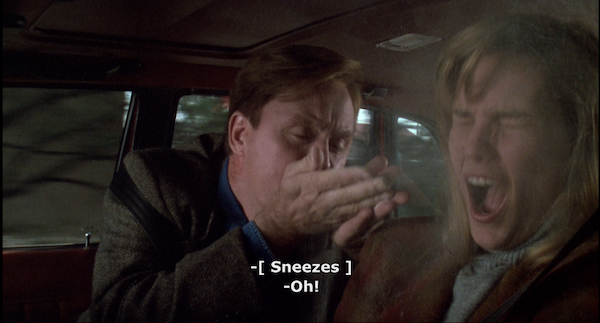 All right. We're already in Weirdoland. Then all the sudden a second John Lithgow character approaches the car, wearing a leather jacket and sunglasses, smoking a cigarette, acting like he thinks he's a real fuckin badass, laughing at Carter, giving him advice about how to murder this poor lady and get away with it. Some real DARK HALF George Stark type shit. This is the titular Cain, it's implied that he recently got out of prison, and he claims they're twins, but as I pointed out in the other review I think that's De Palma fucking with us, because he knows we know it's a split personality but wants us to not know if he really expects us to believe it's twins. (Another fun trick is that Lithgow plays a third character who we assume is also a personality, but he turns out to be a separate person!)
11 minutes into the movie, moments after Carter has put Karen in the trunk of the car, we meet his loving wife Jenny (Lolita Davidovich, ADVENTURES IN BABYSITTING). They almost have sex and by his movements and expressions we know he's Cain – it feels like a violation even though we know it's the same person. Anyway, he goes to check on their daughter but instead takes Karen's son and drives to a hotel to drink and argue with his heavily accented mad scientist dad (Lithgow).
This has been some strange, feverish shit and then 18 minutes in there's a scene with a show-offy steadicam shot from Jenny's POV shopping for a Valentine's Day gift while Carter is outside holding the kid. Suddenly she's approached by super fuckin handsome Jack Dante (Steven Bauer, GLEAMING THE CUBE) who turns out to be an ex who ghosted her after a personal tragedy but now has his shit together and is still in love with her. He accidentally drops his hotel key in the store and she picks it up but hides it from Carter. And also buys gifts for both Carter and Jack. And then goes to the hotel.
So after several minutes you realize oh shit, this is a movie about Jenny now, and she's being tempted to cheat on her husband, which seems wrong except we know her husband is a murdering kidnapping child experimenter. So actually not that wrong. But that makes us much more nervous about her getting caught. I just love this big shifting of gears. Carter's multiple personality disorder is obviously an evolution of PSYCHO, but this kind of switches the order of the chapters – we start with the reveal of the seemingly nice guy being a murderer, then switch to the lady who's sneaking around but who we want to survive. I haven't seen that before.
There's a direct reference to PSYCHO when he puts her body in a car, rolls it into a swamp and watches it slowly sink. But then he De Palmas it by having her float up to the back window just as the sun is coming up, making him nervous someone will see her – and then she wakes up, still alive, and freaks out as it finally completely submerges. Intense!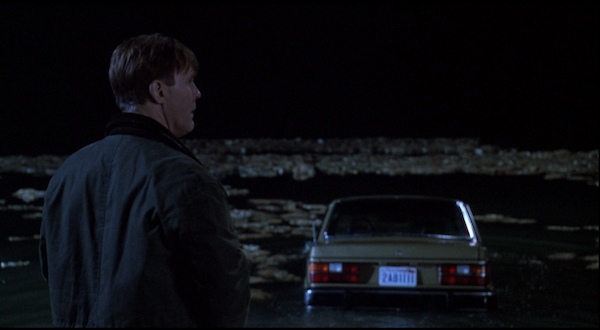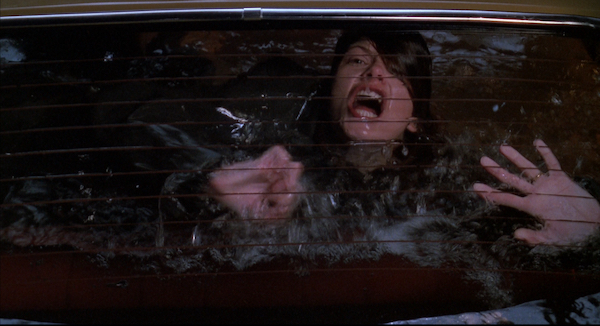 Before that, though, the ultimate don't-give-a-fuck filmatistic swagger: Jenny jolts awake at 3 am (implying that she's been dreaming something that later turns out to have really happened) and then all the sudden, nearly a half hour into the movie, we hear a voiceover of her thoughts! Introducing a new, defiantly unfashionable cinematic technique a third of the way into the movie. Soon the voiceover shifts to narration and we get a little flashback explaining that she fell in love with Jack while she was the cancer doctor for his sick wife, and that the wife jolted awake just in time to see her kiss him at the stroke of midnight on New Year's Eve, and that was what killed her.
So at first it seems like Jack is this guy trying to steal someone's wife, but a little understandable because they were in love before the marriage. But then we realize Jenny was the one making moves on a married man, and said moves caused the wife to die of shock. What the fuck, Jenny.
Most filmmakers would think it was a bad idea for the extramarital affair to have a narratively unnecessary backstory that's super fucked up and makes the protagonist look horrible. Luckily De Palma would never take advice from those stupid assholes. They should stay out of this and go make their boring movies where shit like this would never dream of happening.
There are more wild, disorienting swerves, including a fake out death, a Chekov's wig, and maybe my favorite De Palma joke ever, a whole climactic slo-mo setpiece that telegraphs someone's gonna get impaled on a sun dial but then it doesn't happen. Beautiful.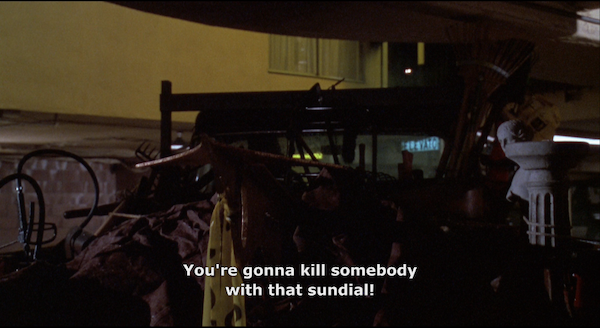 The two main things I associate with this movie, actually, are the sun dial and a completely bizarre part where a little boy snaps at Carter outside of a public restroom and it's very clearly dubbed over by an adult man trying to speak in a high voice. I guess I didn't realize when I wrote that review that it's Lithgow's voice (the kid is later revealed as another of Carter's personalities). But understanding the meaning of it doesn't take away how wonderfully deranged it is.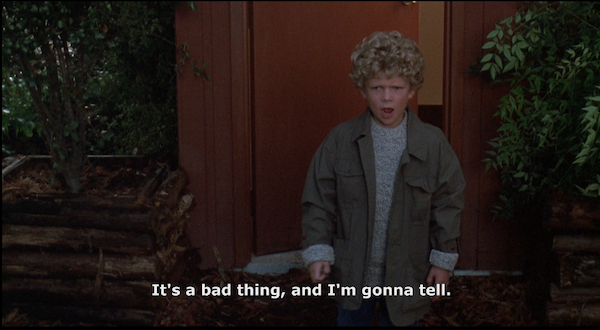 I suppose it wasn't unusual in the '90s for thrillers to have really twisted, macabre premises behind them – especially post-SEVEN when everybody was trying to come up with the most fucked up serial killer idea. But in the sicko ideas department this one is up there just for the premise of a doctor intentionally traumatizing kids to give them split personalities. You know, as a way to study split personalities.
There are lots of little touches that I like precisely because I don't really know what exactly they're about. For example, there's the retired detective (Barton Heyman, THE EXORCIST) who hangs around headquarters still trying to work cases. Not-retired lieutenants Terri (Gregg Henry, BATES MOTEL) and Cally (Tom Bower, ACES: IRON EAGLE III) seem really annoyed by him and keep ignoring him and telling him to leave until he's gone enough into detail about his theory that they can't deny it anymore, so they finally start being nice to him. In another scene, Terri and Cally walk downstairs conversing with a witness (Frances Sternhagen, DOC HOLLYWOOD) and she keeps almost going the wrong way and they will lurch and grab her to stop her. I can't tell if they're worried she's gonna see something she shouldn't or if it's a joke about the complicated tracking shot or what, but it's one of those odd details that give a movie personality. Even though this is one that would have plenty of personality without those details. It's fair to say this one is distinct.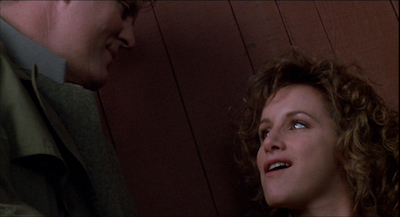 I don't know of another summer of '92 movie to compare it to. The thrillers we've looked at so far have been ONE FALSE MOVE, POISON IVY, ZENTROPA (aka EUROPA) and UNLAWFUL ENTRY. All at least pretty good, some of them great, none of them remotely as wild-eyed, sweaty and unpredictable as RAISING CAIN. I guess one connection to another '92 movie is that last week's BUFFY THE VAMPIRE SLAYER had Luke Perry in it, and this one has his Beverly Hills 90210 co-star Gabriel Carteris. It's a smaller part than Perry's but it's memorable because she randomly hits on "for a man of your age still pretty cute" Carter/Cain while holding a baby, smoking, very loudly chewing gum and waiting for access to a public restroom to pee. (He kills her and steals her baby.)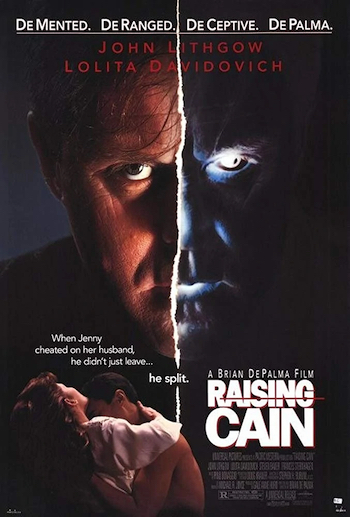 RAISING CAIN did okay at the box office. $37 million on a $12 million budget. Nobody lost money. But many reviews were negative, and I remember it having a reputation for being terrible. The Associated Press review said, "It seems the filmmaker just can't decide where he wants to go with this movie," a common criticism I tend to hate, because often it's saying this: normal movies focus on a few obvious things, but this does a whole bunch of strange things, and I wanted it to be a normal movie, so this guy must be confused. But it turns out maybe they were a little bit right – De Palma was torn about how to tell the story, and later had second thoughts about the (absolutely perfect) way he settled on at the time.
That's why since 2016 the movie has been available in two versions. I'm reviewing the original theatrical cut for historical purposes, but then I checked out what De Palma now calls his director's cut. It started as a fan edit by Dutch director Peet Gelderblom, who read in an interview that De Palma had changed the order of the scenes from his original script, and decided to re-create that earlier idea De Palma had thought better of. His version starts with Jenny clock shopping, running into Jack, having the affair, and only after Carter smothers her do we learn about his split personality and experiments and stuff.
When De Palma saw Gelderblom's cut on Indiewire he wrote, "It's what we didn't accomplish on the initial release of the film. It's what I originally wanted the movie to be," and he arranged to have a restored version of the cut included on the blu-ray. Based on the comments about it on my original review and the response I got writing about it on Twitter, many people seem to think the director's cut is superior. The most persuasive explanation I got was from @TubaPeter on Twitter:
Director's cut is a movie about a mom in a gauzy soap opera world struggling with temptation, while her husband is an inoffensive smiling figure in the background – then 30 minutes in, she's abruptly murdered and focused shifts to the husband and his imaginary friends. It's wild.

— TubaPeter (@TubaPeter) September 17, 2022
I like that description but the thing is, the way it was released in theaters is way more wild! Making it clear Jenny is the protagonist from the beginning, starting out more reasonable and building up to the delirious shit, having Carter's reveal be the standard pillow murder instead of the bizarre sneezing of powder into a woman's face (!) – these are all things that make the director's cut play more normal, more conventional, less feverish, less thrilling. In a video essay explaining his recut, Gelderblom says he always liked the movie but his girlfriend didn't, so he realized that "Something about the way the story unfolded was perhaps more peculiar than it needed to be."
Let me stop you right there, sir. No. Absolutely not. Peculiar is the whole reason for this movie. You don't make this movie less peculiar. Maybe it's not illegal, but it's unethical, immoral, dishonorable. This is Weird Summer. We respect the peculiar here. We honor the peculiar. What the fuck are you doing to me, pal? What kind of party do you think this is?
I'm against it, I find it offensive, I'm considering a lawsuit, but I respect that even when they attempt to chain RAISING CAIN down and train it to sit up straight and be acceptable and go to church on Sundays and tuck its shirt in, it refuses to fit in entirely. It's still the wild movie TubaPeter describes above, and that's wilder than most. I'm a guy who likes De Palma with the pedal to the metal, so RAISING CAIN and FEMME FATALE* are my two favorite thrillers by him. And even in this version I don't like as much, it's a great fuckin movie.  And a major release from Universal Pictures! Thank you, 1992, for letting movies like this through. You gotta be grateful.
*Don't get any ideas. If anybody tries to normalize FEMME FATALE I swear I'll sneeze powder in their face while they're driving or run up to them in a kid body and talk in an adult voice.