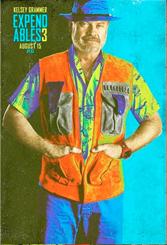 15 MINUTES is a transitional Robert De Niro thriller bridging the Everybody Respects Robert De Niro era with the Robert De Niro Is a Guy Who Stars In DTV Movies With 50 Cent one. Here De Niro plays Detective Eddie Flemming, famous NYC supercop who steps on the toes of younger hot shot Fire Marshal Jordy Warsaw (Ed Burns in a practice run of his sidekick character in ALEX CROSS) when both report to the scene of a deadly apartment fire.
Eddie is famous for being on the tabloid show Top Story, where he lets the host, Robert Hawkins (Kelsey Grammer, Cheetos*), follow him on busts, so everybody treats him like a rock star and it pisses Warsaw off. But he really has been around the block and has alot of wisdom to share, so it's a buddy movie where they butt heads but then he unexpectedly goes out on a limb for the kid and sort of mentors him and what not. All that type of stuff.
But also this is a satire about this crime celebrity culture, that's what that title's about. Back in the late '80s, early 2000s we were very concerned about tabloid news shows and their morbid obsession with O.J. Simpson, the Menendez Brothers and etc., so here is a movie coming years after after MAN BITES DOG, SERIAL MOM, NATURAL BORN KILLERS, SCREAM, etc., and hitting at kind of an embarrassingly obvious target in my opinion. But it does get a little bit of novelty by framing it as the American dream, showing a crime spree committed by two European immigrants (introducing Karel Roden and Oleg Taktarov) who have come to America seeking opportunity. Well, actually to collect their share of the money from a bank robbery, which it turns out their buddy already spent while they were in prison. Whoops. Sorry fellas.
By the way I wonder if they ever met Yuri Boyka in prison? (read the rest of this shit…)