The Oscars this year performed a courageous service: they taught the world who Kathryn Bigelow was. Or at least that she's a woman, she won the Oscar, she directed THE HURT LOCKER, and that business about her ex-husband, whatsisdick. So now she's pretty close to a household name, she's not just that legendary female director of action movies who for a short time had the filmatic chops to match or better her testacled counterparts. Now she's reborn with a great movie at the top of her IMDB profile and a place in history.
Don't get me wrong, she still directed POINT BREAK. But there's more to her than we paid attention to before. So in honor of that I decided it was time to go back and watch the ones I haven't seen before.
What I'd really like to see is her student film THE SET-UP, a 20–minute short that supposedly deconstructs action. Word is it's one long fight scene with a voiceover by two philosophers. The most promising part is that one of the fighters is Gary Busey. But I don't know where to get that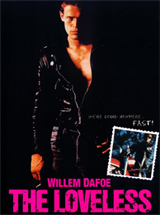 one, so I started with Blue Underground's release of her first feature, THE LOVELESS (1982). It stars Willem Dafoe (his first starring role) as a nomadic biker some time in the '50s. Bigelow co-wrote and co-directed with some dude with the redundant name Monty Montgomery, who didn't direct anything else but produced a bunch of David Lynch projects. And I can see the connection, it makes sense.
Montgomery says on the commentary track that he wished they'd worked on the script longer, and I wish they did too. It doesn't have much of a story. But man does it have a tone and an atmosphere. It's a much more realistic, less nostalgic version of the '50s than what you usually get in movies. It's very slow and deliberate, with minimalistic dialogue, lots of quiet. But also a great soundtrack of mostly rockabilly. Dafoe, sometimes alone, sometiems with some other bikers he met in prison, is headed for Daytona. He stops in little diners and bars, buys some Thunderbird, changes a woman's tire, then grabs her boob, picks up a teenage girl and drives her dad's car.
Early on it does a great job of showing the appeal of the open road, the freedom of perpetually moving forward to new places and people. And all throughout it keeps stopping to peer at people looking at him. Women fear or lust for him, one man says he's an "animal" but wishes he could switch places with him for a little while, another thinks bikers are all communists and gets impending-heart-attack-livid at the very sight or thought of them.
There are a bunch of really well put together scenes. My favorite is when he's staying in a hotel with the girl. He's naked on top of her while race riots play out on TV. Suddenly there's a noise – the tires being shot out on the car. They jump up to put pants on as the girl's dad kicks through the door, grabs her and drags her out. She cries that Willem ain't done nothing to her that ain't been done to her before. The dad tosses her in the car he came in and drives off.
That over with, Dafoe exhaustedly stumbles to the door, shuts it, and sits down on the bed and forgets about it. I mean, what else is he gonna do? That's over. Time to move on.
So within individual scenes it's got the visual storytelling Bigelow later mastered, but as a whole it's more about a feel than a plot. But for that type of movie it's very good. I just wish she would've gone and made one of those bikers-in-Vietnam movies, she could've done a good one. But this is pretty good too though.
I'm not sure if Bigelow has done any other DVD commentary tracks besides this one. It's interesting because on this she's very soft spoken and quiet, doesn't say much. She recorded with Dafoe, who she lets do most of the talking, and their time is split with Montgomery who recorded separately. Because of the type of movies she makes and the fact that she has made it so far in what in my opinion is a male dominated industry (please send feminist of the year award c/o Vern, Seattle, WA, USA) it's easy to assume she'd be a real assertive ballbuster type, a female Michael Mann or William Friedkin. Nope, she sounds more like a Sofia Coppola type, at least when talking about this movie. Interesting.
I gotta admit, because of that cover and title I always thought this was a gay hustler movie. It's not, but it's a real dry arthouse type of independent movie, it's probly closer to a gay hustler movie than to POINT BREAK. Let's put it this way, I don't think it gave a whole lot of competition to E.T. that year. It's probly the least straightforward of Bigelow's movies, but it shows obvious talent and potential right out the gate. Then it took her five years to get her next movie going but when she did it was worth the wait 'cause it was NEAR DARK.