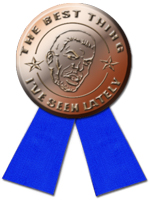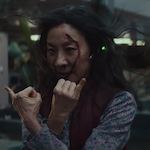 It's hard not to think of EVERYTHING EVERYWHERE ALL AT ONCE as some kind of miracle movie. I had no idea it was something I needed, or something that anyone would think to make, until a couple months ago when the trailer came out. It stars Michelle Yeoh in her best ever English language role, a very layered character who gets to be funny and goofy and troubled and kind of an asshole but totally lovable and yes, she also does some kung fu. It co-stars Ke Huy Quan, who we knew as a child star in INDIANA JONES AND THE TEMPLE OF DOOM and THE GOONIES, but who hasn't been in a movie in almost 20 years, making a triumphant return in surely his best part ever (and he also gets to fight).
It would be worth celebrating just for putting those two actors together, even if it didn't entirely work. But this thing is much more advanced than that. Written and directed by "Daniels" (Dan Kwan and Daniel Scheinert, of SWISS ARMY MAN and various music videos), it's a very original movie, but if I had to give it a short hand description based on other people's work I'd go with "if Michel Gondry made THE MATRIX." Or if that scares you, substitute Stephen Chow. It uses a convoluted sci-fi gimmick as a vehicle for some absurd humor, artfully hand-crafted imagery and outlandish action, which all weaves together to explore ideas about life and relationships and family and happiness. That title is no lie.
Yeoh plays Evelyn Wang, a Chinese-American laundromat owner who's dealing with a whole lot at the moment. Number one, she's preparing to throw a big Chinese New Year party. Number two, her father (James Hong, G-2) is visiting from China, and is very judgmental of everything she does. Number three, she keeps not having time to have a talk with her husband Waymond (Quan) and doesn't know that what he wants to talk about is getting a divorce. Number four, her daughter Joy (Stephanie Hsu, SHANG-CHI AND THE LEGEND OF THE TEN RINGS) came to help with Gong Gong (grandpa), and there's great tension between mother and daughter and her very nice girlfriend Becky (Tallie Medel, THE CARNIVORES). And number five, she's being audited by the IRS, does not have her shit together and is in danger of losing her business. Then, during her meeting with the auditor, Deirdre (Jamie Lee Curtis, THE FOG), things get way more complicated.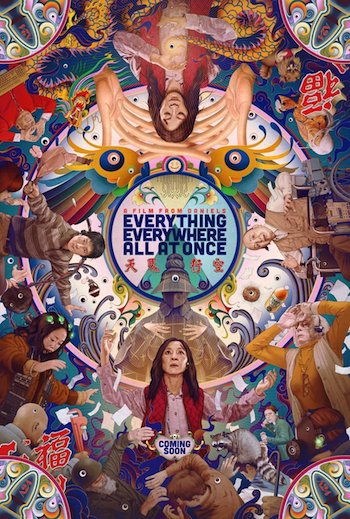 That's when the multiverse comes in. Waymond's body is temporarily taken over by a Waymond from another timeline who tells her that every decision that each person makes branches off into a separate reality. He's from the Alpha universe, where Alpha Evelyn discovered the existence of the parallel universes and the possibility to "verse jump" – inhabit the bodies of your counterparts in other universes or access their abilities in your own. And he tells her she's the only one who can stop someone called Jobu Tupaki from destroying the whole multiverse.
Evelyn sees enough to know this is real, but a misunderstanding causes her to punch Deirdre in the face, which does not go over well, and Alpha Waymond intervenes to help her escape the IRS building.
I don't want to overhype the action. It's not as much as you'd get in YES, MADAM! or WING CHUN. But there are several fights with legit choreography and filmatism and they're not in a hurry to be done with. I knew the shit was about to go down when some security guards showed up and one of them was Brian Le, who I know from the great swimming pool fight in THE PAPER TIGERS. He and his brother Andy Le (the guy with the scary mask in SHANG-CHI), who also appears, are the fight choreographers. I knew from BREATHING FIRE (1991) that Quan was a great screen fighter, and luckily they knew what to do with him. I love that his big showcase is based around a totem of Waymond being a nerdy dad – his fannypack (with stuffed animal hanging from it) – which he uses like a whip, and triumphantly clips back on when he's finished.
With a premise like this you have to have rules about how things work – for example, in THE MATRIX your consciousness enters the Matrix by plugging in and exits by hearing the modem sound on a phone line. EVERYTHING EVERYWHERE has a brilliant gimmick about how to verse-jump. I thought at first it involved chewing, since we see Waymond eating chapstick at one point and later pulling a piece of gum from under a desk and chewing it. It turns out the secret to opening pathways is to do something statistically unlikely, so the characters are always doing strange, random things like that in the middle of fights: eating a fly, licking a pole, blowing on someone's nose. Waymond of this universe describes it something like, "I think when she does something weird she can fight better." For one of her first jumps, Evelyn has to tell her grumpy IRS auditor Deirdre that she loves her – something that makes more sense later when we learn there's at least one reality where they are in love.
Curtis and Jenny Slate (VENOM) are probly two actors who did not predict that they would one day get to fight Michelle Yeoh in a movie. Curtis has a bigger and better part than I expected from the trailer – the Jamie-Lee-aissance really is here. And Slate gets a really funny scene that I saw as a throwback to that couple years after THERE'S SOMETHING ABOUT MARY when all comedies had to have a part where a small animal flies through the air. There's also a small, funny part for Harry Shum Jr., who's cool in my book because he's a dancer who was in STEP UP 2 and 3 and LXD but also has notable action appearances in MORTAL KOMBAT: LEGACY, CROUCHING TIGER, HIDDEN DRAGON: SWORD OF DESTINY and ESCAPE PLAN: THE EXTRACTORS.
It's an extremely dense movie that feels like exercise to keep up with, but good exercise. It throws a whole lot at you, and I know there was stuff I wasn't fast enough to process (there will definitely be some people pausing the blu ray to see some of the visual jokes), but I never felt lost. In the opening scene I wasn't sure how well I would sync up to the rhythm of it, but that ends up really capturing the overwhelming feeling of Evelyn's life.
I want to give credit to production designer Jason Kisvarday and set decorator Kelsi Ephraim (both of THE GREASY STRANGLER and SORRY TO BOTHER YOU) because the amount of clutter in the Wang residence deeply stressed me out. It looks very lived in and nice and especially in this moment when there's a bunch of food for the party and receipt piles for the audit there's just too much stuff for the space. And then we see that the home connects to the laundromat, and they go in there and there are bags and boxes and things piled above the machines, and they ran out of space there and had to move some of it into their home. So there's no escaping. I'm not a hoarder, and my apartment doesn't look like that, but it's the best cinematic depiction of something I've struggled with at home and at work, of just having too many little things that I don't want to or don't know how to part with, and having anxiety about it. It's also a good metaphor for all the things Evelyn has done in her life while feeling she has little to show for it.
There are clearly many ways that EVERYTHING EVERYWHERE ALL AT ONCE speaks specifically to Asian-American and immigrant experiences – everything from cultural details and generational differences to practicalities like Evelyn struggling to understand some of the phrases Deirdre uses, and being chastised for not bringing Joy along to translate. But of course being very specific about different people's lives taps into all the general things we share, so much of this is universally relatable. I think most people will see some of their family and/or some of their selves in it. I definitely did.
That's the substance of the movie, but if a movie can have substance and make me buckle over with laughter at the same time that's even better. Of all the feats this film accomplishes, I was most impressed by its ability to inject some of its most absurd jokes into emotional scenes without undercutting them. In fact, there's a crucial scene (I will label this a SPOILER because this part is so fucking good) where Evelyn and Joy have become two rocks sitting on a cliff. Neither of the actors are in the scene at all – we just hear the wind blowing and read their conversation as subtitles. The premise is intentionally ridiculous and the dialogue is humorous, yet for me it absolutely worked as a mother-daughter bonding moment. Similarly, there's a touching scene that takes place in a universe where people can't use their fingers for much (you'll see why), but a character starts playing "Clair de Lune" on a piano with her feet. And I'm pretty sure the chords are accurate! It's so silly and funny and still I was moved by what was going on in the scene. Masterful blending of tones you wouldn't think would mix.
A great example of a potent funny-sad moment is when (POTENT FUNNY-SAD MOMENT SPOILER) Alpha Waymond explains to Evelyn that the reason she's the Evelyn who can beat Jobu Tupaki (or as Evelyn calls her at one point, "Juju Chewbacca") is that of all the endless Evelyns in all the multiverse she's the one who has consistently made the wrong decisions, failed at everything, and therefore has the most untapped potential. It's kind of like, "You are the chosen one… because you suck so bad." It feels like a simultaneous insult and motivational moment, and the two feelings together equal funny.
The idea that you can do all these other things in different realities could be taken as "You see? This is you! You can do anything!" but also, "Man, you blew it just being you when you could've been this other you." Indeed, the reality where Evelyn learned kung fu and became a movie star (like Michelle Yeoh!) seems to be our Evelyn's greatest asset in battling Jobu, but it's also the movie's biggest emotional gut punch because she becomes convinced her life would've been great if she'd never married Waymond.
So this is a goofy sci-fi kung fu comedy that's very sincerely probing into relationships between husbands and wives, fathers and daughters, and mothers and daughters. It's about families that aren't comfortable telling each other they care about each other, but are very comfortable criticizing. It's about regrets about choices you made or the life you could've had or the thing you failed at or gave up on or are unsatisfied with. It's a movie that recognizes the joy of screen fighting but believes in its characters enough to know they need better (kinder) solutions to their problems. It's also a movie featuring an evil bagel that somehow feels like the best symbolic illustration of depression and nihilism since that horse refused to leave the Swamp of Sadness in THE NEVERENDING STORY. And as a bonus it has a silly joke about a Pixar movie* that works on so many levels and comes back in so many different ridiculous ways that it's awe inspiring.
I saw SWISS ARMY MAN and I kind of liked it – it was funny and clever and it was really impressive that they found a way to make an entire movie where one of the co-leads is a farting corpse. But it was a little much. EVERYTHING EVERYWHERE ALL AT ONCE has the same fierce dedication to absurdity (if not flatulence) but it hits so much harder because there is so much heart, so much understanding of the struggles of being human and how to find love and hope in spite of that. It's just a beautiful movie. Also there's a big scene where Andy and Brian Le do kung fu with trophies stuck up their butts. Very few movies have done that before, although I'm sure it will become more popular after this.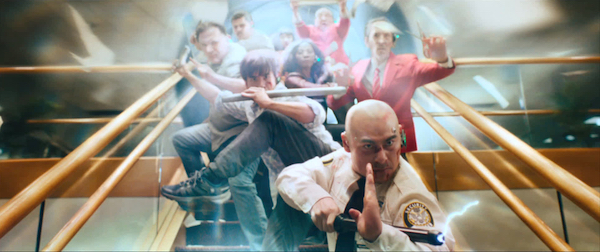 *spoiler detail: Did you notice on the credits that it was really Randy Newman singing on that fake Pixar song?