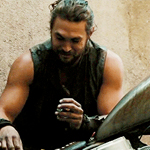 ROAD TO PALOMA is the directational debut of actor/barbarian Jason Momoa, who also co-wrote and stars as Robert Wolf, a rugged but charming motorcycle ridin fugitive. Six months ago he put on face paint and killed the man who raped and killed his mother. Since then he's been laying low, "up in the Sierras mostly," doing Jason Momoa things like building a fence, repairing cars and motorcycles, pushing wheelbarrows, drinking out of a tin cup next to a campfire, smoking loosely rolled cigarettes, and riding around desert highways, sometimes with a mask, but never with a helmet.
This is a road movie, and all along the road he has old friends and family who he loves to sneak up behind and growl or grab, and there is always smiling and lifting people and spinning them around. He is loved by the full range of age groups from children to the elderly.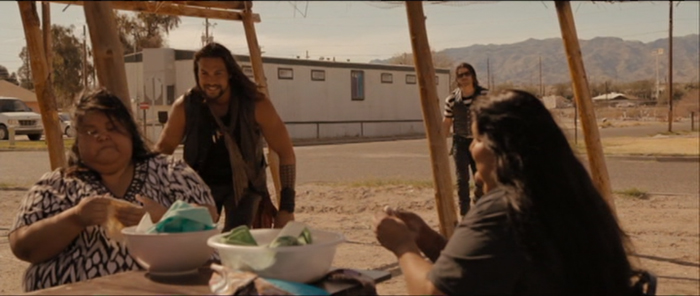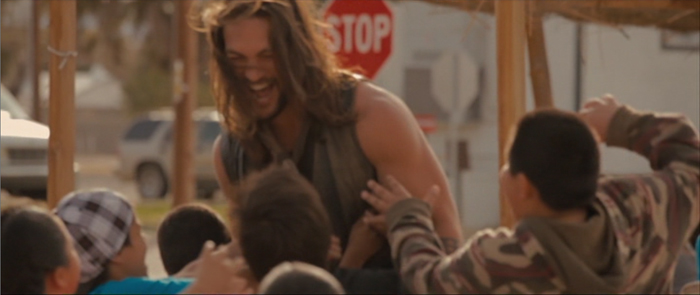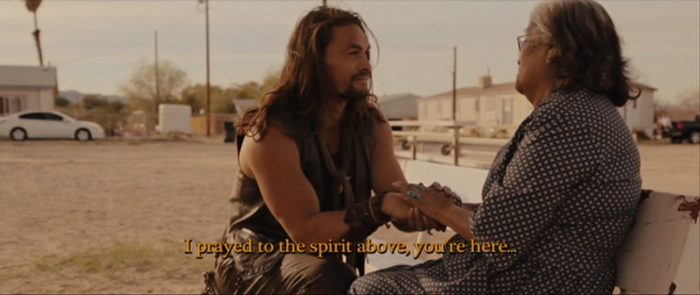 Everyone adores him and just calls him "Wolf," even some who might have that last name too. His brother-in-law Irish (Michael Raymond-James, JACK REACHER) can't stop patting him and kissing him on the forehead. He's a big ol' bear hug in human form, armored in layers of faded, torn up flannel, leather jackets, various vests and tank tops, leather gauntlets, sometimes a hat that he keeps taking on and off and playing with, a bunch of teeth hanging on a bunch of necklaces, sometimes wearing boots, sometimes bare feet. Basically, one Johnny Depp's worth of fashion, but spread out across a larger man so that the biceps are not always covered.
What I'm telling you is that he is the personification of Jason Momoa. Or maybe that doesn't make sense. But I think it does. He is 100% undiluted Jason Momoaness, not from concentrate.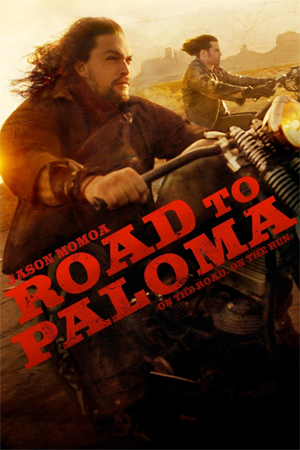 Wolf's journey begins when a federal agent comes into town looking for him. The local guy (Chris Browning, PASSION PLAY) had no sense of urgency to catch him, so the boss (Lance Henriksen, Disney's TARZAN) sent in a meaner guy (Timothy V. Murphy, PIT FIGHTER). Wolf gets wind of them so he decides it's time to do the one thing he's gotta be sure to get done before they catch him: go get his mom's ashes and bring them to the lake to spread them, like she would've wanted.
He's accompanied by a fellow motorcycle enthusiast named Cash (co-writer Robert Homer Mollohan, also in HOTTIES II: THE HOT, THE BAD, AND THE UGLY), who he meets almost passed out in an alley. Cash is not as charming as Wolf, and we see him getting thrown out of a band, a diner, and a strip club, waking up on pavement and in the trunk of a car, and cursing out his ex-wife on pay phones, after having said that his motorcycle is named "The Dirty Fuckin Whore" after her. Sometimes his shittiness implicates Wolf, like when they order food at a diner not realizing that each other are broke and then Cash is a dick to the manager instead of apologetic. We've seen the washing-dishes-to-pay-off-debt-at-a-diner cliche once or twice, but the attraction is Momoa's stand up guy charisma as he smooths things over and apologizes for Cash being an asshole.
He also meets Magdalena (Momoa's wife Lisa Bonet, BIKER BOYZ) at a gas station in the middle of nowhere, except a mile from where she lives. Her car is broken down so he drives her home and later repairs it. Because he's Wolf. Magdalena drives a vintage car, rides a bike, lives in an Airstream trailer on an orange grove. She makes him smile so much he says his face hurts, and he lets her shave his goatee with a knife.
Though released under the prestigious WWE Films banner, this is more of an EASY RIDER homage than a genre movie. Maybe the most Action Movie scene is when they need money so they go to a junkyard he knows on the rez where backyard fights happen. There's quite a rowdy crowd there baking in the sun watching fat dudes bash each other's intestines, and then they all go quiet when Wolf walks in.
"You've got big fucking balls coming here," says the boss. Wolf tells them that "the short white man" with him is betting his bike against their best fighter. Since they're speaking Mojave, the white man just stands and smiles agreeably. He has to fight Tanoai Reed (The Rock's stunt double who was also in AGAINST THE DARK), but don't worry, he's experienced in drunken belligerence. (Just before he met Wolf he got kicked out of his band for ending the show by headbutting the lead guitarist.)
It's much more about little moments and characters than about plot. Things like the weird and kind old mechanic Bob (Linden Chiles, FORBIDDEN WORLD) who pretends not to know him, or his dad Numay (Wes Studi, STREET FIGHTER) identifying him by smell before he can sneak up on him. I really like the scene where Browning's character Schaeffer gives the new guy a tour of the trailer where Wolf killed the guy, calling it "1402 Shithole Street." When Henriksen described the murder he said he did it "with a rock," and then it cuts to Numay carving a rock into some kind of sharp tool. Schaeffer refers to the murder weapon as a "dacite club knife thing that he made."
The Mamoaian vibe extends to the soundtrack, a non-stop parade of high quality bluesy folk and country, lots of acoustic guitar and banjo. The evocatively named husband and wife duo Shovels & Rope provide three of the songs, and the score is by Ohad Benchetrit & Justin Small. The sound fits well with all the nice sun-drenched or twilight-flecked on-location photography courtesy of cinematographer Brian Mendoza. If you didn't think the bad guy from BULLET TO THE HEAD could direct a beautiful looking movie then you underestimated him.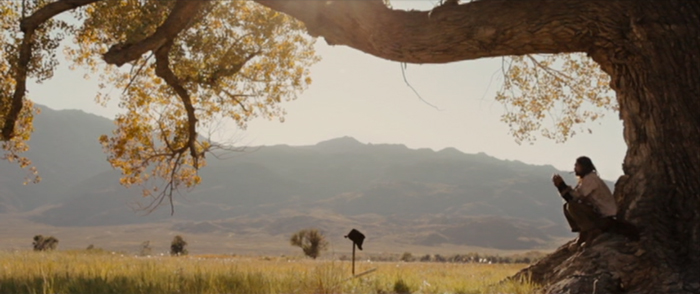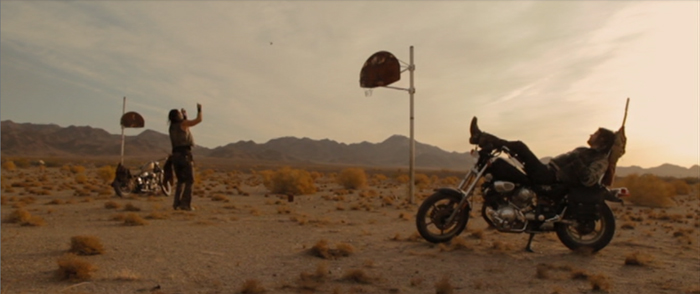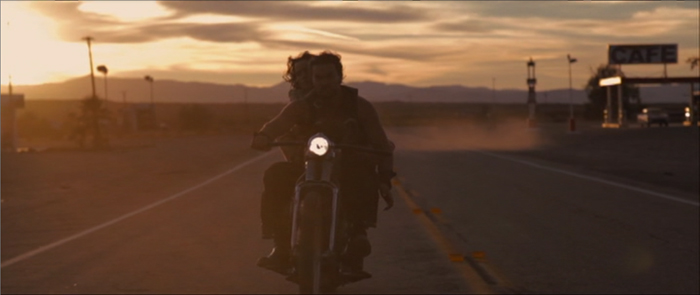 ROAD TO PALOMA was filmed in 2012, which means Momoa was smart enough to use his heat from Game of Thrones to fund this personal project that maybe would've been harder when he was just known for Stargate Atlantis. As a producer but not director, Momoa later gave us BRAVEN, which has the same cinematographer and is sort of a mountain version of this rugged-family-man-of-nature character. I prefer BRAVEN's more direct action movie type of plot, but PALOMA is further proof of Momoa's unstoppable screen presence even in those unfortunate cases where he's not throwing any axes.