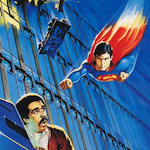 On May 5th, 1983, future Superman actor Henry Cavill was born in St. Helier, Jersey. While he was in his crib, on June 17, 1983, the definitive cinematic Superman met Richard Pryor.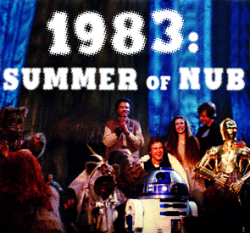 Boy, I hope I'm not trying people's patience too much with this series. I believe 1985 is the earliest retrospective I've done previously, and I thought that went well, but what I've really realized looking at 1983 is how many of these movies feel just a little bit before my time. I remember being alive then, but I was only aware of a little kid-sized slice of pop culture. I was hearing all about Salacious Crum, but not BLUE THUNDER or anything starring Burt Reynolds. My friends born a few or several years before me, people who are older than Generation Ewok, have attachments to some of these movies, characters and actors that I just don't.
So I hope it's not getting annoying. Even if you forgive me for not caring about James Bond or TRADING PLACES, the camel's back could break when I confess that I don't really care that much about the Christopher Reeve Superman movies either. I'm so sorry! Let me explain.
I'm not saying Richard Donner's SUPERMAN is bad. Reeve is obviously great. The theme by John Williams is obviously great. The flying effects continue to be cool no matter how dated they get. I did watch those movies on TV as a kid and I liked them. But they didn't capture me the way Star Wars or Indiana Jones or E.T. did. The super hero movies didn't really hit me that way until BATMAN came out. By that point I was a teenager and here was a stylish movie about outsiders and circus freaks and artists and gothic atmosphere with a side order of Prince music. That meant something to me.
I'm sure that movie seems like caveman drawings to young people today, which is how it made SUPERMAN feel when it came out. They're different eras and very different approaches. I do like the character of Superman, I just don't like how they do it in those movies. To me the fake-nerd Clark Kent hiding his identity shenanigans get old fast, and I hate that Gene Hackman has to play Lex Luthor as a wacky comedy character, especially since we know from other movies how perfect he would be as a scary Luthor.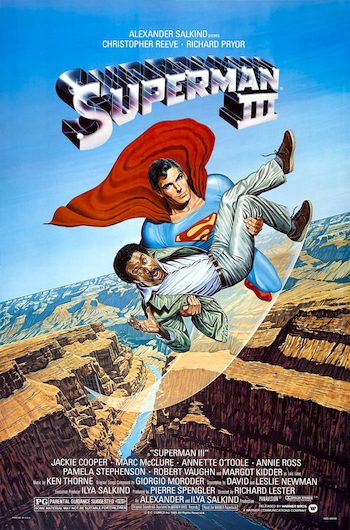 Forgive me these transgressions. I'm not a hater, I'm just not a fan. The good news is I'm not here to review the sacred texts, this is only SUPERMAN III, so we probly all agree that it's not great. Shit, if anything I might get in trouble for going too easy on it.
I think it was weird at the time, and it's definitely weird now, that the co-lead of SUPERMAN III is Richard Pryor, not playing some established comic book villain, but just the type of character he could play in a normal comedy. A normal guy thrust into unusual circumstances, cracking some jokes, etc. It was directed by Richard Lester – yes, the director of A HARD DAY'S NIGHT, but also the guy producers Ilya and Alexander Salkind brought in to reshoot much of SUPERMAN II without Richard Donner's knowledge. Now he's on his own, with a script by David & Leslie Newman (later writers of SANTA CLAUS: THE MOVIE), whose jokey take on the first film Donner hated and had extensively rewritten by Tom Mankiewicz.
I didn't remember much about it so I was surprised by the "and Margot Kidder as Lois Lane" credit. Could this really mean…? Yep, at the beginning of the movie Lois announces that she's going on vacation to Bermuda, and we don't see her again until a scene at the end! I'm sure that must've gone over well at the time.
I do kind of like how the movie starts at ground level. In the opening scene, Gus Gorman (Richard Pryor, BLUE COLLAR) goes to the crowded Metropolis unemployment office, where he's denied his check after failing to maintain steady employment. He's making little jokes (we learn that he got fired from a fast food job after 28 minutes of employment) but the handheld closeups give the scene a sense of reality. This is not a guy who needs to be rescued from a falling water tower or some shit, he's just one of the thousands of regular people out here struggling to survive economically in Metropolis.
If you like that feeling like I did, hold tight to it in your heart, because you're not gonna get any more of it in this movie. The credits play out over a long sequence of slapstick chain reactions involving a blind man who loses his seeing eye dog, lots of paint being spilled, falling into a hole, some wind-up penguins walking around on fire, a pie in a face, etc. It's not all bad but it's… you know. Not the tone most people are looking for here.
While Gus is not a super villain, he's not that much more down to earth than one. He takes a computer class as job training, discovers (to his and the teacher's complete confusion) that he's some kind of intuitive genius super hacker, then gets hired at the Webscoe corporation, where he comes up with a scheme to embezzle fractions of cents rounded off of everyone's paychecks (as referenced in OFFICE SPACE). Evil CEO Bubba Webster (Robert Vaughn, BATTLE BEYOND THE STARS) catches him, but rather than bust him enlists him in a scheme to secretly hack into a weather-controlling satellite (you know, one of those) to destroy the coffee bean crops in Colombia and corner the market.
They think they pulled it off but then Gus returns to report that – didn't you see this on the news? – Superman showed up and used his heat vision to dry the crops. Damn it. So Gus's next corrupt mission is to hack a satellite, have it examine the debris in the area where Krypton once existed, and try to synthesize kryptonite to kill Superman with.
Meanwhile, Clark returns to Smallville for his 15th high school reunion (meaning this takes place in 1980?) and has awkward, clumsy, we-totally-want-to-fuck-each-other-but-neither-of-us-will-ever-say-anything exchanges with childhood friend Lana Lang (Annette O'Toole, CAT PEOPLE). She's a single mother, he spends time with her and her son Ricky (Paul Kaethler), uses his super breath to help the boy cheat at bowling, and rescues him as Superman when he falls down, hits his head on a rock, and almost gets chopped up by a thresher.
Lana is unhappy with life in boring-ass Smallville and dreams of moving to Metropolis, which Clark promises to help her with. And she doesn't seem surprised when he casually tells her he knows Superman, gets his autograph for Ricky, and has him attend his birthday party (which gets hijacked by the town and becomes a key-to-the-city ceremony for Superman; I wonder if Ricky was bummed?)
Disguised as a general, Gus presents Superman with a gift of his fake Kryptonite, not even disguised as a trophy or anything, and for some reason he accepts it. It doesn't kill him, because some small percentage of the debris the computer studied was made of an unknown substance. But later it becomes clear that it has an unexpected effect on Superman: it makes him a prick. He doesn't care about rescuing people, he kinda sleazes on Lana, there's a joke about him making the leaning tower of Pisa no longer lean. I kinda took it as him being confused, but I guess it was probly deliberate mischief. My favorite part of the movie, actually, is when he goes to the opening ceremony of the Olympics just to blow out the torch right before the ceremonial lighting. Not really the type of joke I'm looking for in a Superman movie, but it made me laugh really hard. Evil mischief worthy of the alien assholes in MARS ATTACKS!.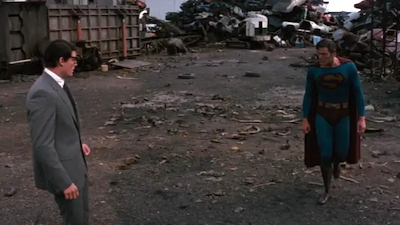 As corny as the Evil Superman concept is, it's nice for Reeve that he gets to play a different version of Superman. He does a good job of it. And the darker colors of his costume look cool.
I don't really understand the magic of him being able to split into two people (one of them dressed as Clark Kent) and have his good side strangle his bad side to death, but then I didn't understand the magic of making the earth rotate backwards in part THE MOVIE, so I'll just go with it.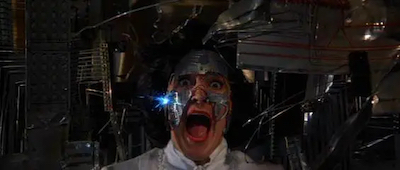 Another thing that's crazy is that Gus's natural genius goes beyond just instinctively knowing how to program computers – he also sketches out a design on some scraps of paper and a napkin, which Bubba is able to follow to build a massive supercomputer inside a cave. It thinks and defends itself, can find people's weaknesses, fire missiles, create Kryptonite rays, and briefly wrap circuitry around Vera to turn her into an evil cyborg lady, an image I'm aware terrified many a child at the time. One very lucky break with the super computer is that when Gus has a conscience and decides to help Superman, all he has to do is loosen one screw to stop the whole thing from working, at least for a bit.
The dangerous A.I. missile-firing supercomputer obviously reminds me of WARGAMES, but also from some angles this thing looks like the place the Emperor got thrown into in RETURN OF THE JEDI. So maybe he fell down into this cave, the supercomputer turned him into a robot, and that's how somehow he returned in THE RISE OF SKYWALKER. Something to think about.
Bubba isn't a great villain or anything, but I really like the set for his black and grey evil penthouse, with secret doors and screens that open up out of things – gimmicks like those that I praised in OCTOPUSSY. Also it's a funny joke that he seems to be at a ski resort and then the camera pulls back and we learn that his building has an artificial ski slope on top of it.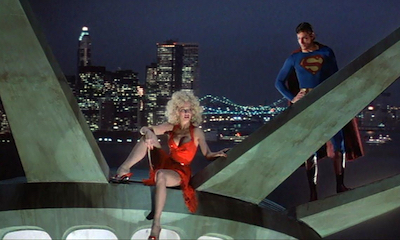 He has two accomplices – his grouchy sister Vera (Annie Ross, later the principal in PUMP UP THE VOLUME) and his helium-voiced girlfriend Lorelei (Pamela Stephenson, HISTORY OF THE WORLD PART I). It's a corny joke but I kind of like that she's actually very smart and for some reason playing dumb, faking her voice and hiding that she reads Kant in her spare time and stuff. Also she's smart enough to figure out how to climb out onto the top of the Statue of Liberty and look sexy for Superman.
There's lots of silly bullshit in here. When they hack the city and cause a bunch of chaos, it includes turning the pedestrian signs into animation of the go and stop guys fighting each other. I'm not sure it works that way. And after a forced gas shortage is resolved a customer at a gas station says this line: "Oh, what the hell. She hasn't had a drink in so long – give her a tank full of the good stuff!"

After Gus and Superman save each other at the end, they shake hands and Gus says, "Thank you, brotha." It would be funny if Gus was in all subsequent Superman movies as his best friend, as if they assume everyone would expect him. Like he would've been in part 4, and then Eddie Griffin or somebody plays him in SUPERMAN RETURNS, and Snyder has him killed in a deleted scene of BATMAN VON SUPERMAN. Instead we never see Gus again and have to assume he took that depressing job Superman presumptuously hooked up for him, programming computers at a coal mine in the middle of nowhere, West Virginia.
According to a Superman wiki, the reason for Gus's far-fetched computer skills is that he was initially going to turn out to be the alien robot Brainiac in disguise. They decided that was corny, made him just be a guy, but left the story pretty much the same, I guess.
Pryor infamously wasn't really into the movie, and mainly did it for the $4 million paycheck (it had been a big deal that he got $1 million for STIR CRAZY). But he got the job because the writers saw him on the Tonight Show talking about SUPERMAN II. The appearance they saw isn't on Youtube, but here's an earlier one where he was excited to see the sequel:
Obviously SUPERMAN III is not the perfect movie for him, but I do think he's kinda funny in it. He gets the big goofy scene where he pretends to be a general and makes a speech in front of everybody in Smallville (in kind of a Bill Cosby voice?), but the best parts are the little touches. I like the part where he finds out Bubba is so rich he's never worn the same pair of socks twice and asks him about what happens to the socks. Also this is not his doing but I like the part where he falls off a skyscraper and I thought Superman would fly in and save him but instead he skis down a glass slope, lands safely in the street, and hobbles away in shock, trying to play it cool. Quite a falling stunt there.
Although they still use the classic John Williams themes, the score is by Ken Thorne (THE MAGIC CHRISTIAN). He had also done part II, so this is not a sudden decline. I was excited by the opening credits mentioning original songs produced by Giorgio Moroder, but you don't actually get to hear them in the movie. I only noticed one song, played for a few seconds and too muffled to make out. But apparently this is the Chaka Khan song made for the movie:
Like Anthony Perkins in PSYCHO II, there was a point when they weren't sure Reeve would return, as he, Hackman and Kidder were all pissed at the Salkinds for firing Donner from part II. Reportedly John Travolta, Jeff Bridges and Kurt Russell turned down offers to replace him, but Tony Danza accepted. Lester was horrified and convinced Reeve to return by giving him veto power over the script. Hackman still refused. Kidder told Nathan Rabin in a Random Roles interview that her reduced role was not her choice, but a punishment: "I said the producers were beneath contempt as human beings to Time Out magazine. So they cut me." She was dating Pryor at the time (they met on SOME KIND OF HERO) and they don't have any scenes together, but "I got to hang out with Rich in London and drink a lot of Cristal champagne."
Man, that would be crazy though if they had made it with Danza. I'm pretty sure that would still be a hacky punchline today. "Oh, The Rock doesn't want to do another FAST & FURIOUS? Why don't you replace him with Tony Danza?"
Another weird change is that they had wanted to call it SUPERMAN VS. SUPERMAN, but backed down under threat of lawsuit from the producers of KRAMER VS. KRAMER. Yeah, that's true, people would've gotten the two mixed up.
Reviews were lukewarm, many of them saying it was okay but pretty much all of them lamenting that it paled in comparison to previous installments. Roger Ebert eventually conceded that it's "sort of fun," but seemed genuinely sad about it being "the kind of movie I feared the original SUPERMAN would be… a cinematic comic book, shallow, silly, filled with stunts and action, without much human interest." He said that "Pryor can be a wicked, anarchic comic actor, and that presence would have been welcome here. Instead, like the rest of SUPERMAN III, he's kind of innocuous."
Unsurprisingly, Cinefantastique was much harsher, mainly attacking it for leaning too much into the comedy. Reviewer Allen Malmquist made the astute point that "Kent's bumblings change from touches of humor arising out of a superhero's disguise to the defining characteristic of a pathetic innocent who can occasionally turn into a superhero."
Supporting my theory that '83 was the Summer of Nub, many of the reviews mention RETURN OF THE JEDI. Janet Maslin, in her mildly positive review in the New York Times, supposed Superman might be taken for granted because "for audiences accustomed to intergalactic travel and endless technological wizardry, someone who can merely fly through the air to stop a falling elevator may not be much of a novelty anymore." Oh yeah, that's kinda true! That was me!
She also noted a connection between Darth Vader's turn to the light side and Superman's battle with his evil self. "Along with computer tricks, a number of which SUPERMAN III also contains, split personalities seem to be big this summer."
At least one reviewer considered at least one aspect of SUPERMAN III to be better than JEDI. I'm not sure who the writer is, but Metacritic quotes a Miami Herald review saying that Reeve "manfully refused to let on that he is tired of the part (as opposed to the JEDI principals, who phoned theirs in)."
As we discussed earlier, JEDI is a divisive part 3, but I think it's safe to say it gets more love than SUPERMAN III, which is generally remembered as what would later be termed a "jumping the shark" moment for the series. It did open big, knocking JEDI out of the #1 slot, but then they traded places the next week. Ultimately it made around $80 million in theaters, which was good (and obviously they made a part 4), but part II had made $190 million. Which is a higher number.
Reeve and Kidder returned for 1987's SUPERMAN IV: THE QUEST FOR PEACE, produced by Golan and Globus instead of the Salkinds. "Oh, God! What a dreadful piece of shit!" Kidder later said.
This was at the beginning of a slew of pretty mediocre mainstream comedies for Pryor, but he did release his concert film RICHARD PRYOR: HERE AND NOW that October.
In 2022, "Gus Gorman's Supercomputer Screw" was sold at auction in London. I don't have an account to find out how much the winning bid was, but they estimated the value at £400 – £600.

signs of the times:
A joke about a street mime.
A very worn down BLADE RUNNER poster is, for some reason, hanging in the junkyard. Must've put it up really early if this takes place in 1980.
A video game style animation (complete with the player's score and a "GAME OVER" screen) is used for Bubba's view of attacking Superman with a missile system. It was created by Atari and uses sound effects from the 2600 version of Pac-Man, but it's much more sophisticated than the actual Superman game or anything that could be done for home systems in those days. According to Cinefantastique at the time, Warner Brothers had to spend $95,000 for the equipment and it took four months to create the 26 seconds of animation. (Neverthless, the same magazine's review just to the left of the article called it "an impractical video game with dismal graphics." What!?)
The head of Atari's Special Programs Division was Steve Wright, who had designed games including Pele's Championship Soccer and went on to work in visual effects on such movies as FREDDY'S DEAD: THE FINAL NIGHTMARE, FERNGULLY: THE LAST RAINFOREST, HELLRAISER III: HELL ON EARTH, BEBE'S KIDS, and HARD RAIN. Full disclosure: he was also animation director for MORTAL KOMBAT: THE JOURNEY BEGINS.

tie ins:
William Kotzwinkle (who wrote the E.T. novelization, which I read as a kid) wrote a novelization. But there was no Atari game.

summer of '83 connections:
Frank Oz (RETURN OF THE JEDI's Yoda) cameos in a scene that was deleted but can be seen in the extended TV version.
Also, the guy who made the Yoda puppet, Stuart Freeborn, did the makeup. That's interesting because the Making of Return of the Jedi book talks about everybody being frustrated that he was always behind schedule on that movie. Must've overbooked himself.
This entry was posted on Thursday, June 15th, 2023 at 3:33 pm and is filed under
Reviews
,
Comedy/Laffs
,
Comic strips/Super heroes
. You can follow any responses to this entry through the
RSS 2.0
feed. You can skip to the end and leave a response. Pinging is currently not allowed.