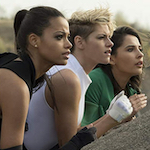 CHARLIE'S ANGELS (2019) continues the concept of the original Charlie's Angels tv series and previous movies: some guy named Charlie (now the voice of Robert Clotworthy, who was in both WHO'S THAT GIRL and HE'S MY GIRL in 1987) who you only hear over a speaker runs The Townsend Agency, which originally was a private detective agency but now seems to be an international spy organization? Its agents are all beautiful, glamorous women who are martial artists, masters of disguise, etc.
Since their helper "Bosley" has been played by many different actors throughout the franchise, this one explains that "Bosley" is a rank, like General, and we meet Bosleys played by Patrick Stewart (GUNMEN), Djimon Hounsou (ELEPHANT WHITE) and Elizabeth Banks (SLITHER), the latter of whom also directed and wrote the screenplay (story by Evan Spiliotopoulos [BATTLE FOR TERRA] and David Auburn [Tony and Pulitzer winner for the 2000 play Proof]. They bring together wild American Angel Sabina (Kristen Stewart, PANIC ROOM) and former MI-6 Angel Jane (Ella Balinska) to protect engineer Elena (Naomi Scott, Jasmine from live action ALADDIN, Pink Ranger from POWER RANGERS movie). Having created a vaguely defined clean energy device called Calisto for her employer, Elena has gone whistleblower after learning that it can be used to give people strokes, and now some tattooed hipster assassin asshole named Hodak (Jonathan Tucker, who played Boon, the last guy Raylan killed on Justified) is trying to kill her.
Stewart is the marquee name here, but she gets to be the comic relief, a goofball but not at the expense of her competence. In the cold open she has dinner with a high class smuggler (Chris Pang, I, FRANKENSTEIN, CROUCHING TIGER HIDDEN DRAGON: SWORD OF DESTINY) who so underestimates her she's able to tie him up in a scarf and lift him off the ground with aerialist moves right in front of his two bodyguards. But while doing surveillance on another mission she takes time to appreciate cute dogs that walk by.
A moment when Stewart is really on is when they're breaking into a lab and Jane needs Sabina to create a distraction. "I need you to exhibit some attention-seeking behavior," Jane says over the radio.
"I have so many ideas!" Sabina says excitedly.
I hope Stewart keeps up this pattern of interesting performances with strong directors that give her enough credibility to make it seem like a coup when they get her to do something like this or UNDERWATER.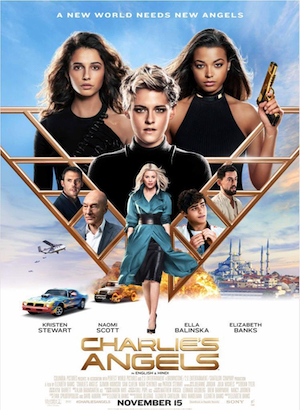 Jane is more serious, and at first finds Sabina so annoying she pushes her off a building, so they get some mileage out of their warming up to each other. Come to think of it Elena is mostly comical too, usually being awkward around them and trying to impress them. She's both a supergenius and the regular person audience surrogate who's brought into the fold and gets a tour of the Angels' facilities and techniques. It's all wish-fulfillment – don't you wish you could get together with some fun girls, wear all kinds of crazy clothes and wigs, have unlimited gadgets, break into computers, sneak past security, make fools of sexist dudes, and then be welcomed home by a sensitive, handsome dude called Saint (Luis Gerardo Mendez) who provides you with organic feasts, backrubs and therapy (plus weapons)? Yes, it would be cool, and Elena, though initially the client, spends the movie trying to earn their respect and friendship.
Banks as Bosley – supposedly a former Angel herself – is a very Banks character, always wearing different expensive looking sunglasses and coats, acting like a snob but also sort of a den mother to the Angels. It's kind of cool that she sort of took the series under her wing like Drew Barrymore did as producer-star of the other movie version.
I don't know if this is still an unpopular thing to say, but I'm a fan of that McG-directed C's As duology, or was at the time – haven't seen them in a while. They had a very distinct vibe and sense of humor, a goofball celebration of fluffy pop culture, with women having fun doing wire-fu, wearing colorful costumes, riffing with Bill Murray or Bernie Mac, defying gravity, and randomly dancing. Even to this day I think Corey Yuen's D.O.A. – DEAD OR ALIVE and Joseph Kahn's TORQUE are the only movies that have been able to give me a vaguely similar feeling.
But CHARLIE'S ANGELS: FULL THROTTLE was more than a decade and a half ago, was considered a big flop at the time and was given an unbearably joyless critical battering. There has since been a 2011 attempt at a new TV series which didn't take off (they only made 8 of 13 planned episode and only aired 7 of them). So I assumed this new version written and directed by Elizabeth Banks (who's also in the movie as one of several Bosleys) would be a reboot, in its correct usage: turn off the computer, restart it anew. Not a sequel.
I was happy to discover otherwise. In a photo history of Bosley #1's time at the agency he's shown with the Angels from the original series and the movies. And I love that when they show Elena the costume closet you can see some of their disguises from the movies, including one of the FULL THROTTLE dirtbike outfits.
And I'm happy to report that they kept the random dancing. They knew that was important. And there's a part where Sabina is disguised as a jockey with a pink helmet and goggles and I swear she looks like Penelope Pitstop.
(I also want to point out that Honsou's character is seen in a ring teaching Jane fighting techniques, and could almost be the same character he played in NEVER BACK DOWN, which means maybe they should consider doing straight to video sequels directed by Michael Jai White.)
I wouldn't be against an attempt at a "grittier" or more serious take on Charlie's Angels, whatever that would be, but I like their choice of landing somewhere between the McG tone and maybe a MISSION: IMPOSSIBLE movie level of reality. So occasionally you get a sincere emotional scene, and the action (though over-the-top) acknowledges the existence of gravity. That means you can have a gatling gun pop out of Hodak's dashboard, but you probly couldn't step on a piece of explosion debris in midair and use it like a skateboard to slide down a bannister, like in FULL THROTTLE. Which is a loss, obviously, but I get it.
I had heard the action was terrible – there is definitely some choppy editing, and I prefer McG's Hong Kong approach, but Jane gets some good moves and kicks some tables around and stuff, she does a cool pose hanging out the side of a spinning car firing a gun, etc. As you may know I enjoy the tradition of the public restroom fight, and have always wanted to see one where the hero stops to wash his/her hands afterwards. This one comes very close – Sabina has trouble activating the automatic soap dispenser, but she does in time to spin around and rub it in a dude's eyes. I like it. The fight choreographer is Tolga Degirmen (KUNG FURY 2, A HIDDEN LIFE [not joking – IMDb says he is the fight choreographer for that Terence Malick movie]).
There's a whole lot of light girl power talk. It opens with a pretty on-the-nose conversation about men underestimating women, and the opening credits have TV commercial style footage of girls around the world being inspirational – the level of earnestness had me convinced it was setting up a joke, but it wasn't. I suspect some people would scoff at this surface level feminism, but I think it's appropriate for an update of the famous "just 'cause I'm hot don't think I won't karate chop you" TV show, and it works in conjunction with some slightly subtler touches, like Jane bringing a shipment of feminine hygiene products and birth control pills to a contact who runs a clinic in Istanbul. And they work in a pretty good catalog of annoying sexist behaviors like Elena's dickhead boss (Nat Faxon, writer of THE DESCENDANTS and THE WAY WAY BACK) not noticing that he never let her talk at a meeting, or the pervy guard Ralf (David Schutter) being openly excited to wand her, and then telling her to smile. I mean it's nothing revolutionary, but I think the movie is obviously intended to be empowering to young girls, and I think "you're better than them, don't ever put up with that shit" is a better message than LITTLE MERMAID or something.
Otherwise, it's pretty much just a mildy amusing time waster with a likable cast and a lack of seriousness that goes to pretty well right now. I'll soon forget it, but I don't regret it. Probly for the best that I waited until it was on video and until my mind was numb from weeks of global pandemic fear. Honestly I could use some more crap like this.
<
This entry was posted on Tuesday, March 10th, 2020 at 7:43 am and is filed under
Action
,
Comedy/Laffs
,
Reviews
. You can follow any responses to this entry through the
RSS 2.0
feed. You can skip to the end and leave a response. Pinging is currently not allowed.