One year before PREDATOR, two years before DIE HARD, John McTiernan wrote and directed this unusual thriller about ghostly demons or demonic ghosts. (Actually I thought they were ghosts, but the back of the DVD calls them demons. So let's split the difference.) NOMADS stars Lesley-Anne Down as Dr. Flax, recently moved to L.A. One night after 32 hours on shift she sees a patient covered in blood, babbling in French, so crazed that they have to cuff him. He's played by "Pierce Brosnan, the star of REMINGTON STEELE like you've never seen him before" according to the trailer narrator.
His name is Pommier and as he's convulsing he whispers to her, then bites her ear, wounding her bad. After a few moments of shock she tries to cut the tension with gallows humor, saying "Well, looks like he got me there, didn't he?" But then Pommier dies.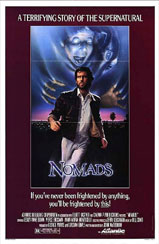 This whole opening, including her casual co-worker conversation with the surgeon while getting her stitches, is classic. It just has that feel of a crazy fuckin night, some co-workers with their we're-in-this-together camaraderie, looking out for each other and trying to get through their shifts. Like ER, which was totally ripped off from NOMADS. Same amount of syllables and everything. They just took the ghosts out to cover their tracks.
It's kind of like a DIE HARD opening too. It shows you the L.A. setting, its heroine is a skeptical outsider to the city, and it shows people going through something pretty routine not knowing they're about to crash head first into some crazy shit.
The crazy shit is not even getting bit, it's the visions she starts having, the flashbacks to Pommier's last few days alive. She starts to know things she shouldn't (for example French). She tries to figure out the meaning of what he whispered to her. So her story starts taking a backseat to his. He and his wife have moved into a new house, then it gets vandalized. He notices an A-TEAMesque van outside his house so he follows the people inside it. He also happens to be an anthropologist, so he takes photos and studies their lifestyle.
You all remember how in the '80s there was that huge problem with satanic punk gangs in all the major cities? Me neither, but they're in too many movies to be made up. So I live in fear that one day they will return to reclaim the streets. This particular gang is led by Adam Ant. Pommier follows them all over the city, trying not to be seen by them. When one of them (Mary Woronov) does notice him taking pictures she goes right up to him and does a sexy dance on top of a car. He just keeps snapping like a fashion photographer. I'm not sure what that's all about, but I like it.
The filmatism is strong, lots of real standout McT scenes including a tense one where he hides under a parked car and waits helplessly with their feet right next to him, not sure if they really don't notice him or if they're fucking with him. There are plenty of weird sound tricks and atmospheric shots. I like the one where he's running away from the camera but his breath sounds like it's right up against it. And it's a nice night shot overlooking downtown L.A. from the hills. Also of note: he knocks a dude off a building and it looks just like when Hans Grueber falls off the Nakatomi.
I always meant to see this movie, just because it's McT. Now when I finally watched it I was sick and in kind of a tired daze that might've prevented full understanding, but also contributed to the hypnotic effect of the movie. I'm not sure I get why it's so important that the ghosts fit the pattern of nomads (for example they make the point that L.A. used to be desert and nomads live in the desert). I mean isn't the crucial detail that they're ghosts, not that they travel alot and don't have a permanent mailing address?
The music by Bill Conti is pretty crazy, sometimes really good and sometimes going off on '80s keyboard rock tangents. Not timeless, but then neither is the use of Run DMC's "Christmas in Hollis" in DIE HARD and you don't see me complaining about that.
You know, while writing this review I thought of a "what if?" scenario. Remember how Jean-Claude Van Damme was originally cast to play the Predator, but it didn't work out? Well, what if instead of that he had been cast in NOMADS? After all, this is a movie where the hero is French for no particular reason. This would be the perfect accent-explained role for Van Damme. The movie wouldn't be as eerie but would have more action and would be funnier, and more people would know about it. But that's okay, things turned out the way they should've.
Anyway, it's no PREDATOR or DIE HARD, but it's a solid debut that makes you wonder why he never wrote anymore movies after this.