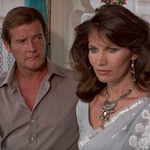 June 10, 1983
As I've demonstrated a few times in the past, I'm not a Bond guy. So believe it or not OCTOPUSSY is a first time viewing for me. I come to it with incomplete context, zero nostalgia, but also no preconceived notions of what a Bond movie or actor needs to be like. I can view it casually as-is and report that it's pleasingly silly and mildly amusing.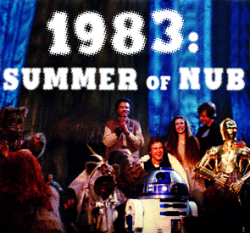 Some of its qualities that some would consider shortcomings barely need to be stated. Roger Moore (THE CANNONBALL RUN) as James Bond is a horndog who hits on and beds multiple women 15-20 years his junior, and without having to put in any effort, since every woman is charmed on sight, no matter which side they're on. And he makes several intentionally bad jokes. He also gets himself out of ridiculous situations with far-fetched plans, abilities and gadgets. It's all part of the deal, and the last part is what I most look for.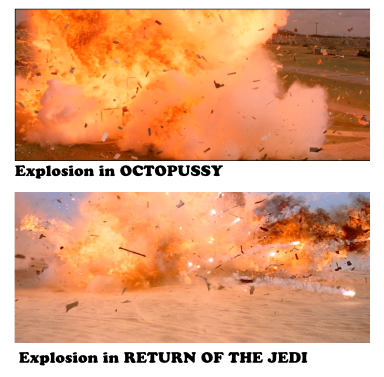 The screenplay for this one is by George MacDonald Fraser (THE THREE MUSKETEERS), Richard Maibaum (nine previous bond movies going back to DR. NO) and Michael G. Wilson (FOR YOUR EYES ONLY), and it's directed by John Glen (also FOR YOUR EYES ONLY), one of the many directors who had been considered for RETURN OF THE JEDI. In a way the opening parallels JEDI: Bond is in the middle of a convoluted mission that involves impersonation, getting caught, and escaping a place is it's blown to bits. The best part is keeping a fold-up mini-airplane in a horse trailer, hidden behind a fake horse ass. I wonder if that inspired the portable airplane John Cena carries around in FAST X? If so that's the true legacy of this "James Bond" series IMHO.
I enjoy a heightened reality, so I like that the next scene we're thrust into without explanation involves a circus clown (Andy Bradford, also in KRULL later in the summer) being chased through the woods at night by a man with a knife. The knifer seems to pull a Jason Voorhees, suddenly warping from behind the clown to in front of him, but it turns out he's being chased by identically dressed identical twins Mischka and Grishka (David and Anthony Meyers). The clown receives mortal wounds, but manages to drop dead in the British ambassador's residence holding a counterfeit Faberge egg that becomes the only clue for Bond to continue his investigation.
Why did the clown do that? Because he was actually MI6 agent 009, which brings up a question: does the fact that he stumbled clumsily screaming through the woods like a slasher victim mean he was just an embarrassingly awful, completely unqualified secret agent, or that he was so deep undercover he died still in character as a guy who's just a regular clown and totally not an MI6 agent?
In London, Bond attends an auction at Sotheby's where the real egg is being sold. He gets into a bidding war with exiled Afghan prince Kamal Khan (Louis Jordan, SWAMP THING), who becomes a suspect thanks to his willingness to pay any price for this egg. Later we learn that Bond pulled a switcheroo with the fake egg while pretending to examine the real one.
Bond follows Khan to India, aided by Indian MI6 officer Vijay. Vijay is played by real life tennis pro Vijay Amritraj, and at one point he uses a tennis racket as a weapon, which reminds me of Dennis Rodman using basketball gimmicks in DOUBLE TEAM. Good stuff.
I'm not sure but I think I've heard something about the Bond series being renowned for its sensitive cultural portrayals. That's why they have a series of jokes about snake charming, firebreathing, walking on coals, a bed of nails, and a sword swallower. The best one is borrowing the sword from the guy's throat and then handing it back.
In Khan's palace casino, Bond makes a big scene gambling with Khan and reveals to him that he has the real egg. Soon he's having sex with Khan's lady friend Magda (Miss Sweden 1970 Kristina Wayborn) who subsequently sneaks out with the egg. That was the idea – Q (Desmond Llewelyn) put a tiny microphone inside.
If I have one serious disappointment with this one it's that Q shows off a device I kept waiting for Bond to use and he never did. Jeremy Bulloch, who also played Boba Fett in RETURN OF THE JEDI that summer, plays Q's assistant Smithers, who demonstrates a door (designed to look like the ones in the palace) that smashes a dummy to pieces. I was so excited about Chekov's smash-door, but it turned out to be reverse Chekov's smash-door. Or Pee-wee's boomerang bowtie.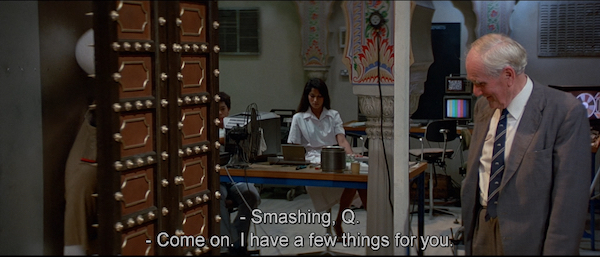 Magda has an octopus tattoo, so I thought she was Octopussy, but actually Octopussy is a different character played by Maud Adams (ROLLERBALL) and she's the leader of Magda's band of octopus-themed thieves as well as the circus troupe the clown was escaping from. She also has a small pet octopus in a tank, an octopus flag, and fancy octopus-themed bathrobe and bed. Best of all she has bodyguards in red leotards who I couldn't stop thinking looked like Electra Woman and Dyna Girl.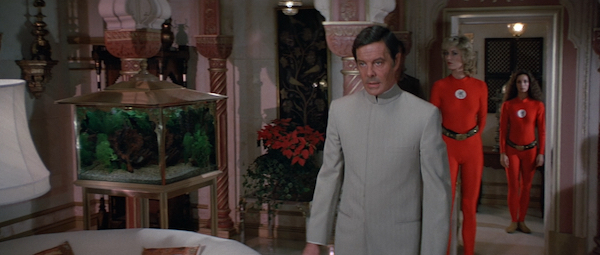 I read that Sybil Danning had a meeting about playing Octopussy, and was even reported in magazines as having been cast, but they decided against her. That would've been a different experience from CHAINED HEAT, I'm sure, but she and Tamara Dobson both would've made kickass Bond girls.
If I understand correctly, Khan and Octopussy are replacing treasures with counterfeits and stealing the real things, a plot somehow connected to renegade Soviet General Orlov (Steven Berkoff, BARRY LYNDON)'s plan to bomb a US airbase. James Bond stuff ensues.
There are a couple things that weirdly foreshadow bits in INDIANA JONES movies. There's a feast where a guy eats a sheep eyeball, kinda like the infamous monkey brains scene in TEMPLE OF DOOM; why were these people so convinced Indian food was gross? And there's a chase on a circus train kinda like the opening of LAST CRUSADE. Of course the Indy scenes are more spectacular, and I'm not saying they're copycats, but we know Lucas was familiar with Glen's work. There might've been an influence, at least on the train one.
The circus stuff is worked in pretty well. I like when one of the twins uses his knife throwing skills to pin Bond to a wall by his shirt sleeves. But easily my favorite henchman gimmick is this guy Mufti (Tony Arjuna) who has two fancy sawblades on the end of a string that drop down like a yo-yo and saw through things. Reminds me of MASTER OF THE FLYING GUILLOTINE. There's also a henchman who stabs Bond with something that reminds me of the signature weapon in a fantasy movie I already mentioned that's coming out later in the summer: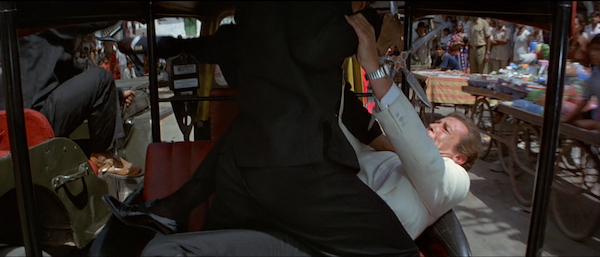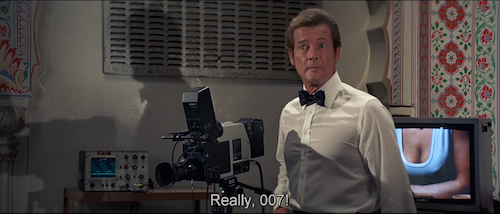 Another strange RETURN OF THE JEDI coincidence is that this one also has a joke about swinging on a vine and doing a Tarzan scream. It's more out of place in a galaxy far, far away, but equally unfunny here. I was also reminded of BLUE THUNDER in a scene where Bond tests a camera by zooming in on a lady's cleavage, and of TRADING PLACES when Bond hides inside a gorilla costume, though he does not get fucked by a real gorilla. I guess this is James Bond – he would've been doing the fucking. But there are no gorillas for him to fuck.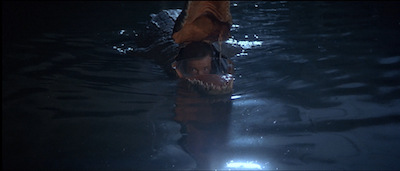 There are quite a few other creatures, though. In one sequence he runs into tarantulas, then a tiger, then a snake, then an alligator, then leeches. He sneaks up on Octopussy's place inside a mini-sub (or something) disguised as an alligator. Then Mufti gets eaten by a real alligator right before Bond takes off in the fake one. Again, this would've been a good opportunity for his fake gator to get fucked by a real gator, or vice versa. I'm starting to realize the smash door is far from the only missed opportunity here. I also think it's a shame that Bond spends some of the end disguised as a clown, but they don't make him do a bunch of cool shit that's absurd to see a clown doing. At least he doesn't whiff it as bad as that bozo 009, I guess.
Obviously one of the main attractions is the wide range of stunt work, with lots of jumping from vehicle to vehicle, the mini-airplane sequence, a three-wheeled taxi tearing through crowded streets in India (and jumping over a camel), fighting on top of a moving train, a car flying off a bridge into a fishing boat, battling the guy with the saw blade, etc. There's a scene where Bond slides down a banister firing guns. He does it different from Chow Yun Fat in HARD BOILED, though – he straddles it and then he sees that he's about to crash his balls into a post at the bottom so he has to shoot it off before he gets there. I'm not sure who was officially in charge of that stuff, but Bob Simmons (stunt double for Gregory Peck in THE GUNS OF NAVARONE) is credited as "action sequence arranger," and his Bond work goes back almost 20 years to GOLDFINGER. Stunt team supervisor is Bill Burton (motorcycle stunts, GAME OF DEATH) and second unit director is Arthur Wooster (who continued with 007 through DIE ANOTHER DAY and more importantly did HIGHLANDER II: THE QUICKENING).
Like WARGAMES, OCTOPUSSY addresses the Cold War, and specifically the nuclear arms race between the West and the Soviet Union. In this one the Soviet military leaders don't want to risk war, so hardliner Orlov goes off on his own. Before that he tells his colleagues, "The West is decadent and divided. It has no stomach to risk our atomic reprisals. Throughout Europe, daily demonstrations demand unilateral nuclear disarmament." I thought that was amusing. The movie seems to be saying that we do need nuclear weapons, and that anti-nuke demonstrations embolden the enemy. Dabney Coleman's character in WARGAMES, who felt it was so important that if we get nuked we have the stones to nuke back so that the whole human race will be destroyed instead of just us, probly agrees.
The Soviet generals have a war room that's as imposing as the one in WARGAMES, but brighter and more stylish. It has a curved table with 12 chairs attached, situated on a giant marble turntable that rotates when they need to face the screen on the wall, then rotates back when they're done. I love this because they could've just put the screen on the wall that the table is facing, but they did it the hard way. I mean that sincerely, I enjoy these kind of absurd choices in Bond (and other) movies. Another example is when Bond and Vijay escape through a secret entrance by tearing through a poster on the wall, and an identical poster immediately drops down in front of the hole. Of course it would make more sense for there to be just one poster that lifts for them and then lowers back down, but it wouldn't be as cool.
The production designer on this one is Peter Lamont, who started on FOR YOUR EYES ONLY and stuck around through CASINO ROYALE. He also did ALIENS, TRUE LIES and TITANIC.
The title sequence is cool, but a little underwhelming compared to other ones I've seen. Maybe that's because the theme song, a ballad called "All Time High" sung by Rita Coolidge, is such a weird choice for a Bond theme. I guess that's okay.
Here's the biggest surprise of this movie, something I don't think I'd ever heard about before. There's a scene where a parade is going on and I'll be damned if there isn't a guy on wearing a Silver Shamrock skull mask from HALLOWEEN III: SEASON OF THE WITCH!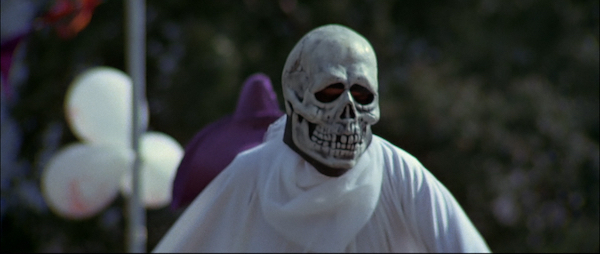 Keep an eye on that guy, Bond. He might turn into snakes or something. And he's on stilts so the snakes would fall all over the place.
I'm still so curious about why this happens. There was also the pumpkin mask (with visible Silver Shamrock logo) in that one Halloween episode of Knight Rider. Why would there be multiple references to a poorly received horror sequel? I still suspect the masks just ended up in prop houses and got used by people who either weren't aware of their origins or assumed no one else would be. They didn't foresee it becoming a beloved cult classic decades later and having a bunch of merchandise that would sear the mask designs into our brains.
James Bond has spent so many years as one of the top icons of popcorn cinema, but here was a time when he had to settle for second place to Luke Skywalker. Despite opening on 300+ more screens than RETURN OF THE JEDI week 2, it made about $3 million less than it that weekend. But it was above TRADING PLACES, at first. It ended up being the #6 box office earner for the year behind JEDI, TOOTSIE, FLASHDANCE, TRADING PLACES and WARGAMES.
OCTOPUSSY seems to have received good reviews at the time, but is less well regarded in retrospect. I think I know a couple of Bond fans who like it. But I would say that in my limited experience of James Bond pictures it is not one of the high rankers.
Glen went on to direct three more 007 movies (A VIEW TO A KILL, THE LIVING DAYLIGHTS, LICENCE TO KILL) plus the excellent ACES: IRON EAGLES III and the barely watchable CHRISTOPHER COLUMBUS: THE DISCOVERY.
p.s. One subtle little easter egg in this one is that if you think about it in a certain way the name "Octopussy" almost sounds like a reference to a woman's vagina