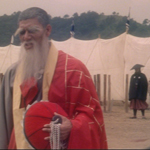 Round 1, Bout 3, Team Video Games vs. The Men From Hong Kong
Fung Shang Wu Chi is the Darth Vader of the Man Chu Ching Dynasty. He's a blind man who lives on a mountain disguised as a Buddhist lama, but he works for the Emperor, seeking out the last remaining rebels who support the former Ming Dynasty and decapitating them with the flying guillotine, a scientifically questionable but cinematically unparalleled weapon that's basically a ring on a chain. When he tosses it over someone's head it unfolds into a basket with a circle of blades inside, then he yanks it and it's off with their head. And it's ingeniously designed because the whole thing can fold up into small cylinder about the size of a pocket umbrella. If these things were easier to master then women could keep them in their purses instead of pepper spray, that would be pretty cool.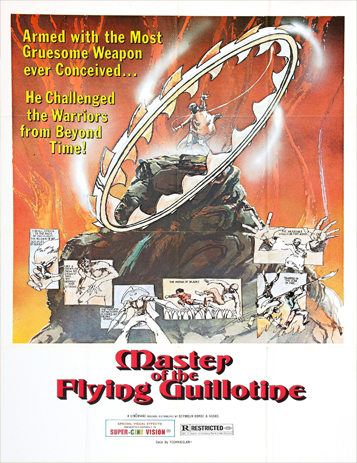 One day a pigeon shows up with a wooden tablet that tells him his two disciples were killed by the One-Armed Boxer in the movie ONE-ARMED BOXER. This is a sequel. It's about Fung trying to kill the One-Armed Boxer (Jimmy Wang Yu, also the writer-director) for revenge. The opening is an all-time great Declaration of Badass Intent in which Fung leaps through the ceiling of his home, beheads two dummies and a live chicken using his flying guillotine, tosses a firebomb into his own cabin, swears revenge and walks toward the camera as the title comes on.
By the way in this scene he also has a pet monkey chained up next to a tiny monkey house, pacing back and forth restlessly while his master practices his katas. And the monkey never gets to take part in any of the fighting. I feel sorry for that monkey. At least he didn't fire bomb the monkey house though. Or behead the monkey.
In a way this is like THE FUGITIVE in reverse.Instead of being a hero on the run Fung is a bad guy who works for The Man, but like Dr. Kimble he's looking for a one-armed man. He's not sure which one, so you better fuckin be sure to have two or more arms if you are anywhere near this motherfucker. Or no arms, but definitely not one.
After the credits we meet (or re-meet, but I haven't seen the first one yet) the legendary One-Armed Boxer at his school where he is teaching his many students "the technique of jumping." It's a good skill-demonstration scene because he leaps onto a large basket and walks around the edge without it tipping, and he jumps onto a wall, walks sideways across it and onto a ceiling and promises to teach them how to jump onto the roof tomorrow.
The trouble (and the movie's inclusion in the Super-Kumite) begins when the One-Armed Boxer is invited by the Eagle Claw School to take part in a fighting tournament. He turns it down so as not to draw attention to himself and the emperor's assassins, but decides against his better judgment to bring some students just to watch and try to learn from the different techniques on display. Of course he's not aware of Fung being after him or being sent by the Emperor to keep tabs on the tournament in case it inspires a rebel uprising. Also he has three foreigners who are in the tournament working for him.
THE TOURNAMENT: This is a good one. It is "a tournament with no restrictions for age or area," so the fighters are international. It takes place outdoors, on flat dirt, no ring, with spectators on their feet other than the bigshots, who are seated on a stage. There are ritualistic drums, banners, flags, tents for the fighters to wait in. They represent different techniques and parts of the word and are allowed to use different weapons. The first fight is a wooden staff vs. three-section staff.
Contestants are announced as wooden planks with their names are hung on a board. Winners are announced by a referee with a fan. Fighters win by knock out – not a count to ten, but just when they fall to the ground and look dead. Two men run out to carry the body away, one or two come out and sweep the ground, much like the kids at pro basketball games who run out to mop for sweat or grease wherever a player has fallen.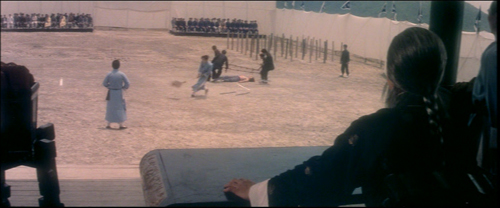 (It is my dream to some day play an underling in a tournament movie who does one of these lowly but important tasks.)
The contestants are very colorful and gimmicky in a way that has been copied in video games like Street Fighter and Mortal Kombat, but not nearly enough in movies. Everyone has some little characteristic, even if it's as small as the burly Thai boxer who clears his throat and spits alot. Or the guy who uses his long ponytail to strangle a guy.
The obvious standout is the yoga master who wears a turban and has the power to extend his arms. (No wonder people are so into yoga, that could be useful.) It looks really cool, makes for unusual fights and also reminds me of a favorite scene in the original A NIGHTMARE ON ELM STREET where Freddy stretches his arms out but it's obviously just rubber hands on long poles. Or yoga.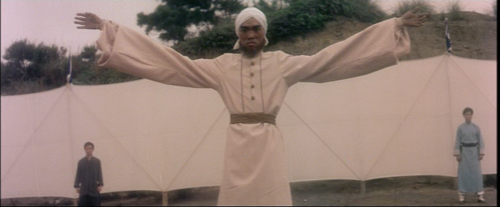 Even in non-tournament settings this guy is awesome because he has a pet owl on his shoulder which he pets lovingly but also is willing to throw at somebody as a weapon.
One of many favorite moments in this movie: when "Win Without a Knife" Y. Yakuma of Japan flies over the barrier into the ring, the One-Armed Boxer, who just recently taught a class on "the technique of jumping," approvingly says "Nice jumping."
"Win Without a Knife" Y. Yakuma is the funniest character. He wears a black cloak and straw Shinobi hat, and he's a badass. He fights "Fast Sword" Wong Chang, at first bare hands against a big sword. After a bit he pulls out a pair of wooden clubs, but he wins when a hidden knife pops out of one of them and stabs the guy.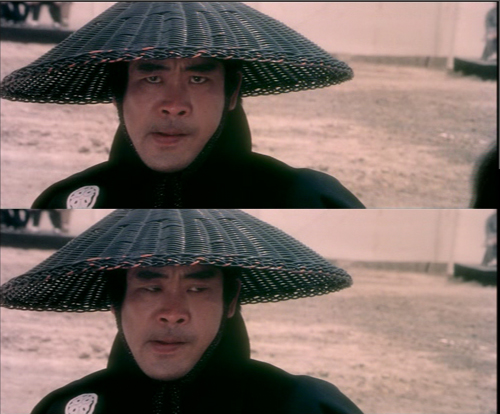 See, he makes this little sideways glance first. He knows it's sleazy and he's trying to hide it. One-Arm spots the trick from the crowd and says it's "very smart." I would be more comfortable if he didn't admire it so much. I mean, Y. Yakuma is the dynasty's biggest fraud! Using a knife is allowed, so he's hiding it out of ego and sneakiness. He could very easily just not have the nickname "Wins Without a Knife" and it would at least seem like some cold-blooded shit instead of cowardly cheating. He could be "The Dark Jumper" Y. Yakuma, maybe.
Fast Sword agrees with me, he knows this is some bullshit, pointing at him like "Y. Yakuma, you dirty sonofabitch":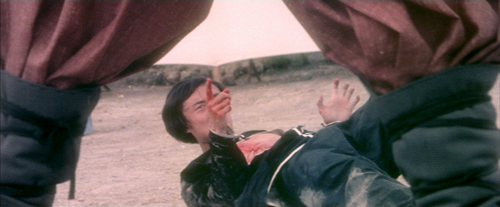 Maybe you guys can help me out with this one. What super hero does this guy The Mongol look like? I was thinking Juggernaut from X-MEN 3 wore something like this, but I looked it up and I guess that's not who he's reminding me of. Maybe it's more like Tony Stark, what with the mustache and everything.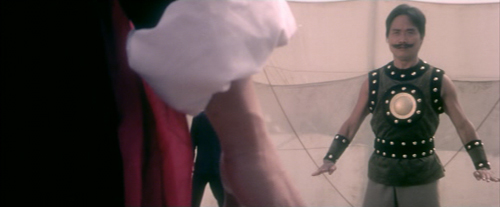 As the matches go on they get more harrowing. Like, how 'bout a fight where one guy is standing barefoot on the tips of swords? That could be exciting, right? A precursor to John McClane.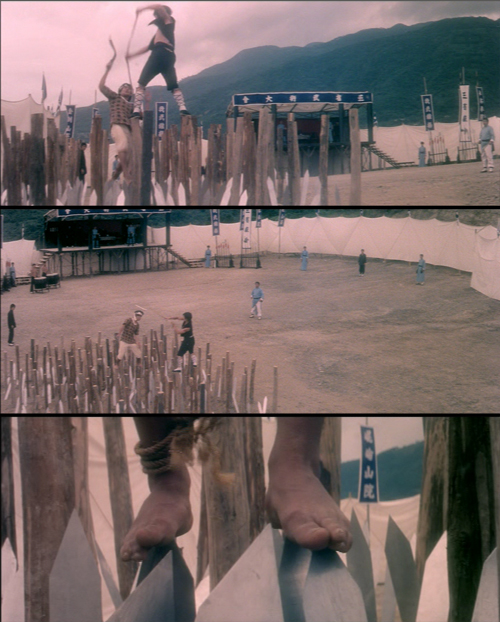 But the tournament gets interrupted by some crazy shit. Not as serious as the way Bane interrupted that football game, but still pretty intense. When a fighter with one arm is introduced, Fung suddenly appears on the roof, throws in his guillotine and rips the poor guy's head off right in front of everybody! Even his agents in the tournament jump to their feet in total shock. They might be thinking "Oh shit, this is the guy we're working for? This might be a problem."
We're not quite as shocked because this isn't our first random-one-armed-guy-execution. Earlier Fung was in a bar and some chump with the worst luck in the world was pretending to be the legendary One-Armed Boxer to get out of paying his bill. Whoops! Even if Fung knew for sure which one-armed man did the crime you gotta remember he's blind. He hears somebody say they got one arm he perks up. When he finds out the guy was a phony he doesn't give a shit at all. He says straight up he's just gonna kill every motherfucker with one-arm. Which doesn't seem very fair to alot of innocent disabled individuals. Kinda… well, not racist, but… something.
This mid-tournament beheading is even more bold than the ruckus in the bar. This is a public sporting event! In major league baseball all you gotta do is you and your dad run out on the field shirtless and tackle an umpire, you will be banned from the stadium for life. This guy doesn't bother with the officials, he decapitates one of the athletes! And it's a tournament, not just a routine match. So it would have to be the final game of the World Series to be roughly equivalent.
On second thought, I want to be fair, so I gotta admit this is a tournament where some of the contestants are expected to die anyway. Also, Fung is an employee of the empire, although he's lying when he says his master told him to kill that guy. Maybe it's roughly equivalent to a cop on the sidelines catching a ball. I don't know, maybe it's not that big a deal, but it just seems inappropriate to me, that's all.
So he kills the guy, brags about it, plus he has a backwards swastika on his robe, which didn't mean the same thing to him but to our modern eyes it adds an ignorant Sid Vicious style fuck-you to the proceedings. Then he throws a bunch of his fire bombs and runs off! Similar to what the stand up comedians call "dropping the mic."
Now, since I've been talking alot about what is fair, sportsmanlike, legal etc. I definitely have to acknowledge that MASTER OF THE FLYING GUILLOTINE doesn't fit a purist's definition of a fighting tournament movie, because the tournament is only the location for the first half of the story and the supplier of some of the fighters in the second half. Our hero is not trying to win the tournament, in fact he refuses to be in the tournament, so there's no older mentor to give him wisdom, no training montage.
There is awesome music, though, to make up for lack of montage. It's so unusual for a '70s kung fu movie that I had to look it up to make sure it was the original soundtrack, which it turns out it is. You know how sometimes in a Shaw Brothers movie you'll hear a piece of music you know from a Hollywood movie, because they didn't worry about international copyright law? For this one they had somebody hip involved who took some of the music from German electronical dudes Neu!, Kraftwerk and one from Tangerine Dream. The opening credits song "Super" by Neu! sounds like punk rock, it's really surprising and kinda cocky for a movie like this. I love it.
It's also a stylish credit sequence. It's a montage of highlights tinted different colors (hand-painted, I'd guess) and later on when there's a flashback to the first movie ("The two of them tried to kill me, however it didn't quite work out,") they use the same technique.
After the aborted tournament the One-Armed Boxer has been discovered, so he and his disciples go into hiding and prepare for attacks from Fung and his fighters. One-Arm considers the habits of each of them and figures out strategies for defeating them. For example he remembers that the Thai boxer fights barefoot so he traps him in a shed with a metal floor heated by flames. He wears shoes and runs out and sticks his feet in a bucket of water afterwards. And he comes up with a great trick for breaking the flying guillotine and then lures Fung into a bird shop where the chirping and wing-fluttering all around him makes it harder for the blind man to focus on the sounds of his opponent's movements. So this is a constantly inventive and entertaining martial arts movies,
For the purposes of the Super-Kumite I have to consider it a weakness that the tournament is not the main focus. On the other hand, it's much more tournament oriented than AMERICAN KICKBOXER 1, and more importantly it's a very high quality tournament, shown in detail and taking up a good chunk of the movie. And other than ENTER THE DRAGON (1973) this is the earliest tournament fighting movie I've been able to find. (Please let me know any others you're aware of.) It's also just an all around great movie with iconic characters, a wide variety of fighting styles and locations, and a unique sense of filmatic style.
I thought I had seen this before, but remembered so little that I felt it could be allowed in the tournament. Watching it now I figure I must not have really seen it before, because how would I forget a movie this awesome?
Fight choreographers: Ka Wing Lau (ONCE UPON A TIME IN CHINA) and Lau Ka Liang (DRUNKEN MASTER II).
This entry was posted on Wednesday, June 5th, 2013 at 12:04 am and is filed under
Action
,
Martial Arts
,
Reviews
. You can follow any responses to this entry through the
RSS 2.0
feed. You can skip to the end and leave a response. Pinging is currently not allowed.