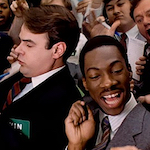 June 8, 1983
To many, TRADING PLACES is a beloved comedy classic. To me it's a movie that Mrs. Vern references often and that we occasionally flip past on TNT. I think the only time I saw it all the way through I was still in elementary school. So I came to this viewing pretty fresh.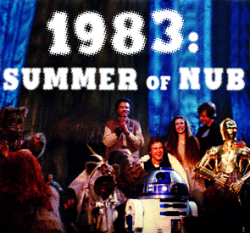 I know it goes back to The Prince and the Pauper or some shit, but Hollywood particularly loved this kind of comedy concept in the '80s through '90s: What if a non-rich guy could live among the rich? And what if a rich guy could live among the non-rich? What laughs would we have? What lessons would we learn? Don't you agree it would be valuable? This one's writers, Timothy Harris & Herschel Weingrod, later gave us BREWSTER'S MILLIONS, and you could also count THE TOY, LIFE STINKS, KING RALPH, and I'm sure some others. This is John Landis's version, and he kicks it off with some satirical bite, but it eventually eases up and acts like we're supposed to like the rich guy, assumes we want to see him have a happy ending. As was the style in those days.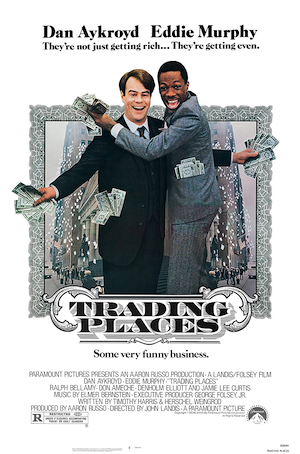 The premise, for those of you who didn't grow up on it either: Louis Winthorpe III (Dan Aykroyd, 1941), the hotshot managing director of commodities brokerage Duke & Duke, falsely accuses street beggar Billy Ray Valentine (Eddie Murphy in his second movie, after 48 HRS.) of trying to steal his briefcase when the two bump into each other on the sidewalk. The firm's owners, Mortimer (Don Ameche a few years before winning an Oscar for COCOON) and Randolph Duke (Ralph Bellamy a few years before winning the friendship of the Fat Boys in DISORDERLIES), who have been idly debating whether Winthorpe's success comes from nature or nurture (breeding or privilege), decide to make a wager. They frame Winthorpe as a thief and PCP dealer, bail out Billy Ray, give him Winthorpe's job, mansion, and butler Coleman (Denholm Elliott, RAIDERS OF THE LOST ARK), and step back to see what happens.
Landis does a great job of establishing the urban setting, much like he does in my favorite or second favorite movie by him, THE BLUES BROTHERS. The opening credits show us regular people living their lives in grey, rainy Philadelphia, beneath historic landmarks and statues. People commuting by car, bus, or train. Workers moving boxes, stocking coolers, chopping meat or lettuce, spraying fish, opening stores. We see people sleeping on streets, warming their hands over barrels, visiting the department of labor. And then we meet this motherfucker Winthorpe, who lives in a mansion and has a butler fresh-squeezing orange juice for him, baking him croissants, picking him a rose, using the nice china to bring him breakfast in bed.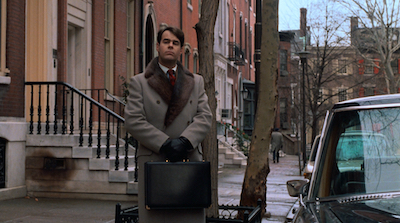 I think what Landis does best here is establish the lifestyles of the rich not as glamorous, but alien and gross. Stiff, humorless, pretentious-speaking Winthorpe sits silently as Coleman shaves him – it seems miserable. He gets help putting on his jacket. He goes outside and stands there like an asshole waiting for Coleman to open his car door. And there's a perfectly, painfully prolonged sequence of him walking through the huge Duke & Duke lobby as a series of underlings make a beeline to pass him and wish him a good morning. So little sincerity, so much hierarchical deference and ritual. Winthorpe doesn't even smile at the guy who takes his coat and scarf and gives him his briefcase.
What does he do to earn this respect? Well, he had a feeling this morning about pork bellies, and it turns out to be a good guess. So to the company, as long as he keeps getting lucky, he's important. To anyone else in the world he's a useless, talentless, personality-less, lifeless douche who gets to lord over us because of that fake job moving people's inherited money around pretending this achieves something.
Later there's a big scene on the trading floor, viewing a swarm of mostly dudes with appropriate bemused detachment as they yell about frozen orange juice concentrate shares.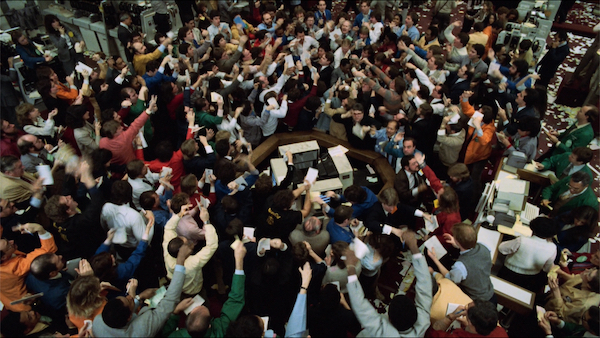 Another nice touch is that the Dukes and Winthorpe are members of something called "The Heritage Club," where white men sit around in leather chairs smoking pipes and cigars, reading The Wall Street Journal and being served drinks by an all Black staff. A plaque outside bears the motto "With Liberty and Justice For All," but inside there's an enormous table lining up dozens of elite white men, looking up at a wall covered in paintings of elite white men throughout history. It's an unstated but not at all subtle poke at generational wealth and power.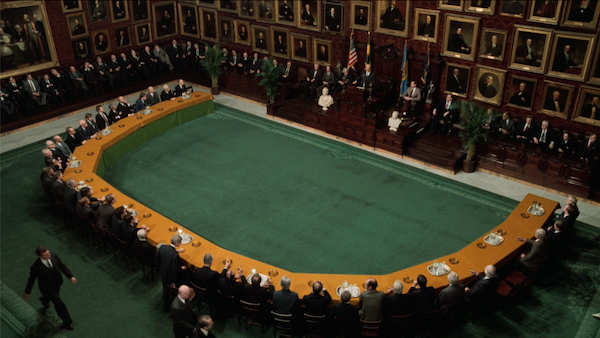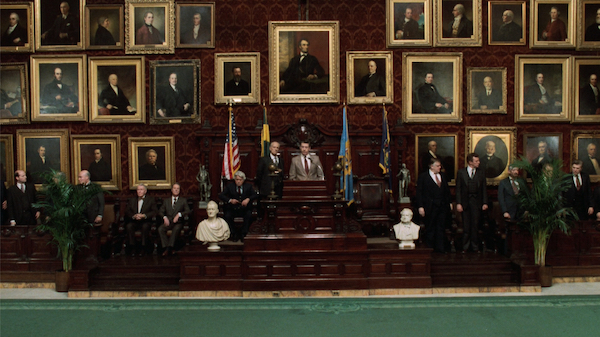 A weirder part I absolutely loved is when we have the privilege of witnessing one of the rituals of Winthorpe's peers. The girlfriends sit at their table smiling adoringly as their v-neck sweater-clad boyfriends harmonize a slut-shaming fraternity song at the bar by the squash courts.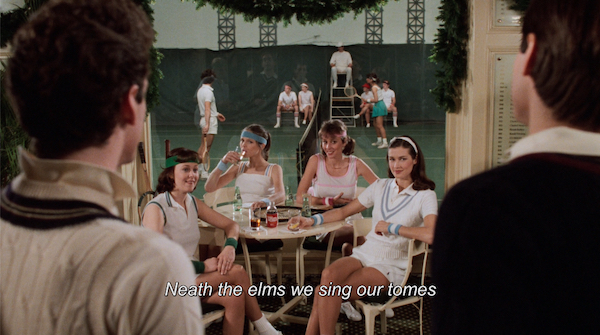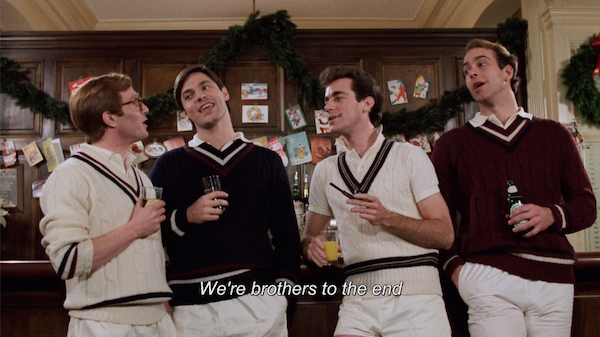 They're so fuckin delighted with themselves! When they're done you can hear one of them say emphatically, "That was great. That was really great."
The butler, Coleman, is one of the more likable characters because of the obvious disdain he has for his boss from the beginning, and the way he prefers Billy Ray. Landis does a great job of making every interaction with a servant uncomfortable to watch, as it should be. You see how dehumanizing those jobs can be and how much a certain type of person wants their employees to express worshipful gratitude. The best is when Duke and Duke together give their butler Ezra ('40s Broadway star Avon Long) five dollars as a Christmas bonus, and are too stupid to know his response is sarcastic.
In case you can't guess what the Duke brothers are all about, they come right out and the say the n-word a couple times. Winthorpe sticks to "negro." Even if he didn't, we'd have his number. The way he panics and assumes Billy Ray is trying to rob him, then takes great personal pleasure in pointing at him and telling the police to get him, is unfortunately a dead-on portrayal of a type of person still common today. (The part that seems less timely is that Billy Ray is able to smile and joke like Bugs Bunny when the cops have him pinned down with a bunch of guns in his face.)
Billy Ray's initial skepticism about the money and the home the Dukes are giving him is a highlight. He keeps trying to take stuff because he assumes he'll be kicked out right away. When he realizes it's really happening he goes to a bar in a tailored suit and fur coat, buys everybody champagne, invites a bunch of people (mostly involved in the prostitution industry, I believe) back to his place for a party. But now that he's accepted the premise that this all belongs to him he gets protective of the furnishings and resentful of these "freeloaders" taking advantage of the completely unearned riches he's also taking advantage of. So it's already changing him.
Part of the way the Dukes isolate Winthorpe is by paying a prostitute named Ophelia (Jamie Lee Curtis), to go up and kiss him in front of his fiance Penelope (Kristin Holby, whose only other credit is in MANHUNTER). That works, but Ophelia takes pity on him and lets him stay at her apartment while he gets back on his feet. She sees a money opportunity, but it's clear she also likes him. It's less clear why.
The story goes wild in the last act after Billy Ray overhears the Dukes talking about their bet and, uh… un-trading Billy Ray and Winthorpe's places, and the two start working together. I did not foresee this being the type of movie that ends with all the main characters on a train in disguise doing wacky ethnic accents and bad guy Clarence Beeks (Paul Gleason, VIGILANTE FORCE) getting put into a gorilla costume and then being raped by a gorilla. But I guess Eddie always liked those disguises and Landis always liked those gorilla costumes.
I don't think that stuff holds up very well, nor does the way the movie treats Winthorpe like the default hero at the end. I don't subscribe to the idea of characters needing to get what they deserve or not get what they don't deserve, but this movie definitely thinks we're rooting for this arrogant, personality-less, racial profiling dweeb. Even if Ophelia for some reason wants to live happily ever after with him, why the hell would Billy Ray and Coleman go with them? That Coleman is there but turns out to not be a servant, and in fact have his own servant, is a funny twist, but I don't think Coleman would do that shit. He would take the money and go live comfortably but humbly somewhere, making delicious meals for himself and a special friend. He wouldn't become just another rich asshole. #NotMyColeman
The movie was originally developed for Richard Pryor and Gene Wilder, but then Pryor had his freebasing accident. Paramount thought of Murphy because 48 HRS. was testing well. Landis fought for Aykroyd, who had to take a pay cut because Paramount didn't think people would like him much without Belushi.
At the time, Curtis had only done horror movies: HALLOWEEN, THE FOG, PROM NIGHT, TERROR TRAIN, ROAD GAMES and HALLOWEEN II. She wanted to stop doing them, so she turned down what became Meg Tilly's part in PSYCHO II, and luckily had an in with Landis, having narrated his horror trailer documentary COMING SOON. Like Linda Blair in CHAINED HEAT, this became sort of famous as a movie that Curtis did nudity in, but luckily she wasn't shamed in the same way.
Landis filmed TRADING PLACES shortly after the fatal helicopter accident on the set of TWILIGHT ZONE: THE MOVIE (a June 24, 1983 release I'll be skipping since I've reviewed it already). This was a hit and then he directed Michael Jackson's paradigm-shifting "Thriller" video, which debuted in December, but he still must've been worried about his career – critics came down hard on 1985's INTO THE NIGHT for all its director cameos, interpreted as Hollywood circling the wagons to protect their crony who fucked up. But he was acquitted of involuntary manslaughter charges in 1987, reunited with Murphy for COMING TO AMERICA, and continued to direct for many years. It seems like in recent years as younger generations have learned about the accident and the ways he contributed to the conditions that led to it, he's starting to be looked at in a much more negative light. Or maybe it's just that he hasn't directed a movie in 13 years. I think it's probly fair to blame him for the tragedy; I also think he was a great director, and this movie provides some evidence of that, even though I don't rank it among my favorites. Life is complicated!
Later films written by Harris & Weingrod include TWINS, MY STEPMOTHER IS AN ALIEN, KINDERGARTEN COP, PURE LUCK and SPACE JAM.

Signs o' the times:
A very young Giancarlo Esposito plays "Cellmate #2."
Winthorpe pretends to be Jamaican, in blackface and everything. And it was supposed to be fun, you weren't supposed to be mad at him for it. Whoops!
This entry was posted on Thursday, June 8th, 2023 at 11:08 am and is filed under
Reviews
,
Comedy/Laffs
. You can follow any responses to this entry through the
RSS 2.0
feed. You can skip to the end and leave a response. Pinging is currently not allowed.