HALLOWEEN III isn't the worst HALLOWEEN sequel, but it's probly the most hated because it's a new story unrelated to Michael Myers. Producer John Carpenter had this knuckleheaded idea that it was better to treat it like an anthology series, each one a new story having something to do with the holiday. What he didn't consider seriously enough, maybe because he's too modest, is that the first HALLOWEEN is a masterpiece and not a whole lot of stories or concepts feel worthy of being in the same series. Maybe if he'd done HALLOWEEN III: THE THING people would've gone for it, but not this.
I do know a cult of horror fans who swear by SEASON OF THE WITCH. Their numbers are smaller than the Thorn Cult from parts 5 and 6, and they're probly just overcompensating for the people who hate the movie just for being a different story and not on its actual quality. And these cultists had me going a bit, I was starting to remember it as being kind of good.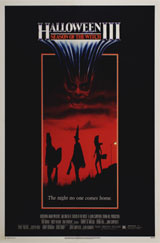 There are good elements: starring role for Tom Atkins (I saw him standing on my block earlier this year, not sure if that's relevant), cool opening credits (almost like an 8-bit version of the original HALLOWEEN's credits), moody keyboard drones by John Carpenter and Alan Howarth, occasional bits of weird gore, effectively annoying TV jingle, a great WIFN (what in fuck's name) moment in the beginning when a guy kills somebody with his bare hands, then gets in his car, calmly pours gasoline over his own head and lights himself so he and his car blow up. You know, that's all stuff that appeals to me, but it's still hard to get around the fact that this movie is about an Irish novelty gift millionaire/warlock plotting to use Halloween masks in combination with lasers, subliminal messages on TV and maybe black magic or something to melt kids' heads and have snakes and bugs crawl out of them (SPOILER).
I think that bears repeating. This movie is about an Irish novelty gift millionaire/warlock plotting to use Halloween masks in combination with lasers, subliminal messages on TV and maybe black magic or something to melt kids' heads and have snakes and bugs crawl out of them. I'm not joking or exaggerating, that is the plot of the movie. It's all very sensible and I would totally buy it except one thing, this plan hinges on the universal popularity of three generic mask designs. I guess the skull and the witch are okay, but the pumpkin? Come on, man. No kids wants that. It's a drug store reject, not a highly coveted item. I guess maybe this just demonstrats the power of advertising.
Atkins plays a doctor who sees the weird incident at the hospital and, following clues along with the daughter of the guy killed by the self-immolator, goes undercover as a tourist in the town where the famous Silver Shamrock evil mask factory is located. It's mostly a conspiracy movie, the good guys trying to uncover the secret before the bad guy steps out from behind his mask of bland pleasantries to kill them, and also of course to stop the masks from melting kids heads and, more importantly, increasing the bug and snake populations. That could throw off the whole food chain.
They get staked out by creepy emotionless suits who turn out to be made of clockwork (but just played by people, no cool animatronics or plastic faces). So that explains the guy killing himself. Spoiler.
I like Atkins' character. He seems nice but it's established that he's a drunk who disappoints his kids and pisses off his ex-wife. There's a scene where he calls and tries to convince her to destroy the kids' Silver Shamrock masks (the ones she got them, by the way, that they like better than the ones he got them). She has reasons not to believe him. But at the end of the movie he goes to a gas station and calls somebody – a TV station, the FCC, somebody – and yells that although he can't prove it they gotta believe him that if they don't turn off the Silver Shamrock commercial then millions of people will die. And they do it! I guess they didn't know about his history of alcoholism, so they took his word for it.
If the whole thing wasn't so ridiculous it would be a pretty cool ending because it's unresolved and possibly apocalyptic. And it's not in the same world as Michael Myers, we know because the original HALLOWEEN is playing on a TV a couple times. So just because there's a world in HALLOWEEN 4: THE RETURN OF MICHAEL MYERS doesn't mean the world didn't end here.
The writer/director, Tommy Lee Wallace, is a long time Carpenter associate, going all the way back to art director on ASSAULT ON PRECINCT 13 and all the way forward to directing VAMPIRES: LOS MUERTOS. At least this is a more memorable sequel than that one. It's so absurd it's kind of fun, actually, in the sense of some weird TV movie that maybe scared you as a kid or something. Probly shouldn't have been called HALLOWEEN III though. Maybe next time.
This entry was posted on Friday, October 16th, 2009 at 1:15 am and is filed under
Horror
,
Reviews
. You can follow any responses to this entry through the
RSS 2.0
feed. You can
leave a response
, or
trackback
from your own site.